ASAT Camo:
Fewer Animals See YOU!
(See ASAT Camo products below)
An elk hunting gear list that big game hunters will find helpful. This is a list and brief review of practical, useful, quality hunting equipment for elk hunters.
I switched to ASAT after trying Predator camo for a couple of years. Like most people, I used tree and leaf camouflage patterns for many years. When I started hunting with Predator camo in 2007 I did seem to get busted less by elk, but I was also becoming a more skilled elk hunter.
Be Seen Without Being Seen
Now that I wear ASAT camo, I expect it to get away with more "busted" scenarios. I've also found that it helps a lot if you can take your legs out of the picture. If elk see two upright standing legs, it spells human. I try to block one leg with the other, or get on my knees before facing down elk at close ranges.
Hiding your eyes helps, too. Close-set eyes mean "predator" to elk and deer. If I'm getting "the dreaded stare" from elk or deer, I slowly tip my head so the bill of my cap keeps them from seeing my eyes. If I can't see their eyes, they can't see mine. If I'm too close to move my head I just squint my eyes. (I learned that from watching my bird dog trying to sneak up on birds in our yard.)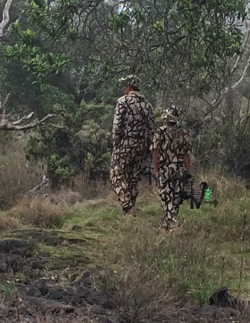 During the 2009 archery season I started hunting in ASAT camo for the first time. More elk seemed to relax after staring right at me than I had ever experienced before. It's so frustrating to get "busted" by elk or deer while. I often get caught moving by elk that I didn't see, or that I thought would not see me moving. It happens to everyone.
I have learned that when elk see me moving slightly with ASAT camo on, I should just relax and wait, silent and motionless. Much more often than before, after several moments of staring at me they just go back to grazing. It's like their eyes play tricks on them and they decide I'm nothing to worry about. (You can get away with even more, if you combine HECS with ASAT.)
I think that's due to the pattern of ASAT camo, because I get away with more. They don't run so quickly like they used to when I was wearing other camouflage patterns. 
---
For another innovative product that severely hampers game animals' ability to sense your presence, check out our discussion of the HECS Stealthscreen suit.
---
Caught in the Open!
On September 26th, 2009 while wearing ASAT camo, I put myself near at least three herds of elk, all with loudly bugling bulls and estrus screaming cows. A group of three young bulls took turns walking up to me to check out the cow call they heard me make. All three stared at me for a second or two and then moved on, even though I made little effort to conceal myself. Some cows didn't "see" me either, until I moved too much trying to get to the bulls, then some of them ran off.
I was stalking up to a loud bull that was still about a hundred yards. I did an estrus whine and he got all excited, but stayed put with his harem. I moved closer to toward him.
Another bull, a 5 X 6 satellite, bugled very near. I knew he was coming in. I was willing to kill him, if given the opportunity. The problem was that I was standing right out in the open with nothing to "blend into" and no time to move before he arrived.
I remember thinking, "Well, we're about to see how this new (to me) ASAT camo works". I knelt and held my bow in front of my face for more cover and turned on my helmet cam.
As the bull came into view at 35 yards he knew exactly where "she" should be, because he had pinpointed my call. He stared right at me, head on. No shot. I kept my bow in front of my face and carefully hid my eyes behind my cap visor.
The video didn't turn out very good because of the lighting, but it enabled me later to time his attempt to process what he was seeing. It took exactly three full minutes of staring for him to decide I was nothing to worry about. Had I moved or been smelled, the outcome would have been different.
He then confidently walked out in front of me toward the noisy herd I had been stalking . I drew my bow back when his eyes went behind a tree. Then I stopped him with a cow chirp and shot him at 45 yards, while he stared at my ASAT camo patterned form yet again. He went 10 yards and laid down for good.
In 2010 I arrowed a six-point bull from a kneeling position on an open hillside wearing ASAT camo.
What About Other Animals?
How About Wallabies and Kangaroos!?
A deer hunter in Australia just bought more ASAT gear (as of this writing). Here's what he told me: "As for the Leafy 3D gear, I've only had mine a few months but it has made a real difference. I'm actually a rifle hunter just returning to bows after years of shooting. I find that not only do deer not bust me as easily, but more importantly wallabies and kangaroos don't give me away.
Just imagine a 3 foot tall jackrabbit thumping the ground and running ahead of you all the time. It can ruin a good hunt. Now they just seem more relaxed and let me pass quietly.
That might sound trivial but the property I hunt on has HEAPS of them. I really love my Leafy 3D Vanish Pro. Sometimes it gets real hot here, so I hunt in shorts with the ASAT Leafy gear and nothing else. The breeze blows through just fine."
Trusting The ASAT Camo
In the first few days of archery season in 2011, I had been having trouble getting bulls to come to me when I was setting up in brush and trees. They were not willing to come all the way in to my calls when they could not see the "cow" from a distance first. I wasn't able to get my decoy to stand up because of the rocky soil. I decided to trust my ASAT camo right out in the open.
Two bulls way off to my left were trading challenge bugles with a herd bull on my right. I moved up into an open area between the two sets of bulls. I could tell the one on the right had all the cows, but he was on the wrong side of the fence (posted private property). I knelt in the bright sunlight amongst a few Canada thistles and did some real sweet estrus whines. I deflected the sounds with my hand toward my right.
One of the bulls came in from my left and walked about 40 yards in front of me, looking for the cow that made the sound that I had directed to my right. I stopped him with a cow call. I arrowed him and he ran over a rise.
I planned to wait 45 minutes or more to let him die. While waiting I decided to play with the other bull to my left. I called again. While still in the trees, he answered and started coming out of his cover.
I wanted to bring him in close just for fun, so I called again and didn't deflect the sound. That bull walked straight up to me and stepped around me when he was just a few feet away. He stopped to my right and bugled right next to me. He had seen that I was "something", so he walked around me, but he never recognized that I was anything but part of the terrain.
I don't think I could have gotten away with that out-in-the-open setup in anything but ASAT camo. I'll never know, because I don't intend to hunt without ASAT camo on. It seems like the longer an animal stares at it, the more it causes an optical illusion and they stop seeing a recognizable form.
I think ASAT's claim should be "fewer animals will see YOU", rather than "see more game", which might also be true!
Don't Play with Your Food
Do you want to hear the bad news about that hunt? (This is a site for regular hunters, not those polished-up video stories of perfect hunts after many failed attempts that you never see.) I had pulled out my camera before calling in that second bull and turned it on before the bull got close.
As he came into view I pushed the button that started "record". I was pumped that I was getting all that on tape, even as he stood right next to me bugling! He walked away, so I called him again. He knew there was no cow there, so he took off. But, (sigh) in the bright sunlight I could not see the screen and "record" was not happening! On top of that, the bull I stuck crossed that fence and just kept going. I couldn't get access to trail him.
In following hunts I couldn't get that second bull to come in to me. I had educated him not to come to a call. I told my wife about it and she chided, "That's what you get for playing with your food!"
Nonetheless, I have gotten closer to and have killed elk at close range every year to date since I started hunting with ASAT camo. (Check out my 2013 five yard kill on the video on this page.) 

If you want to order some ASAT camouflage, you can do so by clicking on the links below. In most cases, your ASAT order will ship the same day via USPS or UPS, no later than the second business day. Feel free to call us: 1-406-431-0876.
---
Shop for all ASAT Camo:

Shop for all ASAT Camo:
The 2022
ASAT Puffy Jacket is here!



ASAT Hurstwic Jacket and Pants

ASAT® Bedrock Merino Wool

ASAT® Classic Series

ASAT® Vanish Pro 3D Series

ASAT® Elite Performance Series

ASAT Rain Gear

ASAT Camo Youth Series

ASAT Gift Certificates and Camo Accessories

ASAT® Camo Packs

Back to ASAT Camo Hunting StoriesBack to Home Page
---