"Elk Nut": Elk Vocalization Expert
(Free shipping of ElkNut Outdoor Productions below.)
A visitor (Joe Carter) on this site shared this about the two-part Elk Nut Combo, "I think I have a library that includes every published book on Elk and Elk hunting that has ever been printed. This one is the best. This is like the Rosetta Stone of the Elk Language.
"I think this guy actually figured out what all the calls mean and what the elk are saying when they vocalize.The benefit of the CD is that even if you think you cannot use a call, at least you can understand what the Elk are saying, or what they intend just by the vocalization they make.
"Last year was the first time I listened to it and during my month in the Rockies I had firsthand experience with what he was saying in the CD. He knows what he is talking about. At the very least, get the Playbook."
Joe Carter's photo with his bull is above. I guess he had a good conversation with the elk!
"Elk Nut", Paul Medel has spent over 30 years doing in-the-field research about what elk are saying when they communicate. He is considered the elk vocalization expert. Paul has put together some very effective and easy-to-use learning tools in order to share with other hunters his 20 plus years of knowledge about elk talk and calling elk. Paul and Paul, Jr. hunt public land.

With the Playbook and Sounds by the Elk combo you'll learn to recognize what elk are saying and what you should say back, when and how. You can practice calling while you're driving, or anywhere, as you listen to the elk sounds. You'll be speaking "elk language", not just making elk sounds. The Playbook explains what each elk sound means and details many different calling scenarios that you can apply to your hunts, right on the spot.
Elk Nut's products are now available right here on Elk-Hunting-Tips.Net with free shipping! We think they're the best "elk talk" instructional media available and we highly recommend them to you. They will help you become more "fluent" speaking "elk". These are not just entertainment "hunting videos".
We've also put together some discount combos throughout this page, including a BIG savings package of Bugling Bulls Game Calls and ElkNut's instructionals below.
Shipping is free in the U.S. Please
Contact Us here
for shipping costs outside the U.S.
---
Elk Nut's PlayBook $19.95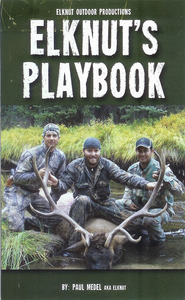 The PlayBook is a pocket sized field guide that will allow you to take this printed knowledge right into the woods. I carry it in my ASAT pants pocket. With this field guide, you will quickly be able to look up specific topics or situations you have faced, or maybe are facing at that very minute.
Elk Nut provides advice on interpreting elk vocalization, solid hunting methods and set-up strategies gained from decades of successful elk hunting on public land. This information can assist a new, or very experienced hunter with just about any encounter you may come across, whether a lone hunter or team calling. With the Playbook you will have more elk hunting success right in your hand!
---
Elk Nut's Sounds by the Elk CD $21.95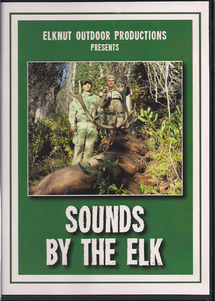 This audio CD, Sounds By the Elk, will put the actual elk sound to the names Elk Nut uses for the various elk sounds/calls in the Playbook. These sounds are being made by elk.
With each named elk sound/call there are at least 2 if not 4 or 5 different elk making the same sound. You will notice that each elk has an individual "voice". We think you will get an excellent overview of the various sounds elk make with this CD. Importantly, you will know what the sounds mean!

The first section has each of the elk sounds being made and then a two second delay with the same elk sounds then heard again to impress them into the mind.

The second section is a "practice" section. Each elk sound will be heard and then there will be a 10 second delay before the same sound is heard again, to give you time to practice making the sound before hearing it again. 

You will receive two audio discs in Sounds by the Elk. The first disc is an audio CD. The second disc is exactly the same except in MP3 format. This can be used in newer sound systems that can play MP3's, but it is especially provided for those that want to put these sounds on their iPods or other MP3 players.
---
Combination Discount Package 
$39.95: 
-Elk Nut's PlayBook
-Sounds by the Elk CD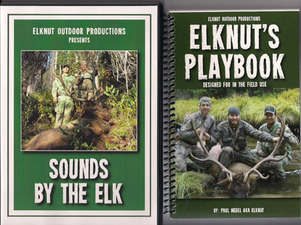 In this combination package you will get the 100 page hard copy of the Elk Nut Playbook and the audio CD, Elk Nut Sounds By The Elk. The audio CD will give you the actual elk sounds Paul writes about in Elk Nut's Playbook.
We at ElkHuntingTips.Net hope you will take advantage of Paul Medel's incredible resources. You will be amazed at the wealth of knowledge you will gain about what elk are saying and what to say to them, to get them to do what you want. We think it will help you "increase the odds of close encounters of the herd kind." (The purpose statement of ElkHuntingTips.Net!) 

---
Audio Version of Playbook
W
ith Sounds by the Elk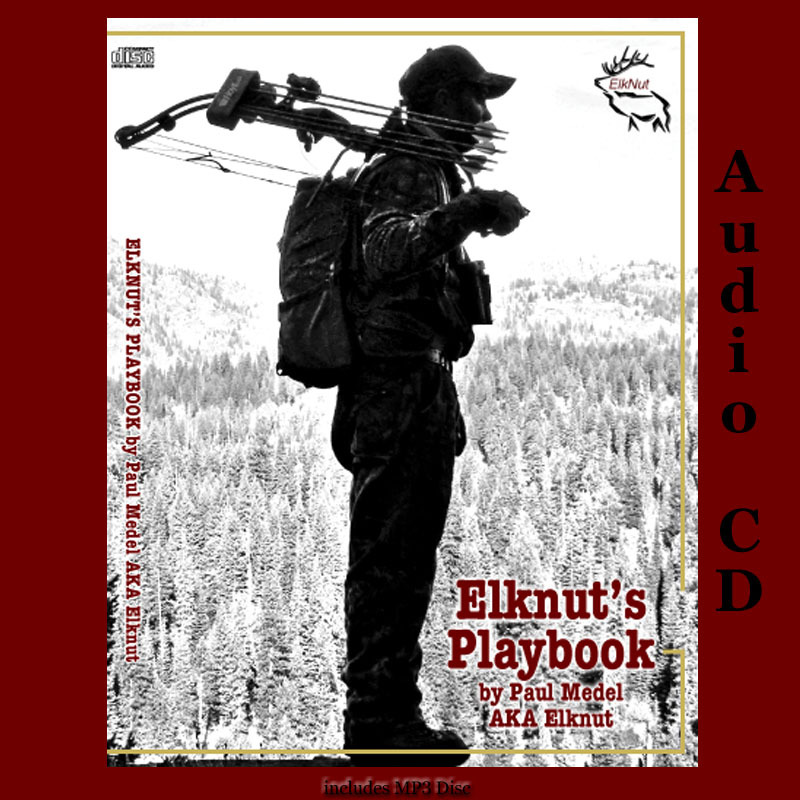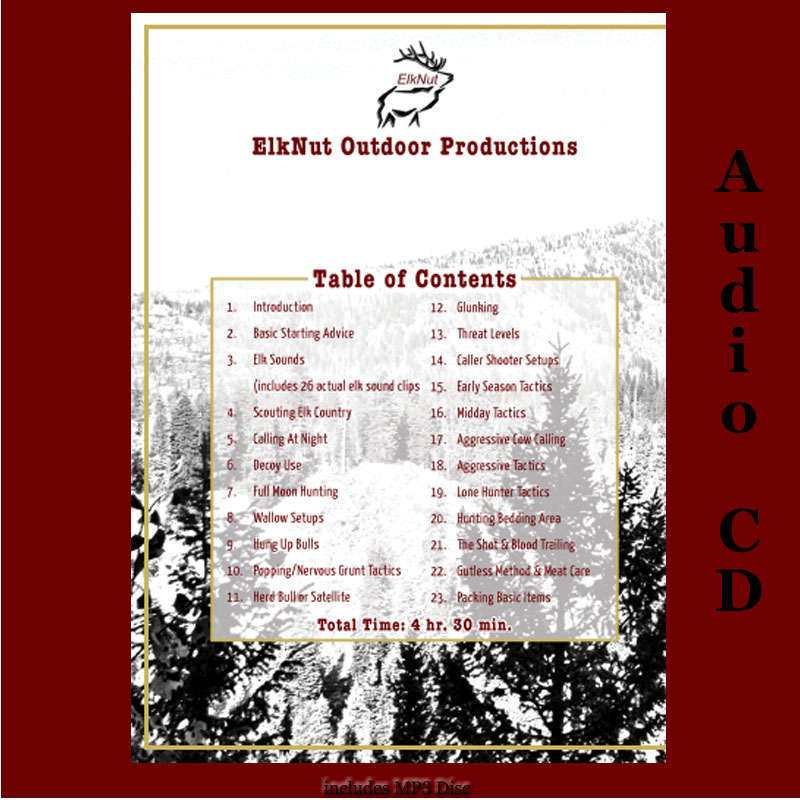 We have used this audio version of the Playbook for years to listen while driving, etc. The sounds section provides a great way to practice making the sounds. 
Paul Medel, ElkNut, reads ElkNut's Playbook himself. You'll find the typical mistakes a regular guy would make when reading but the information is all here. The audiobook includes a complete set of the elk sounds from Sounds By The Elk CD. The audio book comes in a hardcase containing 5 audio CD's & a 6th MP3 disc for easy transfer to your iPod or MP3 player.

The 26 real elk sounds are found directly after chapter 3. The third chapter is where ElkNut gives names to the different elk sounds he speaks about along with a brief verbal description of each sound. 

---
The Elk Nut 5: Basic 
Elk Sounds for Success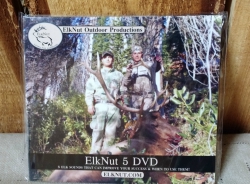 Success comes with knowing how to utilize these five basic elk sounds. You don't have to make every sound an elk makes to be a successful hunter. ElkNut goes into detail on how these sounds can be used to contact elk, giving you a position to head in. It also gives examples of many specific calling encounters - which sounds should be used when and how to combine the sounds in order to be the most effective. Most hunters will be able to master these sounds within a couple of days of practicing making this 1-1/2 hour DVD a "game changer" for your future hunts!
ElkNut discusses a wide variety of elk sounds in his book and instructional DVD's. But which ones are the most important? The ones he believes are the basic foundation every elk hunter can succeed with? The ElkNut 5 covers these must-know sounds. The five sounds are the sounds elk themselves use more than any other during pre-rut, peak-rut & post-rut times. These sounds can be used individually or in combination with each other depending on the elk encounter. Learn what these five sounds mean to the elk and how to make them yourself and you'll go into your next elk hunt confident you will make the most of every elk encounter!

---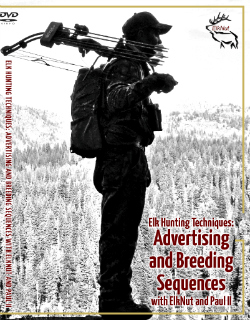 Elk Hunting Techniques: Advertising & Breeding Sequence with Elk Nut and Paul II. This DVD and MP3 two disc set is a must-have for the new or experienced Elk Hunter! It will have you re-thinking the way you call to elk in early season, or during the peak of the rut. The same information is on an MP3-CD in audio to hear on your phone, tablet , or any MP3 player.
The Advertising portion is excellent for when bull elk just aren't talking much. This can promote an investigation by bulls that want to size up the "bull" they hear for the upcoming rut. The Elk Nu team has had awesome success with this on over the counter, public land hunts.
The Breeding Sequence portion is absolutely deadly on bulls! This is what the bulls are waiting for; cows in heat! When this happens the herd bull is constantly talking to his cows and keeping track of the cow(s) nearing estrus. This is what draws satellite bulls towards these herds - imitate this sequence and it's "game on"!
This new DVD from ElkNut Outdoor Productions will show you how to perform both these methods in detail to raise your odds of success this year.
---
Two DVDS Combo Discount:
-The ElkNut 5: Basic Elk Sounds for Success
-The Advertising and Breeding Sequence


(See descriptions of each above.)
Both of the two newest info-filled DVD sets above for a discounted price. 
---
Bugling Bulls and Beyond- Worse Than Wolves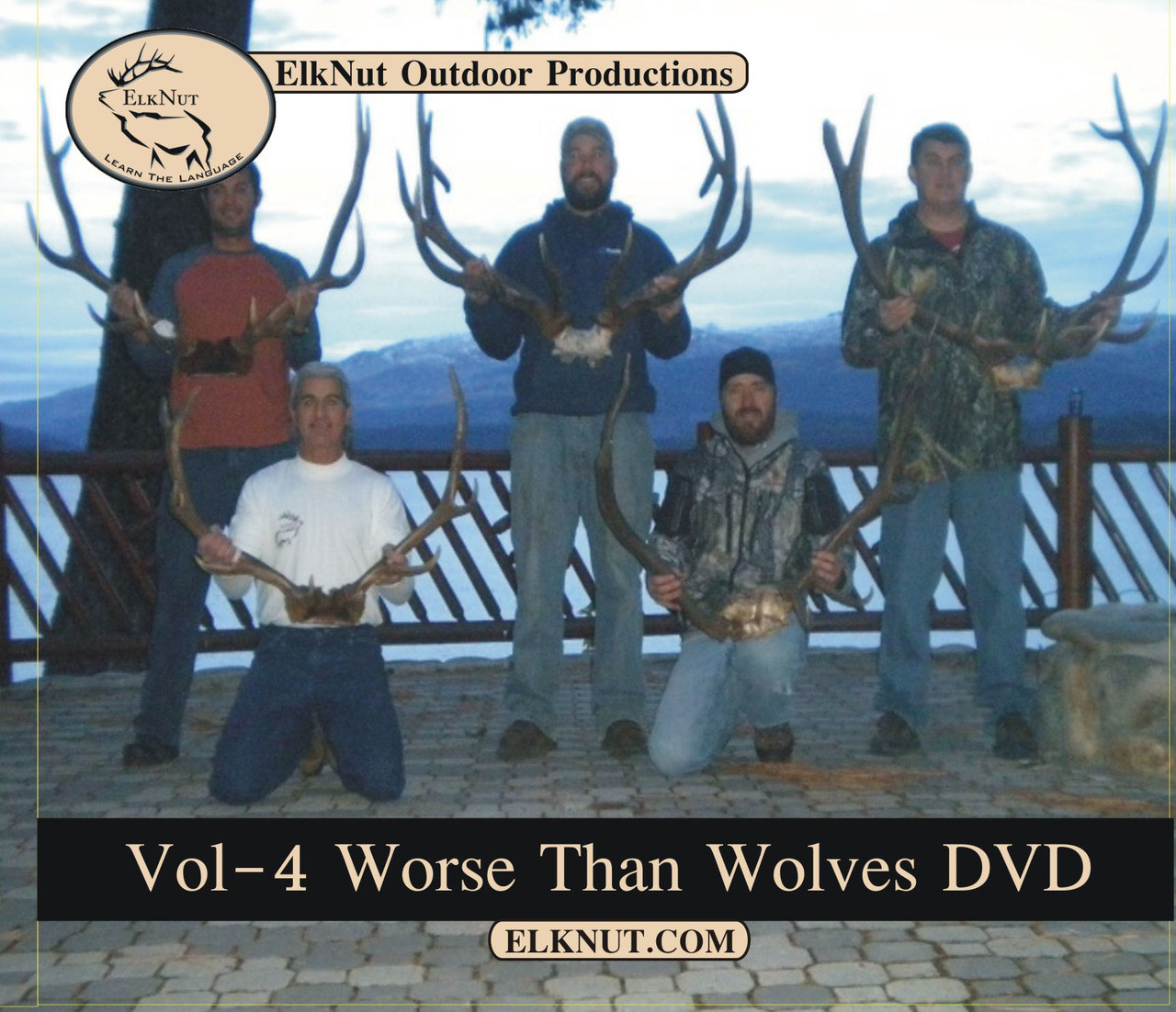 Bugling Bulls and Beyond "Worse Than Wolves"  is a two hour DVD filled with even more detailed information! This DVD covers main sounds made by bulls & cows and how to use them with several HOT, new additions since previous volumes. Learn elk staging and displaying, calls and methods used in early season, pre-rut, peak-rut, & post-rut, when to be aggressive and a demonstration of the THREAT, wallows - when and how to hunt them and what calls to use. Decoys? Hunting alone or tag team style; what's best? What are the best calls to use? How often should I call? How long should I wait once an elk is hit? All about glunking. The importance of set ups, the use of decoys, rattling bulls, and much more!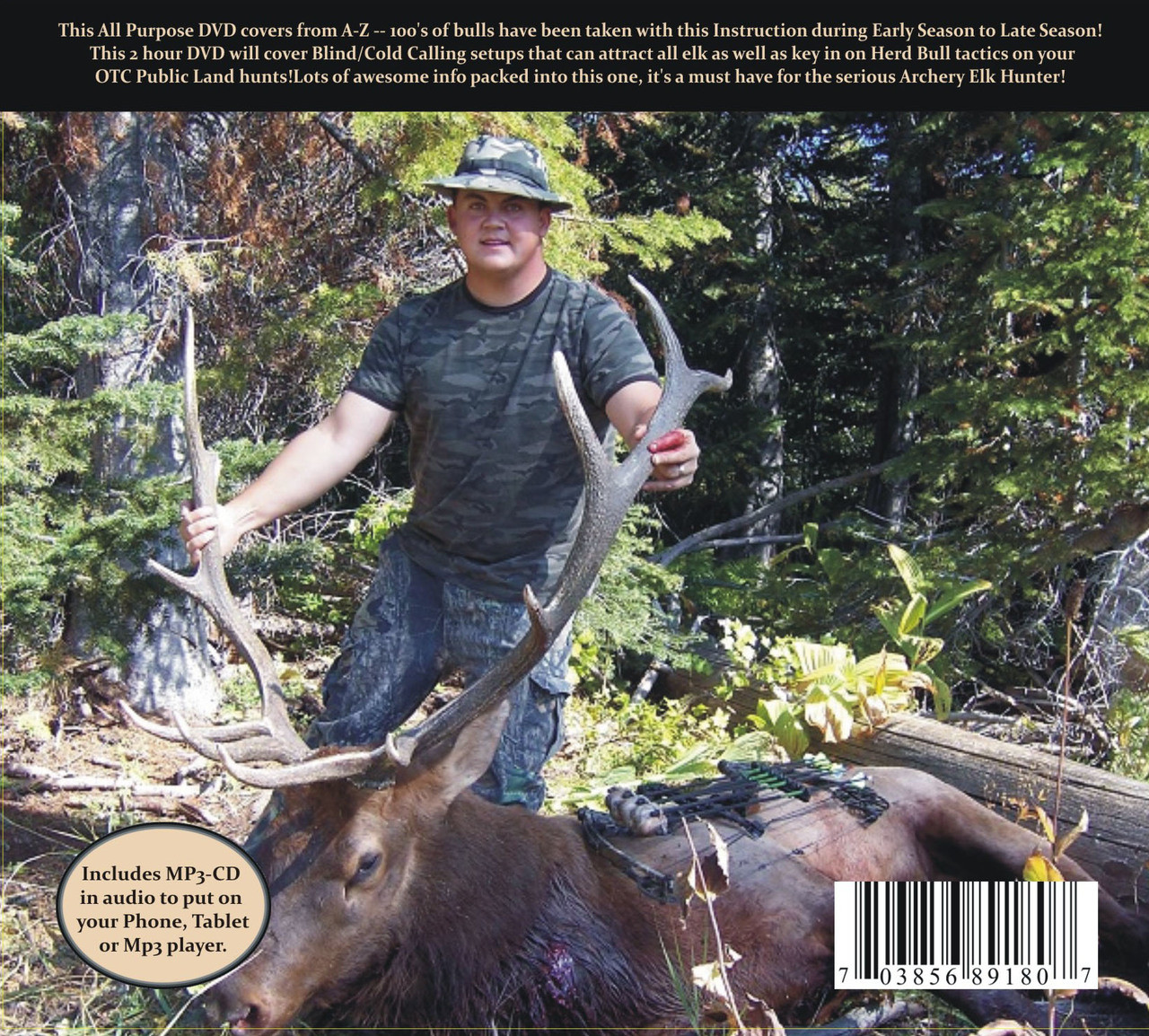 ---
Elk Nut's Mastering Elk Calls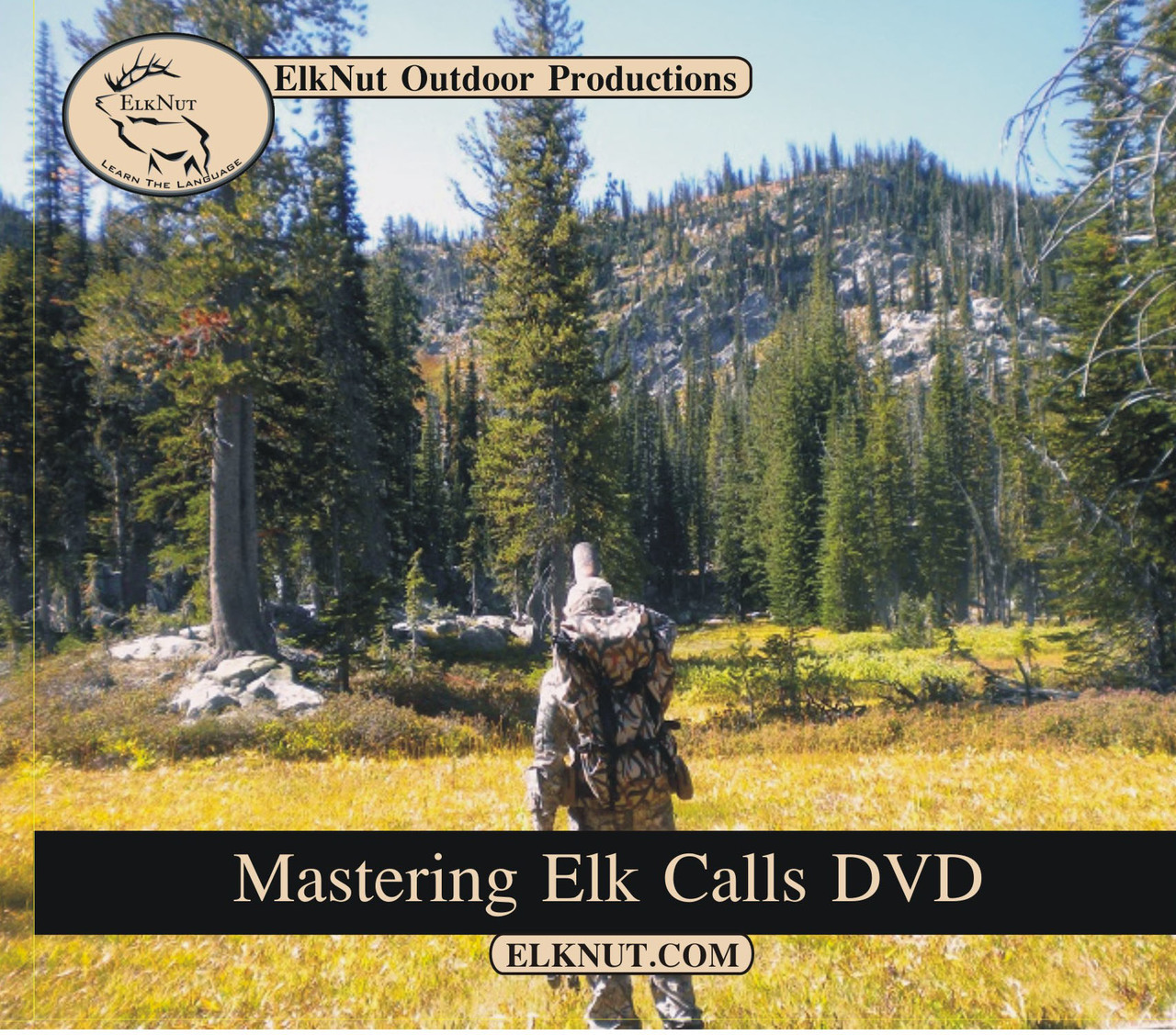 All new 1 hour and 15 minute DVD showing exactly how to use mouth reeds/diaphragms. Choosing the right reed for your pallet makes all the difference along with proper preparation of the reed and placement in the mouth for the perfect fit.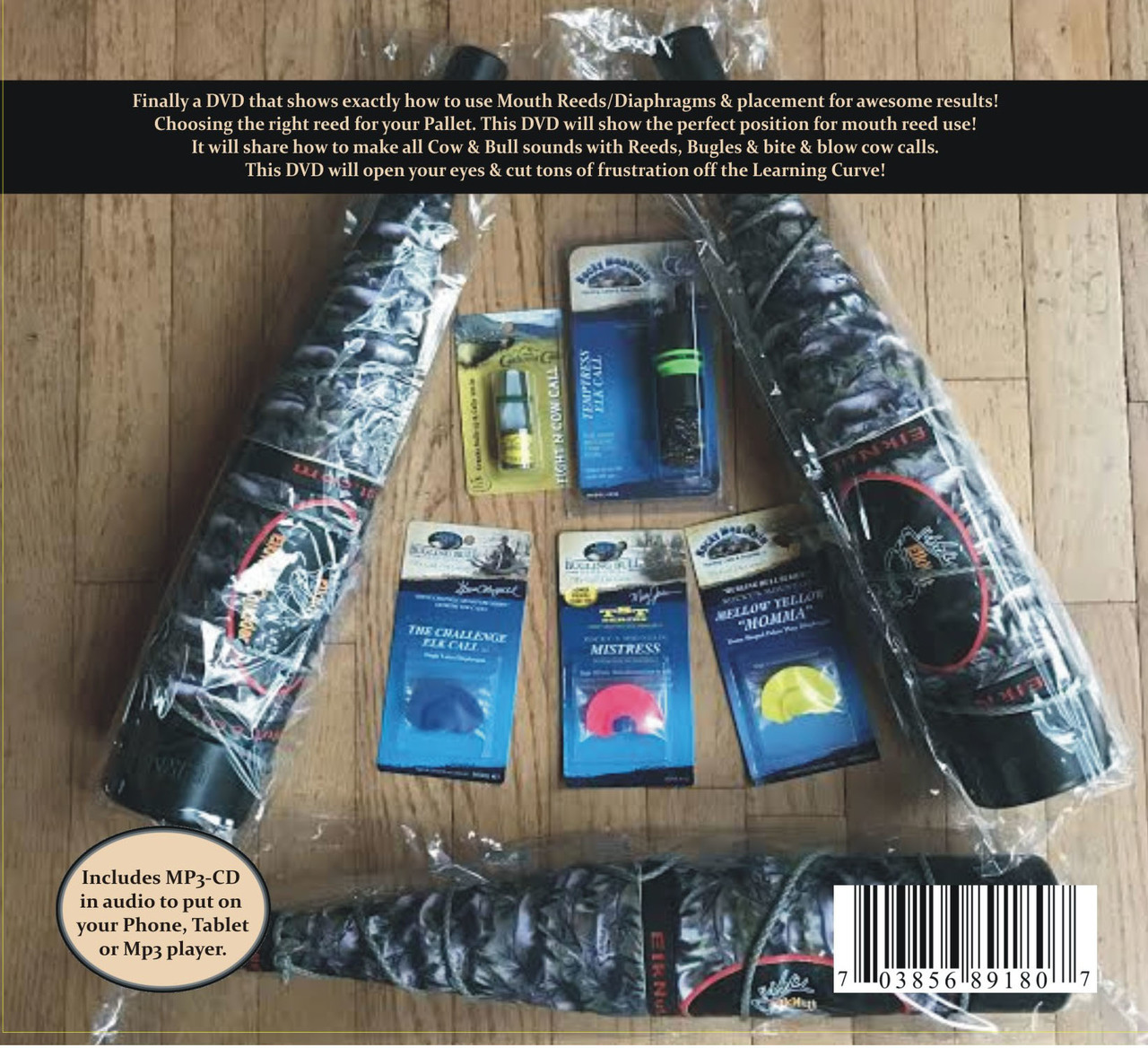 External cow calls are also discussed along with how to make cow and bull sounds with both types of calls. This DVD will cut a lot of frustration off the learning curve as you become a great elk caller.

Includes bonus addition of all the info in MP3 audio format - to listen to in your vehicle, or transferred to your phone or tablet.
---
Elk Calls and Elk Nut Discount Package

This savings combo package includes a Bugling Bull Game Call and ElkNut's instructional package for you. The elk call(s) and ElkNut Package is a thorough combination that we can send you for $118.95 (Free shipping). Separate price would be $134.70 total:
·        ElkNut's Playbook (separate price: $19.95)
·        Sounds by the Elk CD (regular price: $21.95)
·        Bugling Bulls and Beyond- Worse Than Wolves Volumes 4 (instructional, not watching someone hunt; regularly $19.95)
·        Mastering Elk Calls DVD (separately $15.95)
·        Bully Bull Extreme Grunt Tube (separately $37. 95)
·        Steve Chappell 3 Pack Signature Series Elk Diaphragms of diaphragm calls (separately $18.95)
·        Add one of the reed cow calls to compliment this package for $16.00 (Temptress, or Trophy Wife; normally $17.95)

---
Advanced ElkNut Discount Package

This discounted combination package includes all the following for $95.95 (free shipping)!
·        ElkNut's Playbook
·        Sounds by the Elk CD
·        Bugling Bulls & Beyond (Volume 4) Worse Than Wolves
·        ElkNut 5:Basic Sounds for Success and Elk Hunting Techniques 

·        Advertising and Breeding Sequences
If you prefer the Audio version of the Elk Nut Playbook, which includes the Sounds by the Elk, select that option for the same price.
If you want to put your own individual package of ElkNut products and calls together, let us know what you want and we'll give you a discounted price. 
---
Return to
Elk Calling page, from Elk Nut page.
To
Home Page
of ElkHuntingTips.Net.
Related topics available:
Learn Elk Vocalization
How to Make Elk Sounds
Learning Elk Talk
Product Review of Elk Calls
Recordings of Elk in the Wild
Predicting and Hunting the Elk Rut

---
Please subscribe to or our
Quick Elk Hunting Tips and Updates
newsletter or to an
RSS feed
(see left column for both) to be alerted whenever new information is added to the site.
We'd appreciate it if you would "Like" us on Facebook, or share this site with others.
An elk hunting gear list that big game hunters will find helpful. This is a list and brief review of practical, useful, quality hunting equipment for elk hunters.