Big Game Meat: Cool It!
Preserving the Quality
Big game meat is… well, BIG! So, it's hard to get it cooled down quickly. We often hear about people losing meat or not liking the "wild taste" of their game meat, but we figure if we ever end up with an elk that tastes "gamey", it would be because we did something wrong.
An elk hunting gear list that big game hunters will find helpful. This is a list and brief review of practical, useful, quality hunting equipment for elk hunters.
Handling game meat properly once it's down can make all the difference in the world in the quality. If someone loses elk or deer meat to spoilage, they either weren't prepared or didn't do what they should have to protect it.
Wait for Cool Weather?
People tell me they don't hunt until the weather gets cool, because they are afraid they might lose the meat to spoilage. Not me! I love to hunt warm weather bulls in early September. In 2010 my six-point bull was down on Labor Day around 10:00 a.m. My family lost a lot of sweat, but didn't lose any meat. It had great flavor and texture. We skinned and quartered it right there on the ground.
If that sounds like too much trouble, think about it. It's a lot more trouble hauling out a whole carcass. In fact, boning big game meat out right there on the ground is also not that big a deal, once you do it a time or two.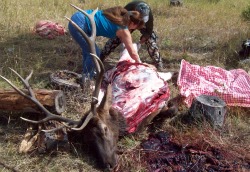 You might get a sore back from bending over, but even that can be minimized by getting on your knees as much as possible. (A big elk carcass requires some straddling, though.) To save your back, drag a log up and sit down as much as possible during the field dressing,skinning and boning of big game meat on the ground. Trying to move a whole elk will cause much greater soreness and possibly injury, not to mention slows the cooling process.
Once you do the above processing on the ground your meat will already be cooling off very nicely, even on a warm day. "Warm" in elk country during archery season is usually not much above 70, but we've harvested big game meat in much warmer temperatures.
Increase Airflow
Gutting a big animal quickly removes a lot of heat. Regardless of how soon you skin, quarter and bone it, provide as much air circulation as possible. It's tough to find a good hanging tree to hang an elk in and almost impossible to get it up there without some equipment. (See the Horse In A Bag) If you have to leave it overnight on the ground, at least put some logs or rocks under the carcass to allow some airflow all around it. Propped up off the ground with guts removed, including trachea, and slit wide open from anus to chin (if not a caped trophy) vastly improves heat loss.
Cooling Big Game Meat in the Field
Here are some tips to help cool down big game meat when the weather is warm and you can't refrigerate it right away:
Put the boned meat or quarters in plastic bags. Tie it good and set the bags in cool water, like a pond, lake or stream. Heavy duty garbage bags work well for this. Double bag, if the bags are thin. We've put deer in streams whole, but elk are pretty tough to carry over to water intact! (Any storage of big game meat in the field will set it up as a tempting meal for bears, or other carnivores, so use caution.)
Yes, there are bacteria growing in water sources like that, but you're going to cook it eventually and kill those bugs. Sticking big game meat directly into water without being in a bag isn't a good idea, at least not for long. The water will eventually deteriorate the quality of your meat. We have used buckets of water for this purpose for a short time to cool it down quickly.
Get your meat off the ground as soon as possible to allow for good circulation. Hang your meat from pole structures or trees. A rope stretched tightly between two trees will provide a nice line to hang quarters or bags from. Light game bags allow better circulation than the heavy duty reusable ones.
Hide On, or Off?
I personally never leave the hide on my quarters. An elk hide is very heavy. If I'm going to quarter it, I prefer to just skin it first. Heavy duty big game meat bags can be used to slow evaporation of the meat. The hide is dirty and it stinks. An old bull pees on himself on purpose, so that he can stink like an old bull! He pees in a mud hole then rolls in it.
I want to make as few cuts as possible to that hide, so that fewer hairs and less dirt has a chance to fall on my meat. I personally want even a dirty cow elk or doe hide separated away from my meat, so it won't get tainted from it. The "gamey" taste many people expect from big game meat is often from contamination from hide to meat.
We are careful to use and change medical type gloves after handling hide and before handling meat. Remember that the knife you skin the animal with will be contaminated with that musky smell and dirtiness. It will have some fat on it and the smelly stuff will not wash off easily without hot water. Change knives after gutting and skinning to avoid transferring that off flavor to your big game meat.
De-bone It?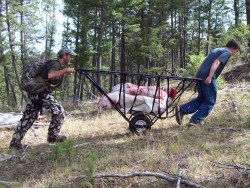 We often use a cart to move big game meat. (Our favorite is the Lo-Boy Transporter. ) Even when we use a cart, we are more and more inclined to de-bone big game meatbefore transporting. It's just not that hard to do and it eliminates a lot of weight.
However, remember that bones do provide some structure that makes it easier to handle as opposed to sloppy, sagging bags of meat. But if heat and weight is a problem, just de-bone it!
If it's going to be in the teens at night, that's a great time to store it outside. Big pieces of meat won't freeze at that temp, but will age safely. Much above a temperature of 50 degrees (F) during the day starts to become risky, unless the meat cooled down a lot overnight. Make sure it's in the shade and is getting plenty of air. Time and higher temperatures are the variables that become an enemy to the quality of your big game meat.
Harvested big game meat from a big bull elk or moose can add up to above 200 pounds. So, just getting it home untainted is not the end of the potential problem. If you stuff a freezer full of meat, it will have a hard time cooling your meat down. We often use bags of ice, even in the freezer to speed up the freezing process. (Find discussion of that on this page.)
Rent a Freezer Locker
If you want to go elk hunting or kill a bunch of deer, but you don't have a freezer, you can beg your friends for freezer space. Or, look around town at home for freezer lockers. They hand you the key to your locker and it doesn't cost that much. Transport small amounts to your home unit as needed. Call your local meat markets to find one.
Very Cold Weather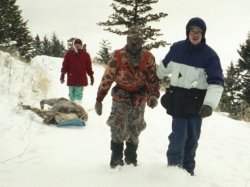 During very cold weather, around zero or below, your meat will cool quickly, even with the skin on. Be advised, though, it is very difficult to skin a frozen animal. We got an elk home whole many years ago during sub-zero weather and hung it up in the garage with plans to work on it the next day. It was frozen solid on the outside and skinning frozen big game meat ishorrible! We'll never do that again! Incidentally, the only time I really "enjoy" handling warm guts and then working with fresh warm meat in the field is on a very cold day or night.
Aging Big Game Meat
When your big game meat freezes, the aging process ends. It usually takes a couple of days for us to finish retrieving, cutting and processing an elk. It takes another day or two to actually freeze solid in the freezer. So, aging occurs during that process. With that in mind, we see no need to hang an elk several days to age the meat.
A deer carcass might benefit from hanging a couple of days in cool weather, ideally just above freezing or so, since processing and freezing goes so much faster. We have found that any big game meat that gets frozen right away, as on a very cold hunt, usually ends up being tougher due to lack of the aging process.
Fresh Meat Starts Out Clean
Remember that very fresh meat on the hoof is not contaminated until we expose it to heat, air, dirt, hands, knives, etc. Bacteria have to work their way from outside to the inside. Upon immediate kill, the meat inside is essentially aseptic (no germs). If an arrow or knife pierces it or skins it, it is now exposed and no longer "aseptic".
Of course, with time, bacteria penetrate that carcass and destroy it. That's their job. Bacteria work fast in warmth and moistness. The colder it becomes, the slower the bacteria multiply. Freezing stops the multiplication.
Just Cool It Down
In conclusion, get your meat cooled down fast and keep it cool while it's being processed. Ideally down to around 40, but clean meat will not spoil quickly (in a matter of hours) at an internal temperature of 50 or a little more. There are too many variables to give you exact upper temperatures and length of times that will be safe for your big game meat. Just do all you can to protect your hard earned trophy from the moment it hits the ground until it is wrapped and frozen solid.
Related topics available:
Moving a Whole Elk
Game Hauler Review
Field Dressing Elk
Gutless Field Dressing
Skinning Elk
Quartering Elk in the Field
Caping An Elk for a Shoulder Mount
Deboning Elk in the Field
Game Meat Processing: Bill's True Story

---
Please subscribe to or our
Quick Elk Hunting Tips and Updates
newsletter or to an
RSS feed
(see left column for both) to be alerted whenever new information is added to the site.
We'd appreciate it if you would "Like" us on Facebook, or share this site with others.
---
To "Elk Down! Now What?" from Cooling Game Meat page 

See the Hunter's Meat Map here 

To Home Page
---