Hunting Gear & Reviews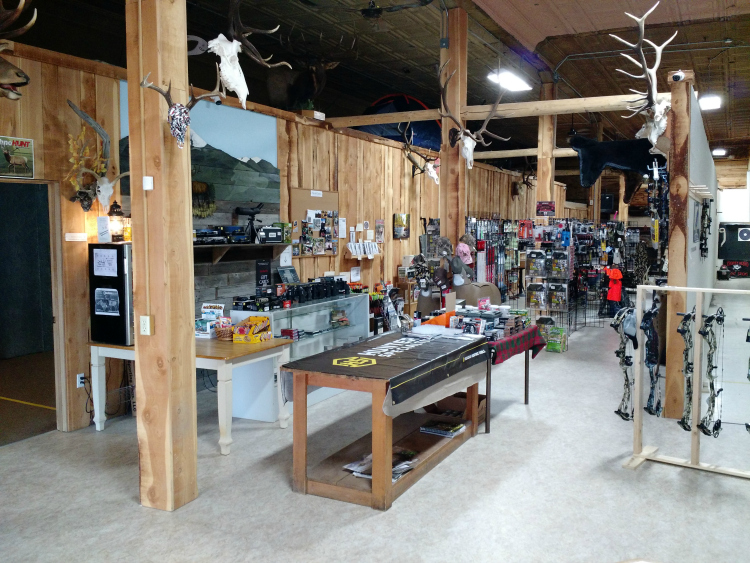 We ship hunting gear directly from Elk Tips Outdoor Gear in Deer Lodge, Montana. Feel free to call with questions: 406-431-0876.
We will put some innovative gear below and some other basic need hunting gear below. Be sure to read our reviews of our favorite items listed on the right hand column. Those items are available, as well. 
Feel free to call 406-431-0876, if you don't find what you are looking for. Or, you can contact us here. 
Here are some quick links to some of the hunting gear we really like:
Bow Sling:
String Sling Ready-Carry Bow Sling
Camouflage:
ASAT Camo
Decoys:
Montana Decoy
Elk Communication Resources:
ElkNut's Outdoor Productions
Game Calls:
Bugling Bull Game Calls
Rifle Sling:
Safari Sling: Ready Carry Rifle Sling
Inexpensive Water Filters
---
Featured Hunting Gear Products
Free Shipping:

ElkNut's Elk Communication Products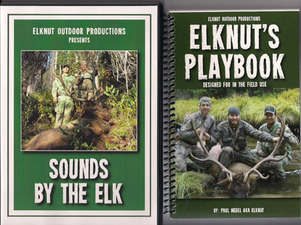 "Elk Nut", Paul Medel, is THE elk communication expert. Paul has spent over 30 years doing in-the-field research about what elk are saying when they communicate. He has put together some very effective and easy-to-use learning tools (CDs, PlayBook, DVDs, etc.) in order to share with other hunters his wealth of knowledge about elk talk and how to call elk.
These Elk Nut products and Bugling Bull Game Calls are vital elk hunting gear for any elk hunter. I usually carry the Play Book in the cargo pocket of my hunting pants. Read more and purchase ElkNut products here. Free shipping.
---
Ready-Carry Safari Sling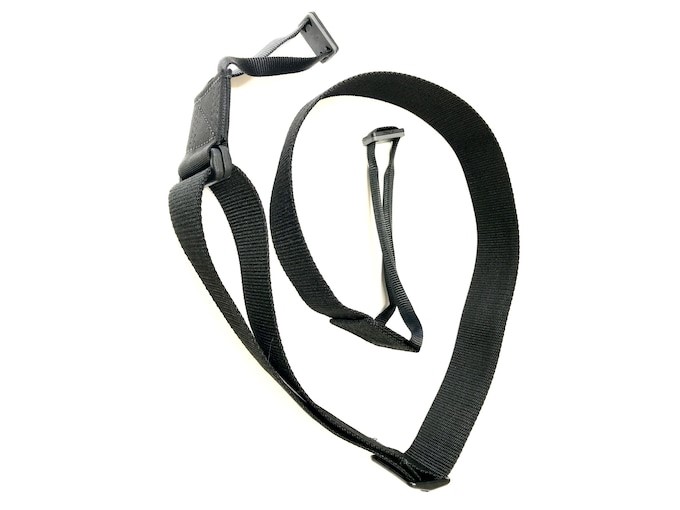 There is only one rifle sling that we use and highly recommend. It is the Safari Sling! I don't know why most people still sling their rifle over their shoulders where it takes so much movement to bring it up for a shot.
These Safari Slings allow a hunter to carry a rifle at-the-ready very comfortably. They make great additions to your elk hunting gear list. You may not appreciate these until you use them for the first time. They are an integral part of our elk hunting gear! I also use it to carry my rifle on my back while riding a mountain bike.
Here's a true story from a hunter that decided to make a Safari Sling part of his hunting gear: "We were hiking back to his truck for lunch... We saw a big bull with a huge rack coming out of the woods. Guess where our rifles were? On our shoulders. By the time we got our rifles off our shoulders that bull was back in the woods, lickety split. What a missed opportunity, just because we didn't have our rifles in a ready position. Another hunter we talked to that morning had a big bull come by near him. But guess what? He had put his rifle down on the ground so he could take a p---!"
These Safari Slings are black.
Manufacturer's Description:

Safari Sling keeps your rifle secure on your shoulder. But, it automatically drops away as you raise to shoot...without unslinging....making you faster.
Equally important, this patented design lets you carry your rifle hand-free in three different positions:
• Out in front of your body, in the right-side-up position.
• Over your shoulder, in the traditional hiking position.
• Across your back, and out of your way.

The 2" wide webbing is soft and comfortable, yet remarkably rugged. And, it does a superior job of spreading weight evenly which lessens strain and fatigue. (The sling itself only weighs four ounces.) 

Safari Sling installs easily on most rifles and shotguns. And, the patented heavy nylon loops fit 1" and 1-1/4" standard swivels.
If you're inclined to cover a lot of ground while hunting, remember that the Safari Sling works great with backpacks.
UPC: 053624020404
---
Archery Hunting Gear:
Ready-To-Shoot Bow Sling

I use a StringSling® for my bow to allow for instant shooting position with minimal movement and no arm fatigue. Most bow slings require too much movement that can spook game.
The over-the-shoulder StringSling® hangs your bow at your side, with the grip near your bow hand. With a slight wrist movement the bow is ready for action. No need to make all the problematic movements at each end of the bow to remove other bow slings.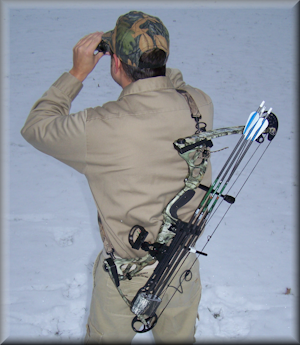 The StringSling® also quickly transforms from holding your bow at arm's length, to a very secure back sling that will keep your bow out of the way when you're not hunting. I ride a mountain bike in and out and use a StringSling® in the secured function while I'm peddling.
The bow balances over my backpack secured by the StringSling®. When I reach my hunting area it just takes a few seconds to reconnect the sling ends to the string hook for ready-position carry. I consider it an absolutely essential part of my bow hunting gear.
Watch the video to see how the StringSling® works.
You can add a StringSling® to your hunting gear at a reduced price here, with free shipping. Lifetime Guarantee! Made in USA. ($4 extra to Canada, $9 extra to Australia. Contact Us below for prices to other areas.) Select the discount buttons for more than one StringSling®.
UPC: 702552100138
---
ASAT Camouflage

ASAT (All Season All Terrain) is one of our favorite camo patterns. The designs are made more to fool animals than to impress the human eye. The light background of the ASAT pattern causes the animal to look past the hunter, rather than to think he is part of a tree or bush. 
ASAT camo products can be purchased for 15% off, plus free shipping here.
Read our thorough review of camouflage patterns. 

---
Optics for Hunting Gear 

Here are some in-stock optics with free shipping: 
Bushnell Trophy Bone Collector Binoculars 10x42:

Industry leading clarity, priced to leave competitors eating dust on a shelf. They're armor-plated, waterproof, fogproof and built to take nature's worst while delivering best-in-class durability and clarity. This aggressive, ergonomic performer houses fully multi-coated lenses with new objective lens covers that stay in place. And all four models feature 2-step eye cups for improved fit and comfort. For serious hunters who won't settle for anything less than the brightest images, at a price that's more than affordable.
Ideal magnification for hunting at long ranges and wide field of view.
Fully multi-coated lenses for maximum light transmission and optimum brightness

Heavy-duty, 100% waterproof/fogproof construction
2 Step twist-up eyecups allow quick adjustment for optimum eye relief
Large center-focus knob for precise focusing – even when wearing gloves
Trim, ergonomic shape for easy, all-day use
Textured, non-glare, non-slip rubber armor absorbs shock
Diopter adjustment for precise and reliable adjustments
UPC: 029757342096
---
Bushnell Trophy Rifle Scope 3-9X40 Multi-X Matte:

Trophy Riflescopes deliver an unbeatable combination of edge-to-edge clarity, best-in-class light transmission and affordability. The most versatile, all-around big game hunting scope. 3-9x40mm riflescope for most hunting situations.
Fully multi-coated optics 91% light transmission:
All air-to-glass surfaces feature multiple layers of anti-reflective coating. Fully multi-coated optical systems deliver the brightest, highest-contrast images with the least amount of eye strain because only a very small percentage of light is lost before it reaches the viewer's eye.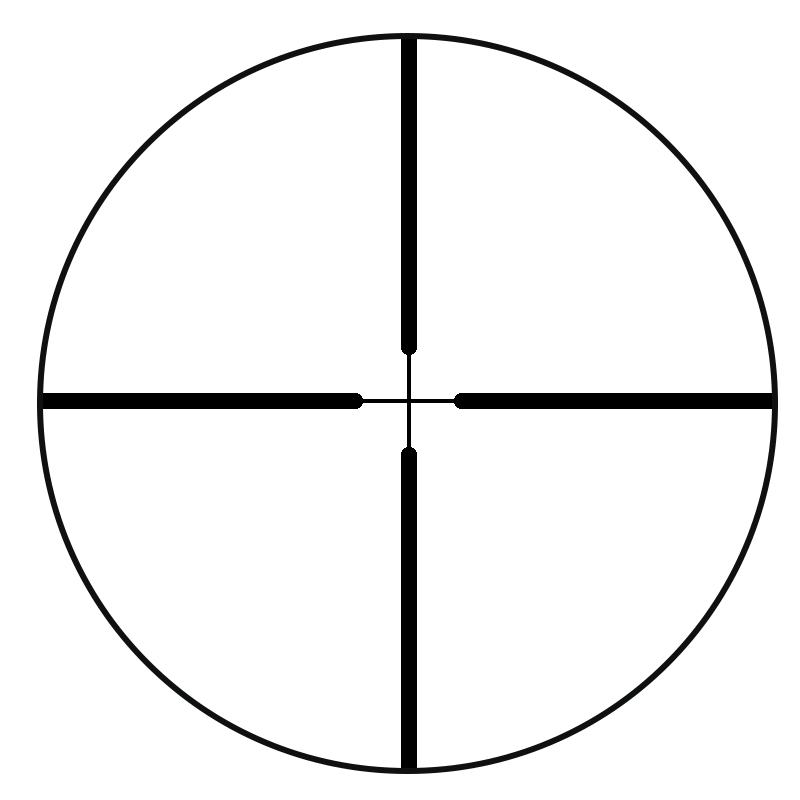 Reticle:  Multi-X

100% WATERPROOF/FOGPROOF/SHOCKPROOF:
Products are O-ring sealed and nitrogen purged for total waterproof and fogproof protection. These models can withstand complete immersion in water and stay dry inside. The interior optical surfaces won't fog due to rapid temperature change or humidity. 100% waterproof, fogproof and shockproof.
Dry nitrogen filled.
Fast-focus eyepiece.
One-piece tube with integrated saddle.
¼ MOA fingertip windage and elevation adjustments.
Tube Diameter: 1"
Field of View: ft@100yds:  38@3x, 13@9x
Weight:   14.3oz.
Eye Relief:  4"
Exit Pupil mm: 13.3/4.4
Click Value: 0.25in. @100yds 
Adj Range: 60in. @100yds 
Mounting Length:5.5in
Focal Plane: Second
UPC: 029757539601
---
Bushnell Banner Rifle Scope 3-9X40 Multi-X Matte: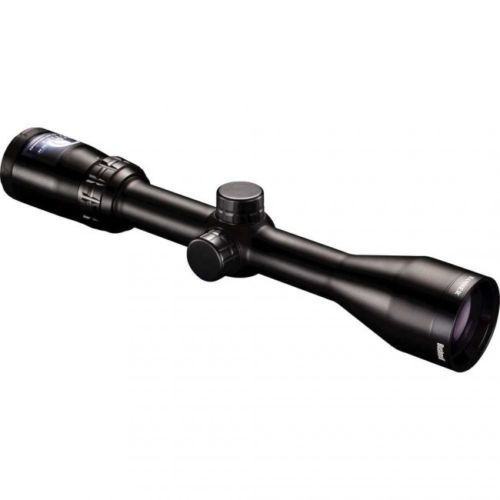 Great for rifles, shot guns or muzzle loaders. All around big-game scope.
Banner riflescope family featuring Dusk & Dawn Optics is designed to give you the advantage on those early morning and late evening hunts when available light is low but game activity is at its highest. Banner optics are coated with Bushnell's proprietary Dusk & Dawn Brightness (DDB) multi-coating process giving you the brightness and clarity you need to fill your tag in those critical first and last minutes of daylight.
One-piece tube. 100% waterproof, fogproof and shockproof. Dry-nitrogen filled. 1/4 M.O.A. fingertip windage and elevation adjustment. Fast-focus eyepiece.
Reticle:  Multi-X

Lens Coating:  DDB Multi-Coated
Tube Diameter:  1"
Field of View (ft@100yds): 40@3x, 14@9x
Weight (oz/gr): 13/369
Length (in/mm): 12/305
Eye Relief (in/mm): 3.3/83.8
Exit Pupil (mm): 13@3x / 4.4@9x
Click Value (in.@100yds/mm@100m): .25/7
Adj Range (in.@100yds/mm@100m): 60/1.7
Mounting Length (in/mm): 5.8/147
Focal Plane: Second
UPC: 029757139481
---
Elk and Other Big Game Decoys

Big game decoys do work. During the rut, elk and deer will be attracted to HD photo based life size decoys. The clear leader in the field of decoys is Montana Decoy, Inc. They are lightweight, but well-constructed and look very realistic. The original HD photography used to make them is of actual animals. I often have a Montana Decoy on the back of my backpack with the rest of my hunting gear. Read about how to use elk decoys here.

---
Inexpensive Water Bottle Filters

Here are a couple of inexpensive, lightweight water bottle filters that I use to drink directly out of any lake, pond, stream or cattle trough. These inexpensive water bottle filters are not designed to refill other containers. Buy an expensive pump filter for that. But, if you want a way to take a quick drink from contaminated ground water, this works great as a lightweight part of your hunting gear pack! 
Now I can carry a minimal amount of fluid in my hydration reservoir to make it as long as I need to. I got tired of carrying the weight of extra water. If I need more, I take one of these filters out and fill it from creeks, streams, etc.
They safely reduce more than 99.99% of bacteria and contaminants such as Giardia, E-Coli, Cryptosporidium, lead, heavy metals, chlorine, VOCs, bad taste and odors. 
I carry the Sawyer Mini Filter, if I am short on space in my hunting gear pack. 
The innovative Sawyer Mini Water Filter is rated to 0.1 micron absolute, weighs only 2 ounces, and filters up to 100,000 gallons. The MINI can be attached to the included collapsible drinking pouch, inline on a hydration pack, on a standard soda bottle, or you can simply use the included drinking straw to drink directly from the water source.
UPC: 050716001037
I carry the Clearbrook Water Filter empty in my backpack as a regular part of my hunting gear, if I have room. The easily replaceable filter does up to 160 refills per filter. It is a rugged, 24 ounce bottle with an impact resistant cover. All you have to do is remove the cap and fill the bottle. Replace the cap and drink.
---
Clip-Shot Camera and
Smart Phone Mount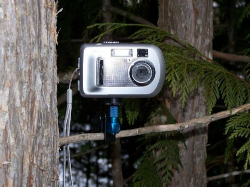 I can't tell you how many times I have stacked rocks, or pieces of wood and balanced my camera on them with little shims to level it, only to have it fall over! It's even harder with a smart phone. I have tied my camera to trees and branches with flagging tape. It's very difficult to get it level and pointed in the right direction. This little camera mount solves that problem. It's now a regular part of my hunting gear. With the included Smart Shot, you can mount your smart phone or camera in minutes to a tree, stick, arrow, or whatever and get in the picture using your camera timer!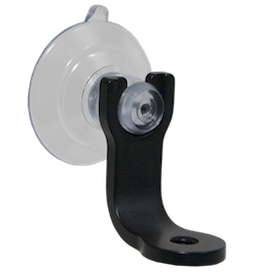 Smart Shot Adapter for smart phones
---
Hydration Systems

CamelBak is the most popular brand. Most hunters do not fully appreciate how much better they would feel if they stayed hydrated. 

GPS Unit

Garmin handheld GPS units are the best choice in many people's opinions, including ours. You don't have to have the expensive versions. I use an older, lower priced GPS and I'm very well served by it. A Garmin and decent topographical maps make two great complementary pieces of hunting gear.
(Print free hunting maps here.)
Binocular Harness

A binocular harness keeps the binoculars from swinging around. That's very bothersome! These are inexpensive, but a very useful piece of hunting gear.
Game Cart

Click here to see our complete review.

Bone Saw or Folding Saw
One folding saw for the field dressing job in your pack and a full size bone saw for more convenient quartering make practical additions to your hunting gear when you are successful.

Scent Control Clothing
See complete discussion of scent control clothing here.

Leg Gaiters
Gaiters keep the lower part of your pant legs from getting wet when walking in snow or soaked grass. Once you get your pants wet below the knees, the moisture sneaks into your waterproof boots by wicking right down into your socks. You can buy Gore Tex gaiters, but even the less expensive, water-resistant brands do a pretty good job of repelling moisture, even with a soft quiet texture that slips through brush quietly.

Hunting Boots
Consider the temperature boots will be worn in. We prefer from 800 to 1200 grams of Thinsulate for cold weather hunting, along with Gore-Tex, or other similar waterproof technology.
Snow "packs" can certainly be warmer and dryer, but not as supportive. A good leather boot provides more support, but lower quality leather boots will sacrifice a warmth and comfort.
A high quality leather boot is an important piece of hunting gear. The best boots for mountain hiking and hunting are made in Bozeman, Montana at either Kenetrek Boots, or Schnee's. Their quality hunting boots will cost you $200 to $400, but they are the best. Then again, they will last and keep your feet safe and comfortable. Good boots will be your best friend in elk country.
Game Ear Type Hearing Devices

Unless there is a hearing loss, we haven't found these useful. They mainly amplify close up sounds. The hunter can hear his own clothing swish and his breathing sounds louder. That's not helpful. A distant elk bugle or turkey gobble is not amplified appreciably. These might be useful hunting gear for tree stand hunters, as they might amplify a deer approaching the deer stand.

Compass

This tool should be part of any hunting gear in the hunters pack or pocket, even if someone carries a GPS device. If a GPS battery dies, a compass and topo map(print free maps here) might become a lifesaving piece of hunting gear.

Mapping/Topographical Software

There are many good brands. Lowrance is popular. However, you can print free maps at MyTopo.com.

Rifles

Obviously, a vital part of your hunting gear is a rifle. 30.06 is the most versatile of calibers and plenty powerful enough for elk. 300Win-Mag, 338 and 308 are also often mentioned for elk hunting. Regardless, your gun will perform most effectively against elk if you buy premium, and the more expensive, ammo. Don't cut costs on ammo.
If you know what type of gun you want, go to ElkTipsOutdoorGear.com and find it. Call us, if you need help finding a gun or any hunting gear: 406-431-0876. We can also help you find an FFL to ship to.
Please subscribe to or our Quick Elk Hunting Tips and Updatesnewsletter or to an RSS feed (see left column for both) to be alerted whenever new information is added to the site.

We'd appreciate it if you would "Like" us on Facebook, or share this site with others.
---
Search this site here: