ASAT Leafy 3D Series
After wearing his ASAT leafy 3D, a Hunter in Minnesota (Fall, 2015) explains the advantage, "I just wanted to say thanks for the information on your site. I don't hunt elk but your information is what made me decide to try the ASAT leafy suit. Last night while hunting I rattled in four deer while stalking. I had these deer within 10 yards of me for 15 minutes and the doe was within 4 paces of me for about a minute and a half. There were no shooters in the bunch but to have those deer that close for that long was quite the experience. I have taken 3 deer while using this ASAT leafy 3D suit. If it had not been for your informative site I would never had purchased this suit. Every time in the woods hunting turkey, white tail even ducks and geese I go undetected when wearing this. Single best camo purchase I have ever made."
No UV Brighteners in ASAT leafy 3D!
Free 3-5 Day Shipping in the USA on orders over $50. $5 flat rate shipping for $50 and under! If you are combining ASAT orders with another product purchase and PayPal charges you for shipping, let us know and we will refund the shipping (for over $50) immediately! Email us (bottom of this page) with your address and products to be ordered for the cost of 2 day shipping option.
For shipping costs outside the US, please email us with your address and items you want to order. Or, feel free to call us: 406-431-0876.
If you want a quick list of ALL ASAT products with descriptions and our pricing, click here. 
Click here for ASAT Sizing Chart (PDF).
Discussions about elk hunting in Montana can be found on this page. Connect with others who hunt elk in Montana, or those who want to. Ask, find or provide answers about hunting elk in Montana.
---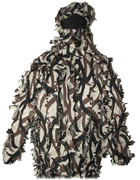 ASAT Leafy 3D Suit
An ingenious camouflage over-system, the ASAT® Vanish-Pro™ 3-D Suit is designed to fit over scent control garments, rain gear or bulky insulated clothing. The polyester fabric is leaf cut and chain stitched to the mesh - the mesh inner layer is also printed in ASAT® camouflage - for added concealment and disguise.
ASAT Leafy 3D pants sport an elastic waist, side slash access and 22" lower leg zippers to go on easily over boots. The collarless, full zip top has elastic cuffs. The VisorPro™ Head Net has cable lock adjustment in back to maximize your field of view.
The ASAT Leafy 3D Suit includes top, pants and head net and is generously sized.
---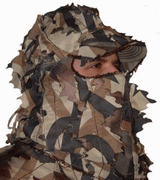 Vanish-Pro™ Leafy 3-D Head Net
This is the same head net included in the ASAT® Vanish-Pro™ Leafy 3-D suit. It has a cable-lock rear drawstring and can be purchased separately here.
---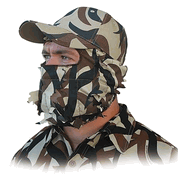 Vanish Pro Leafy 3/4 Face Mask
(Shown with ball cap)
Has a built in sweat band, secured by 2 elastic bands in back for easy adjustment; pulls down to neck when you don't need it.
Out of stock until some time in 2021.
---
Shop for all ASAT Camo:

ASAT Hurstwic Jacket and Pants

ASAT® Bedrock Merino Wool

ASAT® Classic Series

ASAT® Vanish Pro 3D Series

ASAT® Elite Performance Series

ASAT Rain Gear

ASAT Camo Youth Series

ASAT Gift Certificates and Camo Accessories

ASAT® Camo Packs

Back to ASAT Camo Hunting StoriesBack to Home Page
---
Please subscribe to or our "What's New" newsletter or to an RSS feed (see left column) to be alerted whenever new information is added to the site.
---