Packing Elk Meat: Big Game Retrieval Made Easier
Packing elk meat or a whole elk even short distances can become a daunting, if not impossible task. Big game retrieval requires a comprehensive plan. If you have a few strong and fit individuals who are willing to share the load (and your meat harvest) the task is much easier. I have seen some big guys hurting themselves unnecessarily because someone insisted on taking an elk out whole.
Packing meat home alone, or with little help, can be done several different ways.
An elk hunting gear list that big game hunters will find helpful. This is a list and brief review of practical, useful, quality hunting equipment for elk hunters.
Related topics:
Blood Trailing
Moving a Whole Elk
Game Hauler Review
Field Dressing Elk
Gutless Field Dressing
Skinning Elk
Quartering Elk in the Field
Deboning Elk in the Field
Cooling Big Game in the Field
Caping An Elk for a Shoulder Mount
Elk Hunting With Horses

Take Photos First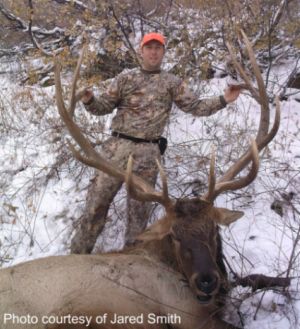 When you catch a record size bass or trout, you don't want to fillet it out right there next to the lake or stream. You want to show everyone back home. You have to reconsider your priorities when it comes to an elk carcass that weighs several hundred pounds.
The only thing that's really worth showing off is the head and horns of a bull anyway. A camera will preserve the whole image just fine. After you've taken several years worth of pictures of elk, the memories focus on the hunt and the whole process, rather than the shape and size of the animal.
Click here for our discussion about taking pictures of game.

Search this site here:
Practical Tips for Moving Big Game

So, what if you find yourself short-handed or just like to do it all yourself? Or, maybe you just want to make it easier on yourself and your hunting buddies.

I am 5'6" tall and weigh 137 pounds. Great for my marathon running passion, but a little light on muscle mass for packing elk meat. I have been blessed to harvest a good share of elk through the years, but have ended up packing elk meat by myself many times. I've carried several elk out on a backpack frame with no assistance. Some elk my wife and I, and young boys (when they were small), managed to load whole into the back of the pick-up by ourselves. We've mastered some energy-saving techniques.
First, don't underestimate the need for hunting fitness preparation in the weeks and even months prior to undertaking such a demanding feat. If you can't safely move heavy objects for long periods with the current state of your body, stay close to your rig this year and hunt with friends who are willing to help you, should you be successful. Be careful with your back and knees. You'll need them for next year's hunt.
Here's a very brief video of the methods discussed on this page. This video is used here by permission of RMEF's ElkNetwork:
After the Shot

Most big game animals that are hit in the vital area (with bow or rifle) will run, usually downhill. It seems like they're determined to make game retrieval harder.
Be prepared to blood track them after the shot by marking in your mind and then with bright flagging strips the spot where the animal was standing when you shot it, the path it followed afterward and where you last saw it. Many people assume they missed as they watch their intended target disappear, like nothing happened, into the forest or over a rise. They are usually wrong!
Click here for our thorough discussion of careful shot follow up and blood tracking.
Using Sleds for Game Retrieval

Location of the carcass and weather will determine your options for game retrieval. I have sledded whole elk out on a kids' snow sled more than once. It's not as easy as it sounds. Larger sleds made for hauling gear, packing elk meat or even whole animals are much easier to control and hold up to the beating.
I have heard of hunters using the hide to slide the elk out on snow. One hunter described it in the forums here. You can put your meat inside the hide and "sew" it or tie it closed. If you pull it with the grain of hair, it will slide easily. Your meat will probably find a way to fall out here and there, however, unless you do a thorough job of tying or sewing it shut.
Packing Elk Meat On a Bicycle?

I have also deboned animals and strapped some of the meat, head and horns on a bicycle. This method is best done with two people, one on each side of the bike. Each of you will swear the other is leaning the bike toward you! It's much easier than moving it on a dry road without wheels, but not as easy as you'd hope for.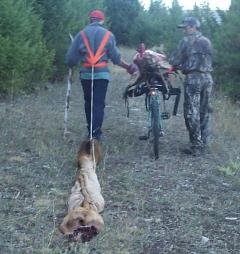 For packing elk meat on a bike, tie the meat on a pack frame. Balance one end on the seat and the other on the handle bars. You can tie head and horns on top of the meat. It all sits there nicely, but you have to be careful to hold the handle bars mostly straight ahead. A slight lean turns the bike. The person on the side of the lean needs to be prepared for additional weight during a turn.
There are also good bicycle gear trailers on the market. They can be used for packing elk meat out, once you get it to a road or trail. You might spend some time walking the bike uphill or through rough spots. Make sure your brake pads are good, before using a bike for game retrieval downhill. We will soon have a dedicated page to using mountain bikes for getting to elk hunting sites, hauling gear and packing elk meat.
Game Carts

Game retrieval carts are available starting at around $100. Carts with two side by side wheels are great on logging roads or basically smooth terrain. They can be taxing over logs and rocks.

Here's a photo of Bass Pro Shops' largest
two wheel cart: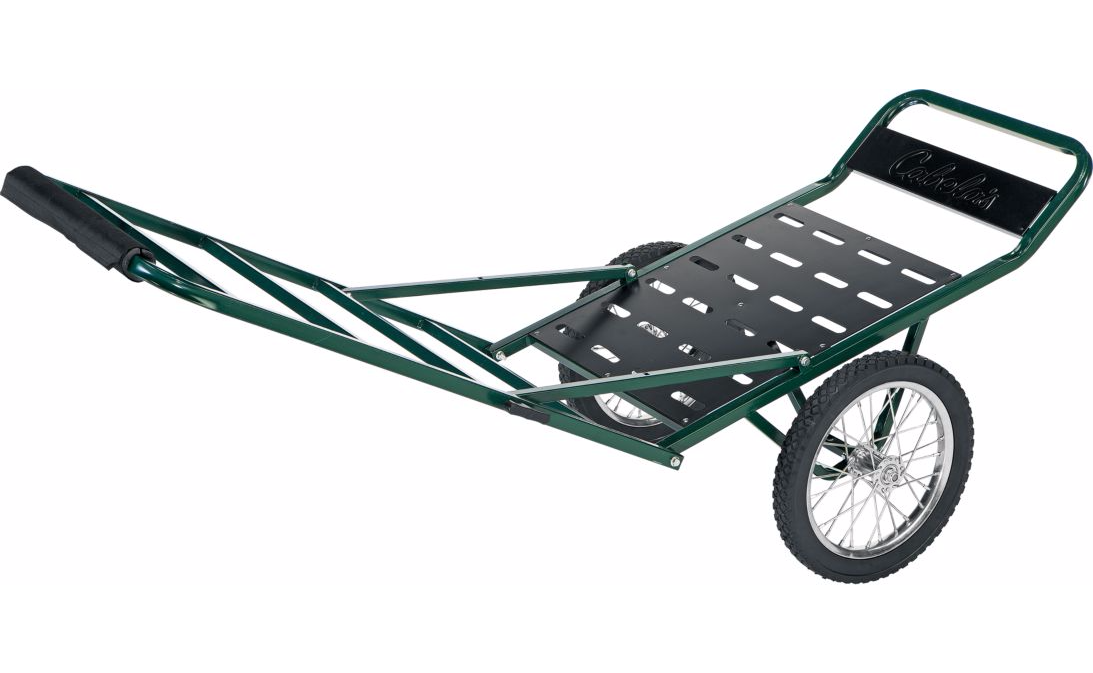 If used on hillsides, the downhill wheel can collapse if too much stress is put on it. This has happened to us and it happened to a customer who bought one from us. 
Two in-line wheels are useful to maneuver over logs and other small barriers, but the side to side lean can result in spills. They are much more effective off-road than two side-by-side wheels.
Traversing side hills is safer with in-line wheels. However, most of them are too high and easy to spill. We sell the best, a one wheel low center of gravity cart at Elk Tips Outdoor Gear, described here.  
An elk in a LoBoy Game Hauler (pictured on the right) can be used to load an elk into a pick up while it is still secured in the cart. You'll find a video of that at the link above. 
Of course, two people on a cart is always easier than one, but using a cart for packing elk meat can be done alone, depending on the terrain, if the animal is deboned. We had a guy rent the Lo-Boy to successfully haul out the meat by himself. Rough spots are harder to traverse without a second pair of hands.
See our full review and discussion page of specific types of game carts.
ATVs and Elk Hunting

We have an entire page devoted to ATVs and big game hunting. 

A Horse?

See our page on elk hunting with horses.
Moving and Loading Whole Elk

Simply deboning in the field and packing elk meat onto a backpack, sled, cart, or horse is much easier than hauling it out whole. We've done all that! (See step by step instructions for field dressing an elk.)
There are ways to load a whole elk into a pickup that are easier than just hefting it straight into the bed. Click here for the discussion and photos of various options that we have used or seen for moving and loading a whole elk.
Work Fast in Warm Weather

When the weather is warm, game retrieval and processing must be done quickly to keep your meat fresh, especially if there are no roads nearby. Early in September or October the weather can be quite warm. Warm weather requires a good retrieval plan followed quickly and carefully.
The first step is to get the elk gutted (click for details). A lot of heat leaves the carcass after field dressing. Skinning speeds the cooling process more. The gutless method is much cleaner, but should only be done if you are going to bone out the meat right now.
In late September of 2009 I arrowed a bull elk at 10:00 a.m. The temperature was already pushing 70 and headed for near 80 degrees. The bull died in direct sunlight and my truck was about four road miles away (drive in retrieval was allowed).
I had to make some decisions about packing elk meat home and act quickly. I immediately called for another family driver to get permission and the gate key to bring my pick-up to the area.
In the meantime, I gutted and skinned the bull. When the truck arrived, all we had to do was load the quarters and drive one hour home. We would begin the cutting and wrapping process immediately.
Home Freezers Have Limitations

My concern was that the meat would not cool quickly enough while waiting to be cut and wrapped. Another concern is putting large amounts of warm, wrapped meat in the freezer all at the same time. That much warm flesh can easily warm up a freezer. Read Bill's true story about "The Spoils of the Hunt" here.
The solution? We bought eight bags of ice. We put a blanket on top of all the other frozen foods in the chest freezer to keep from getting the products bloody. We layered the bags of ice on top of the blanket as an insulation from the warm meat. We put three elk quarters on top of the ice and began working on the remaining quarter.
We placed wrapped meat in the freezer in place of the next quarter and so on. The job was finished by the next afternoon. The two quarters left uncut overnight did not freeze, but were nice and cold the next day. Remember the limitations of your freezer, if you do your own cutting and wrapping after a hard day of packing elk meat.
Increased Energy and Fluid Needs

Elk hunters tend to be "endurance hunters", so we need to plan carefully to have some easy to handle, energy-filled snacks and beverages available. Not just water and a couple of candy bars. I'm a registered dietitian and marathon runner, so I've studied endurance nutrition and hydration carefully.
Pleasant memories might fade to painful ones, if you don't plan ahead. You might even have to abandon your hard-earned quarry if you find you are out of energy and your body is unable to continue. 

Please subscribe to or our Quick Elk Hunting Tips and Updatesnewsletter or to an RSS feed (see left column for both) to be alerted whenever new information is added to the site.
We'd appreciate it if you would "Like" us on Facebook, or share this site with others. Click here to read more specific recommendations for staying energized and hydrated while elk hunting. 
---
Hunting Fitness 
Blood Tracking/Shot Follow-up 
Game Cart Discussion and Review 
ATVs and Elk Hunting 
Field Dressing Discussion 
Gutless Field Dressing Method 
Skinning Elk Discussion 
Quartering and Elk 
Deboning Elk 
Cooling Big Game in the Field
Moving a Whole Elk 
Elk Hunting with Horses

---
Search this site here:
---
Back to Home Page, from Packing Elk Meat page.