Sighting in a Rifle: Do it Right,
So You Can Depend On It
Sighting in a rifle properly requires exacting attention to details. Shooting at a stump and "getting close" will set you up for failure when taking a hard-earned shot at an elk or other big game. A less than precise approach might result in a wounded, unrecoverable, wasted animal that you expected to take home as a trophy. At least a little perfectionism is in order when sighting in.
Two people don't see exactly the same way through the scope. If you are shooting someone else's rifle, be aware of that fact. Sighting in a rifle is a personal thing.
Sighting in a rifle or rifle practice is frustrating if the rifle scope is not one with the rifle. Simply put, the scope should very accurately predict where your rifle will send a bullet at any reasonable distance. Wind, temperature, humidity and other conditions may affect the results in reality, so take as many variables out of the picture that you can control as possible when sighting in. Do it on a calm day.
An elk hunting gear list that big game hunters will find helpful. This is a list and brief review of practical, useful, quality hunting equipment for elk hunters.
Zero at 200 Yards?

Most hunters will "zero" at 200 yards, when sighting in a rifle caliber big enough for hunting elk. While traveling forward, the bullet will drop faster and faster as it slows down. Because your scope is mounted above the barrel, your bullet will actually arc above the flat "sight line" of your scope. The bullet will rise above and then drop back down across your straight sight line.
If you "zero" your rifle at 200 yards, that is, set it so your point of impact is the same as your point of aim at 200, you will be good to go all the way out to 250 or farther, depending on your caliber and ammo. Check the ballistics from the manufacturer of your ammo to determine how high it will be at 100 and how low it will be at 300, when zeroed at 200.
On a large animal, a few inches of variation will easily allow you to hold on the same spot and still keep you safely in the large lung area, especially on an elk. All you have to know is how far out you can hold on the same spot, before the bullet drops too far. At that distance you know you have to begin to hold higher, or not take the shot. Determine that critical distance when sighting in a rifle.
Secure a Quality Scope with Quality Mounts

The first step to sighting in a rifle is securely installing a quality scope with quality scope rings to your rifle. A good scope on cheap mounts that cannot hold up to the violent jolt of a powerful gun, renders the whole rifle undependable.
Buy the best rifle scope and mounts you can afford. A good quality used scope (if it's still a good scope) may be better than a new scope of cheaper quality. A scope of dependable quality can easily cost as much as, or more than, the rifle it will be mounted on.
Bore Sight Next

If you buy a scope and/or rifle from a reputable dealer, you can usually have them mount the scope and bore sight it for you. That will get you "on the paper" at a close distance. If you have a lever action or semi-automatic rifle, bore sighting is a little more difficult. If you want to bore sight your bolt action rifle yourself, it's easy. You can buy a laser bore sighter , or do it this way:
1. Take the bolt out and stabilize your rifle so it can't move.
2. Point the rifle at a close object that you can see through your barrel.
3. Center the object (door knob, top of fence post, target, etc.) as you look through the barrel.
4. With the gun very stable, change the windage and elevation adjustments until the crosshairs (reticle) of the scope are on the center of the same object.
Start at 35 Yards

When sighting in a rifle that has been bore sighted, take your first shot at 35 yards to begin with. If you're still off the paper, move closer. Turn your scope's windage and elevation knobs a few clicks at a time to begin bringing the bullet's point of impact to your point of aim. A consistent shooting rifle should be able to put three shots in a fairly tight group at one hundred yards.

Ammunition Quality

You can start with cheap ammunition to "get close", but switch to premium ammo that you will use for hunting to readjust to those bullets. Using low end ammunition for big game is a recipe for failure. Premium ammo costs significantly more, but gives you the best "shot" at hunter success.
Regardless, all ammo will fly differently. Even the same kind of ammo can fly differently when made from a different "lot". The difference probably won't be huge, but a new box should be checked for flight pattern.
Free Paper Targets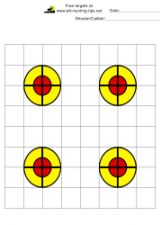 If you don't have access to a furnished rifle range, start with a good backstop that won't allow stray lead to travel or bounce. Use something stable to hold your paper targets. You can click here to print our free paper targets , or just use four-inch square plain white pieces of paper on a box at a hundred yards. Use larger squares for 200 yards. A box weighted down with dirt works fine to tape or staple targets to.

Stabilize and Cushion Your Rifle

Use a range finder or
accurately
step off a hundred yards to begin with. Use a stable shooting bench or low table of some kind with a fore stock and butt stock rest on the table to hold the rifle steady. A sand bag under the butt will keep you from having to grip the gun tightly to hold it.
Without a rest on each end you would have to grip securely with your hands in two places, which causes minute movements. You may notice that even your own heart beat will move the gun. (Yeah, that's scary. Isn't it?) An adjustable (padded) fore-end rest will allow you to make fine adjustments mechanically that will stay where you put them while sighting in a rifle. The butt rest will allow you to shoot relaxed with little movement.
Use your non-trigger hand to lightly squeeze the butt-end sand bag to make slight movements to center exactly on your hold spot.
You can pay a lot of money for a rifle rest. We use an inexpensive one by Case-Gard called the Shoulder Gard Rifle Rest™. It works great for us. The butt rest is not adjustable, but the front is. Both rests are padded. It has a compartment to put in weights and store gear.
Weather Affects Bullet Flight

Remember that very cold weather can affect how your gun shoots. Most of us end up sighting in a rifle when the weather is warm in summer or early fall. Consider rechecking it when cold weather sets in.

Relax, Don't be a "Jerk"

You probably already know to "squeeze the trigger", without jerking or blinking. Sometimes that's hard to do while anticipating that there is about to be a violent explosion inches away from your face! You have to divorce yourself somehow from the coming explosion. Cool, calm, collected and in control is the mantra.
Relaxing effectively improves shooting, but requires practice. If you're having trouble relaxing while shooting, consider doing some "progressive relaxation" (Google it) while telling yourself something like, "just relax, cool and calm". Practice this relaxation technique often and eventually you will only need the words and you can take this ability to relax "on demand" to the range, in the field, and in stressful situations of life.
Check out our further discussion of focused shooting on the rifle practice page.
Establish a Pattern and Adjust

Shoot three shots taken with good, relaxed form to establish a good shot pattern. Make adjustments to move the center of the pattern where you want it to be. Shoot at least two more shots. If the holes are farther apart than an inch or so, take a third shot again.
Keep adjusting until the shot patterns are centered where you want them to be, usually 1½ inches high at 100. Once you are set at 100, try it out at 200. Your patterns should be right on (zeroed) at 200. Ideally, move out to 300 to see what your rifle and ammo does at that distance.
Avoid Pain to Avoid Bad Shooting Habits

Here's another point that I think is very important. We never let our guns hurt us. If you do, you might start developing a flinching habit. We use padding on our shoulders, like a small pillow, while shooting from a bench. Another option is to buy a
LimbSaver Recoil Pad
for your rifle. These are great products that absorb most of the kick. Remember that when you shoot at an animal you will be shooting through a cold barrel. Your barrel will heat up if several shots are taken fairly quickly. If it gets hot, let it cool with the action open before shooting again. After you're through sighting in a rifle, it is best to recheck your final results when the barrel is cold.
(Add your advice about sighting-in effectively.)
Sighting in a Rifle is Not a Once a Year Thing

Don't assume it will stay sighted in. Check it a couple of times during the season. Do it all over again before the next season.
Keep your gun barrel clean. A clean barrel shoots more consistently than a dirty one. Use solvent, even copper solvent, inside the barrel with a brush at least yearly followed by clean cotton patches and a very light oiling. (Follow your gun cleaning kit directions.)
Properly sighting in a rifle means you know you can depend on your "best elk hunting rifle" and rifle scope to be "on". Doing it right and keeping it right takes one big variable out of the picture, when you suddenly have that hard earned opportunity to pull the trigger on an elk!
Now go to the next level: gun practice. Consider rifle practice a separate issue from sighting in a rifle. 

Click here for the Gun Practice page. 



Please subscribe to or our Quick Elk Hunting Tips and Updatesnewsletter or to an RSS feed (see left column for both) to be alerted whenever new information is added to the site.
We'd appreciate it if you would "Like" us on Facebook, or share this site with others.
---
Search this site here:
---
Return to Big Game Rifle page, from the Sighting in a Rifle page.