The Elk Rut:
You've Gotta Be There!
Predicting the elk rut peak by counting 25 weeks from Easter each spring is a waste of time. There is a much easier way to predict when the largest number of elk in rut at one time will occur during the month-long (approximately) elk breeding season. It's called the autumnal equinox! Otherwise known as... the first day of fall.

An elk hunting gear list that big game hunters will find helpful. This is a list and brief review of practical, useful, quality hunting equipment for elk hunters.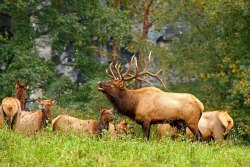 I wanted to get an authoritative answer on when the peak of the rut occurs, because there are many conflicting opinions in the elk forums and websites. So, I called Jay Kolbe, the wildlife biologist in Montana's Region 2. He told me emphatically that the science is well settled on this and is published in the "big elk book" titled, Elk of North America, Ecology and Management, by Jack Ward Thomas, a book I once borrowed from the library. It is somewhat daunting in volume, but it is considered the authority by wildlife biologists.
There is no point in recalculating the elk rut peak for each year. You don't have to annually search websites to determine when the elk rut will peak this year, because the fall equinox always occurs on September 22nd or 23rd. Of course, there are variables that will affect what we see and hear, but the rut will go on with or without our hearing and seeing it.
Every Elk Cow is Different

Related topics available:
How to Make Elk Sounds
Learning Elk Talk
Product Review of Elk Calls
Recordings of Elk in the Wild
Calling Elk In Close
Bow Hunting Elk

The most active elk rut peak lasts 5 to 10 days and happens primarily because of a precise ratio that occurs each fall between daylight and dark. That ratio of light and dark causes hormones in cow elk to flow that result in an estrus cycle. Regardless, each cow comes into estrus at different times of the rut. They don't all go into estrus during the peak. It is called the "peak of the rut" because most of them do.
Some cows go into estrus earlier, young cows perhaps much later. Some do not get bred during their first estrus cycle and have a second estrus period throughout the first three weeks of October. There is some evidence that a third phase may sometimes occur during the end of October and first part of November. But the peak period of elk in rut occurs within five or ten days of September 22nd or 23rd, the autumnal equinox.
"Estrus" causes an odorous pheromone to be released into the air that drives bulls crazy for a mate, and sometimes to act foolishly in the presence of hunters. The elk rut, in general, lasts from September through October, with some breeding activity continuing into November.
The peak of the rut is when the most elk breeding activity occurs. It can be quite frenzied, with lots of bugling, cow talk and elk movement when other circumstances align themselves. Weather influences the daytime rut activity, as does hunting pressure, wolf and other predator presence and, of course, location of food and bedding areas. If you are in prime elk habitat and the elk are there, knowing when the peak of the elk rut will occur is just a start.
Moon Phases, Cold Snaps and Predators
During a full moon a lot of activity, including feeding and rut action, will occur at night. Then elk will rest more during the day because of the overnight orgy. Be advised, however, that rut activity might continue into the early dawn before the silence sets in. After a dreaded full moon many elk hunters, including myself, have learned to be in prime country before daylight listening to the cacophony of elk rut sounds to determine where they are and where they're going. 

More elk activity occurs during the day after a dark night. If the moon is in a dark phase, particularly during the peak of the elk rut, don't miss it if you can be there!
In 2013 the dark of the moon occurs on Thursday, September 5th. I will definitely be riding my mountain bike in the dark mornings up toward my favorite spot that week.
Cold snaps and light rain or snow can't be predicted ahead of time, but if it occurs during the latter half of September, be there!
When I hear wolves howling in the darkness on the way into my hunting areas, I don't expect much of the day. Usually the elk will quiet down when they hear wolves to avoid giving their location away. The wolves will usually move on in nomadic fashion. So the very next day might be back to normal.
Talk to Them!
Be prepared to participate with the elk rut using estrus cow talk, or bugles when the night starts to fade into legal shooting time. Check out the Elk Calling pages here. There is a problem with the peak of the elk rut, though. Bull elk in rut are not only facing hunters and weather conditions, but each other. Once a big herd bull has an established harem why would he leave to fight a distant challenging bull?
If you want to pull a herd bull away from his cows, you will have to be up close and in his face. It's much easier to call a satellite bull to you from just outside the scene of a herd bull and his harem of cows. Many hunters are well satisfied with that. Trophy bull elk hunters find those "brush bulls" and "rag horns" to be bothersome pests.
Getting in close to a big herd bull takes a lot of skill and luck. There are plenty of cows and satellite bulls, even curious spikes outside of that herd bull's comfort zone, ready to bust you before you get close enough to him to pull him in with a call of some kind. Usually the herd bull will simply move his harem away from a challenging bull, rather than risk the loss. Often he will even ignore a hot estrus call.
Oh, he'll raise a lot of bugling hell with you alright. You'll be thinking, "he's gonna come in!", but alas he stays just out of reach of your bow. Now, if you have an opportunity to hunt during a rifle season when a bull is bugling, your chances of seeing him in range are good. 
The Rut Phases:

There are several rut phases you should be aware of when deciding when you want to focus your elk rut hunts.

Early Phase of Elk Rut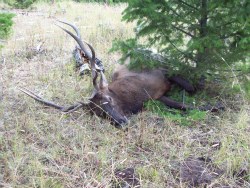 We hunt the entire elk season and I have learned to prefer the early "pre-rut" period above all. In 2010 I called in and killed a nice six-point bull on Labor Day, my first "summer time" elk kill. (Yes, you have to move fast after the kill, but click here for that process.)During the early weeks of archery season (early September in Montana) is my favorite time to hunt. Not only is the weather awesome, but all of the bulls are moving around in anticipation of the buildup of the rutting season.
(What have you experienced when hunting the early rut?)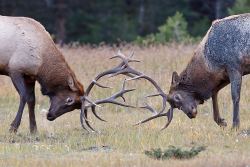 Bulls are scraping the ground and peeing in it to intimidate competitor bulls and to impress cows. They're raking small trees to build up their neck strength for potential fights. During the warm weather, wallows are used more heavily. So, early on the signs are all fresh, the bulls are not "cowed up" and the bugling begins. In reality, much of this can start in August so a last minute scout trip, as long as you don't spook them, may prove valuable on the opening week of the early season.
A few cows can come into estrus during the early phase of the elk rut (early September), so act, smell and sound like a cow elk at this time and you might find a bull looking for a "date" with you. Just be careful with the "hyper hot" estrus sounds. Wary bulls might not buy it that early.(Listen to and read more about Elk Sounds here.)

The Build Up to the Elk Rut Peak
During the rest of September most of the cow elk will come into estrus. The closer you get to the "peak of the rut", the greater your chances are of hearing and seeing more elk. But seeing and hearing is not killing. As mentioned above, the peak of the rut ties the bigger bulls to their cows and smaller bulls are jockeying around the herd hoping to steal an opportunity.

The Peak of the Elk Rut
There will be lots of daytime noise and movement during the peak of the elk rut. Quiet time tends to occur between 10:00 A.M. and 2:00 P.M., but if you hang around the edges of the bedding area, restless bulls might venture out to check on a cow he thinks he hears nearby. (Probably a satellite bull, though.) The elk will eventually move around to eat and/or drink during the day, so this quiet time of day could still be productive for you, if you stick around.
It's a little discouraging not hearing anything in the heat of the day, but if you know where they are bedded you have to decide whether to stick around and risk spooking them, or giving it a shot later on or the next day. If you're prepared (with good nourishment) to spend the day in the field, this is a great time for a nap on the forest floor. I've never felt more relaxed and at peace than napping on a warm, sunny day during the peak of the elk rut. It's sometimes hard to tell which bugles are in my dreams and which ones were real.
(What are your experiences with hunting the peak of the rut?)
Second Rut Period
The chances dwindle quickly after the peak of the rut rages for a week to ten days, or so around the equinox. At the end of September things quiet down a bit. The bulls are exhausted and the number of cows in estrus dwindles.
However, a second phase of younger or unbred cows going into estrus (again) occurs to some extent in October, but not like the peak of the elk rut. Rifle hunters still call bull elk in after rifle season starts, if they are in the right place at the right time.
At this time the cows begin to herd up before winter. The bulls will join those herds that have young cows going into estrus. Consequently, these herds might be quite large and vocal. When herds are large, elk are actually harder to find because they aren't spread out all over the place.
If you find those herds and their travel routes, you've found some bulls to call and hunt! But remember the number of eyes available now to guard that herd. Hunt between the bedding and feeding areas. Use calf calls and excited estrus calls once you get close.
(Have you seen a late rut when hunting in October?)
A Third Rut Cycle?
Some research indicates that a few very young cows go into estrus for the first time well into November. Wary bulls who have been well educated and reminded about sneaky hunters who sound like cow elk may be hard to pull in with a cow call. Spray a little Elk Fire, or other "cow elk in estrus" pee around and give a few estrus squeals. Otherwise, man the binoculars and make some tracks, ever ready for the unexpected.

Forget the Rules! Full Speed Ahead!
The peak of the elk rut is pure magic! There is no more truly fascinating time for a hunter than being in the middle of a crazy, fighting, rowdy, noisy circus of elk acting plumb stupid. Don't let less than ideal circumstances discourage you. On a very warm morning in 2009 I shot a nice six point bull at 10:00 A.M. during the peak of the rut. Despite the heat, elk were still going nuts all around me and even walked up and looked at me while I was field dressing my kill over an hour later.
In 2008, after a quiet, discouraging morning on the public land side of the fence, some hunters from the private land side pushed a herd of around 100 elk over to me. Their elk rut activity was undaunted. They all walked single file from my right to my left as they fought, bugled, screamed and raked trees in transit just out of bow range of me. It was like watching a surreal movie. The whole scenario took a half hour to play itself out.
The point is, remember the rules of thumb, but be prepared to throw the "rules" out and just go with the flow. 


Please subscribe to or our Quick Elk Hunting Tips and Updatesnewsletter or to an RSS feed (see left column) to be alerted whenever new information is added to the site.
We'd appreciate it if you would "Like" us on Facebook, or share this site with others.
---
To Elk Calling page, from Elk Rut page
---