Elk Hunting With Horses

Regarding hunting with horses, an associate and experienced wrangler and elk hunter, gave me some guidelines to share with you. This information assumes that you will be using the horses on your own, without a guide. (There is a video below about how to pack quarters on a horse, provided by Dax McCarty of Wagohound Outfitters.)

An elk hunting gear list that big game hunters will find helpful. This is a list and brief review of practical, useful, quality hunting equipment for elk hunters.
Will Your Horse Cooperate?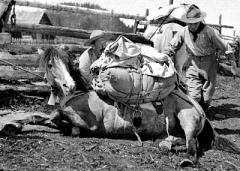 First, keep it simple. Don't use more equipment than you need and know your equipment before you go hunting with horses.
You should preferably know your horse, as well. What will the horse be willing to do? How will it react to having huge chunks of meat strapped to its back? How does it do in pitch dark in new surroundings?
Know where you are going. Give yourself time to get there and back. Know your limitations and your horses' limitations.
Is the Horse in Shape?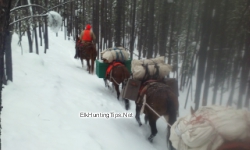 Plan ahead thoroughly before going hunting with horses. Stock should be in good shape to handle the length of the trip. Take the time to get your horses in shape by going on trail rides in varied terrain. When your animals are in shape it is easier on them and they will be more cooperative and obedient. Take care of shoeing ahead of time. Make sure to have sound horses with sound feet.
Don't expect your horse to pack you and your gear ten miles into a wilderness area, when they have been a pasture ornament for the last 6 months. Keeping your stock "legged up" during the off season makes tackling the hills easier in the fall.
You might want to ask around your area for someone interested in doing some riding on your horse. They may be able to help put some much needed miles on your stock, if you can't. Some charge by the hour, some by the ride. Arena work is great to get to know the horse and workout any "issues", but trails and hills will put on muscle and get them ready for distance and load.
Use Quality Tack and Know It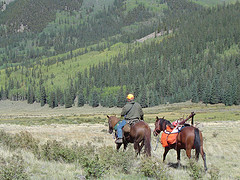 Use the summer time to become familiar with your equipment and methods of packing. Don't expect your horse to know what a pack saddle is when she's standing at the trail head.
Become familiar with what that saddle feels like after a few miles. Not spending the time getting used to tack can spell disaster on the trail or during the hunt.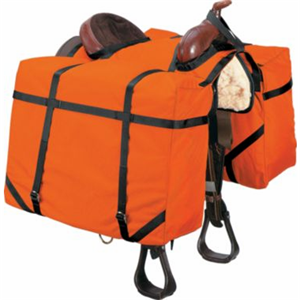 If you need to buy tack, buy quality, well in advance of your next trip hunting with horses. There are many sources of tack online. However, hands-on knowledge of what to use, and how to use it can't be beat.
That doesn't mean you have to buy everything new. There are lots of good used saddles and pack saddles available that have been well cared for. Check at saddle shops, even pawn and second hand shops. Auctions and estate sales sometimes have these hidden treasures as well.
Know the Area and Horse Use Regulations

Related topics available:
Field Dressing Elk
Gutless Field Dressing
Skinning Elk
Deboning Elk in the Field
Moving a Whole Elk
Game Hauler Review

Know the area you plan to hunt, including any regulations pertaining to stock use and feed requirements. What are the grazing restrictions in that area?
If you will be using pellets or hay cubes, make sure your horses get used to them ahead of time. Start them on weed-free feed at least one week before your trip. This gives their system time to flush out any noxious weed seed.
Hunting With Horses: Keep it Clean!

Keep your tack in good shape. The cinch and pads need regular cleaning. Too much hair and dirt build up can cause sores. The last thing you want while hunting with horses is a lame animal along that can't be used. Your stock and equipment are investments in a quality hunt. If you take care of them, they will take care of you.

Mountain Lightning Storms

Jack Meigs contributes the following advice about lightening: When lightning is getting closer, get down beneath tree line as soon as possible, because lightning in the mountains can be dangerously close. If you are at your camp and lightning is in the area, don't tie your horses to trees. It would be safer to hobble them, because the lightning can strike a tree and travel down to the horse.

Plan Carefully

The number of days out you will spend hunting with horses will have to equal the food and gear, not only for yourself, but for your stock as well. More days out means more gear per person. Keep gear and clothing to a minimum.
When setting up loads for your horses, balance of the load is critical. The load weight on each side should be within 3 pounds of the other side. (Watch the video below about how to pack meat on your horse.)
Day hunting trips from camp are great ways to learn new areas. If you are planning to ride only so far out, then just stay in that area for the day. While you are out hunting, your horses will need to be used to being tied for long periods. A trip actually hunting with horses is not the time to start this training. If you have a problem horse, leave it at home.
Sometimes, the Forest Service does seminars on hunting with horses including packing, low impact stock use and camping. Some of these are done at the Nine Mile Ranger Station out of Missoula, here in Montana. Check with the Forest Service in your area.
There are some licensed horse rentals for the Western States. Do your homework before renting a horse. Do they have pack stock or not? Do they give any sort of instructions regarding their rental horses?
Horseback elk hunting can be fun. You can cover a lot more ground in a day than on foot. You rest, the horse walks, but you have to do the planning and take care of all the details to make it all come together.
(Do yo have any tips for hunting with horses?)
Video: How to Pack Game Quarters on a Horse

Please subscribe to or our Quick Elk Hunting Tips and Updatesnewsletter or to an RSS feed (see left column for both) to be alerted whenever new information is added to the site.
We'd appreciate it if you would "Like" us on Facebook, or share this site with others.
---
Search this site here:
---
Return to the Do-It-Yourself Elk Hunting page, from Hunting With Horses