What's a HECS Suit?
Is Your Heart Beating or Your Muscles Moving?
Then you need HECS. Muscle movements, and even your beating heart produce electrical energy which is emitted from our bodies. Animals are capable of detecting these electrical energy emissions, which confirms living beings and movement. HECS is the only hunting camouflage clothing available that blocks your electrical signature, making you less detectable by animals.
Elk Hunting Tips visitors can use promo code
GetCloser

  only on the HECS banners below to receive $20.00 off on a full lightweight system and beyond ($199.97 value or more) at checkout. (Only through the HECS banners below.)


HECS technology uses a highly conductive and interlocking carbon fiber grid specifically designed to block your electrical energy. This patented grid is woven directly into all HECS fabrics and is lightweight, breathable, and durable.

A hunter from Oregon who bought a HECS Stealthscreen wrote us, "The suit worked for us. I have never gotten so close to elk in my life. I got a 5X5 and my nephew got a 1X2." 

A conversation with someone from Montana: "They (elk) didn't even care about me. I had two bulls walk by at 10 yards and didn't even care that I was there. (His son)... was set up and they would jump and spook at 20 yards. He's going to buy a suit for next season." I said, "Glad to hear it wasn't just me!" He replied, "No. The stuff works. I had a cow walk almost over the top of me and she never stopped walking. She didn't even know I was there."

We are an affiliate with HECS. We also have some greatly discounted size XL (only) HIGH-PERFORMANCE BASE LAYER 3-PIECE HUNTING SUITS for $199.99. You will find that PayPal order form at the bottom of this page. (No additional discount). To see all HECS products, click on this banner link and receive $20 off by using GetCloser at checkout. 

A note from a hunter in Colorado (fall, 2015): "I just wanted to thank you so much for the effort you made getting the HECS suit I ordered just a week before my Colorado archery hunts started. I wore it under my trusty ASAT 3D leafy suit and was even more amazed at how "invisible" I seemed to be to ALL the animals. I had 2 cow elk, 1 bear and 3 bull elk that didn't pickup on any threat, as shown by their actions even when I was only 20-30 yards away. I'm pretty impressed with the HECS and ASAT combo..."


Here's my personal short version of our experience: When a hunter wearing a HECS suit moves and catches the peripheral vision of an animal, they will look at you briefly, then go back to feeding unalarmed, unless you are still moving when they look. In that case, you might get a stare, but you will get away with more slow movement than without the suit. 

Other clothing and fabric on blinds do not block your electromagnetic field. The HECs fabric does.
HECS Cancels Your Bioelectric Signature
We only sell gear on this site that we use and believe in. We were skeptical at first, as you might be. But, it quickly became a no-brainer. We studied the research and here is why we arrived at the decision:

It is indisputable that living organisms emit an electromagnetic field (EMF). It appears from research that animals have the ability to sense those electrical energy fields emitted by other "animals". In fact, they might be able to see them in great detail, according to research. Garments that block these electromagnetic fields reduce the ability of animals to detect them.

The Stealthscreen suits are made for hunters.  The suits effectively stop the body's electrical energy field from escaping the garment. Doing so eliminates one mechanism that animals use to sense our presence.
Any bodily movement, including autonomic muscle movement, like heart beat and breathing, emits an electrical energy field. An EKG is a medical device that measures the electrical impulse of the heart and is used to detect abnormalities of the heart beat. The more muscular movement occurs, the greater the electrical impulse transmission.
Animals can see your electrical energy pattern inside a blind, too. The blind material does not block those signals. While wearing a HECS suit in the blind, that signal is undetectable. 
Add One to Your Stealth Tools
Use
GetCloser

at checkout for $20 off from this banner:

As big game hunters, we work the wind and do the best we can to keep them from smelling us, seeing us, or hearing human sounds that will cause them to flee. Now we have one more tool in our arsenal to keep them from sensing our presence. Turkey and waterfowl hunters have great results wearing HECS, too.
"Human Energy Concealment Systems". The Stealthscreen suits are ultra lightweight and breathable. They are made from 14% carbon yarn and 86% polyester. The carbon fibers form a conductive grid pattern in the suit that contains the electrical impulse. The design of the grid follows the "Faraday Cage" principle discovered in 1836 by Frenchman, Michael Faraday.
A Faraday Cage enclosure is made of a conductive mesh that channels electricity around the precise mesh pattern, eliminating it from passing through the material. Faraday Cages are used to protect electrical equipment from lightening or other electromagnetic interference. You can see the Faraday Cage technology built into your microwave door, which keeps the microwave energy inside.
While these suits won't keep you safe from lightening strikes, it does appear that the material is effective in preventing animals from sensing your body's electrical energy signal. "If your heart is beating and your muscles are moving, you are producing an electrical energy field which animals are capable of detecting." This is the only garment technology available that cancels your energy wave transmission that can alert animals to your presence. The specific size of the mesh grid was developed through exhaustive testing to block the wavelengths of human-emitted electrical energy.
Measurable Results
This has clearly been shown to be effective by simply measuring the electrical signal from someone's body with and without a Stealthscreen suit on. This is done using a Trifield Natural EM meter. 
The conductive fiber grid that is woven into th suit is very soft and pliable and does not wash or wear out of the fabric. The suit feels and performs much like any breathable, wicking under-layer garment. It can be worn as an under-layer, or as an outer-layer, since all the suits are now made with the Mossy Oak Breakup Infinity camo pattern. (Of course, we still prefer the ASAT Camo pattern, so we wear this suit as an under-layer. You can do as you like.)
It is machine washable and appears to be quite durable. Since there is no other cloth that blocks the human electrical energy field, hunting blinds don't block it, either. Just because they can't "see" us, doesn't mean they can't see our energy field.
I used it for the first time in 2014. I soon began to relax when elk looked at me (as a result of my slight movement). If the wind was right and I wasn't making big body movements, they would soon go back to grazing. Some of my experiences are described below. We know many of you have hunted with them, because these have been around for a few years and are becoming quite popular.
Become an Inanimate Object!
Use
GetCloser

 at checkout for $20 off from this banner:
---
My Personal Experience
The first year I wore a HECS Stealthsuit (2014) I got busted the first couple of days when elk saw me walking, or making big body movements. The elk didn't run, they just slowly walked away. You can't get away with bold walking movement.
The next few outings I stalked very close to a herd of elk on two different days. I was standing in sparse trees with little cover one morning. Elk looked at me a few times for 3 or 4 seconds from about 75 yards away. They always went back to eating. There was a bull in the herd that was very busy chasing off a satellite bull. I could not get closer because of the open area between us. The bull eventually pushed his cows into some thick cover and moved to a bedding area.
The next day I pursued the same herd bull. As I was stalking toward where I had heard the bull, I saw cow elk moving past me. I changed direction and stalked into the group with good cover between us, the wind in my favor. I waited for them to move into the open, which they did.
At that point I could clearly be seen by the cows. Several times my slight hand movement using a range finder caught various cows' eyes. I was careful to avoid letting them see my own eyes. Each time, they went back to eating after looking at me for only a few seconds. The dreaded stare/statue game never occurred. The cows were 30 to 60 yards away. They never became alarmed.
I saw that the herd I was in only had a raghorn bull in it, not the big bull I had been pursuing. I decided to kill one of the larger cows, so I could fill my freezer for the year. When I arrowed the cow, the other elk jumped at the sound of the impact of the arrow. Some looked toward the sound of the bow releasing.
I remained motionless. They did not look at me more than a few seconds. The elk herd, including the raghorn bull, seemed a bit puzzled and nervous about how the cow was acting after being shot. They left her and walked slowly away. 
On a previous day, I was taking a nap on the ground, still wearing the suit and hood. I was awakened by the sound of hooves on the ground. I peaked over and saw a mulie doe walking ten feet away. She looked at me briefly, took a few steps and bedded down a few feet away from me. I looked to see if another one was coming and met eyeball to eyeball with an approaching doe. The tranquility was over! Animals know what eyeballs look like. Especially close set human/predator eyes! (Avoid letting your eyes be seen by elk, if you can.)
Another day I was walking down a logging road around noon. I saw some mule deer coming, so I froze. Each doe walked across the road 35 yards in front of me. Each one took their turn to look at me briefly, but continued to graze out of sight. They had no idea I was anything but an inanimate object, even though I was standing in the middle of a dirt road!  
During those hunts I began to feel confident that I could stand in the open without being seen by elk, or deer, even if I got caught making slight movements. I'm confident that the HECS suit made for an easy elk kill that year.
The following year I stalked slowly right into a bedded herd of elk. Even though I tried to avoid eyes, I got busted taking a step by bedded elk I had not seen about 70 yards away. The cows looked at me for a few seconds and then stood up and started feeding!
The bull was way on the other side of the herd of 20 cows, or so. I assumed it was useless and stood there mostly watching and slow stalking as they fed away from me. I just wonder what kind of movement I could have gotten away with in the HECS suit that day! I have become more aggressively stealthy in it.
I killed two elk in 2015 while wearing my HECS suit. Using HECS as an underlayer September, 2016 I called two bulls within 20 yards, but never had a window to shoot through. I finally killed a nice 6X6 at 40 yards. I stopped him with a cow chirp. He was looking right at me when I released. (Photo above)
I have killed at least one or two elk per year since 2014 wearing a HECS baselayer. Some with a bow, some with a rifle.
---
The independent research by an OSU Agriculture and Animal Science major is what convinced me. You can open that PDF document by clicking here. The Introduction and Results tell the story. As with most research abstracts, the methodology is a bit tedious.
The reduced price of an XL size only is $199.99. It includes bottom, top and hood. Below that XL order form is a banner link to all other HECS products. 
---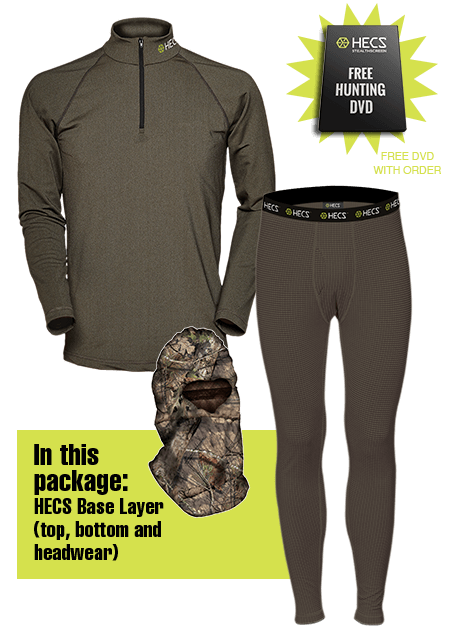 HECS XL Reduced Price Underlayer:
Includes RealTree Xtra hood, top and bottom underlayers. Only XL sizes are available at this price until we run out! Click on the HECS banner below that to order all other HECS products.
See all HECS products here:
Use
GetCloser

at checkout for $20 off from this banner.
---
Please subscribe to or our
Quick Elk Hunting Tips and Updates
newsletter (upper right), or to an
RSS feed
(left column) to be alerted whenever new information is added to the site.
We'd appreciate it if you would "Like" us on Facebook, or share this site with others.