Grinding Venison: How to Grind Your Own Elk and Deer Burger
Grinding venison (elk and deer meat) should be done close to the time the elk or venison burger is needed for the freshest flavor and highest quality meal results. If you have all of your ground venison packaged for you at the time your wild game is processed, you will sacrifice some quality, freshness and shelf life.
Solid pieces of meat last longer in the freezer and hold moisture and quality better than packaged ground elk or deer meat does. The same is true for any meat. Grinding simply allows maximum exposure of the meat to the air and microbes in the environment. Grinding venison speeds loss of moisture and shortens shelf life, all of which sacrifices quality (flavor and texture). So, it's best to grind it as you need it. You'll appreciate the improved quality of grinding venison burger yourself!
An elk hunting gear list that big game hunters will find helpful. This is a list and brief review of practical, useful, quality hunting equipment for elk hunters.
Grinding venison is easy, if you have the right equipment. We used a hand meat grinder for years to make our venison burger. We eventually purchased an inexpensive 575 watt LEM electric grinder. I have also used a Maverick 5501 Meat Grinder. (SeePleasant Hill Grain for theMaverick meat grinder as well ascommercial food grinder options.)
Both 575 watt grinders worked very well. Occasionally you have to clear the blades of white tissue, but that doesn't take long.
A more expensive model will make the job easier and faster, but is not necessary. We ground only about five or ten pounds of elk meat into elk burger at a time with those smaller grinders. 

However, we found ourselves running out of ground venison too often. We started grinding only good cuts of meat, in order to avoid having to spend the time clearing the blade, so we ended up buying a bigger grinder. (See below)
Partly Frozen Meat is Easier to Handle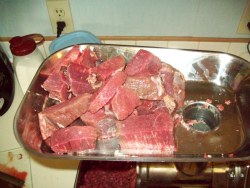 One trick is to grind the meat while it is still slightly frozen. It makes it much easier to cut and handle the meat. Let it thaw only until you can fairly easily get a knife through it. Start slicing and dicing it into strips or cubes about one inch wide. It will then easily feed through the grinder hopper. 


Do Some Trimming First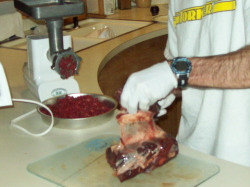 You will need to trim off most of the gristle, "silver skin" and fat from the meat, if you use a smaller grinder. The silver skin and gristle gets wound up and stuck in the blades as you grind. That stuff will eventually clog the grind blade and you will notice it slowing things down. If that happens, it takes just a few minutes to clean it all off of the blades and start again. It does get bothersome, though.

Bigger Grinder is Faster
As stated above, we grew tired of the slow process of grinding venison with a smaller grinder and were grabbing only higher quality of roasts to grind, in order to avoid having to stop and clean off the blades.
Since grinding is normally a good use for some of the tougher, more gristly meats, we were not pleased with the "junk" being left on the bottom of the freezer every year. We broke down and bought a 3/4 horse power commercial-grade electric meat grinder, which retails for around $350-$450 as of this writing (2011).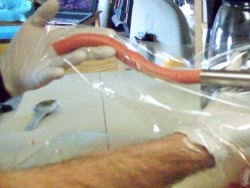 If you can swing the extra cash for a larger meat grinder, it makes a huge difference! The gristle (white tissue) doesn't get stuck. It gets ground up no problem (and does not affect the texture or taste).
It also pushes sausage out through the sausage tubes pretty effectively. We simply catch the links of sausage on plastic wrap, without using casings sometimes, when we want some sausage fast. 
It holds together just fine in the frying pan without casings. A sausage stuffer is certainly faster, if you really want to make a lot at once. You can also just "roll" the sausage into one to three pound chubs and wrap it in plastic wrap. Then slice it, or use for recipes, as needed.
Of course, you can just make the sausage into patties. We like A.C. Legg products the best for flavorful sausage blends. Find one you want to try and enter "7777" for a 10% discount. The hot Italian is my favorite!
(Learn how to make sausage at home the easy way here.)
Add Some Fat

Venison of all kinds is pretty lean meat, so adding a little fat of some kind when grinding venison improves the flavor and texture a great deal. Don't use venison fat, though. It has a pretty objectionable, strong flavor. Most meat processors will add beef suet to your ground elk or deer meat. Suet can often be gotten for free, or at least at low cost, at most grocery stores that cut up their own meat.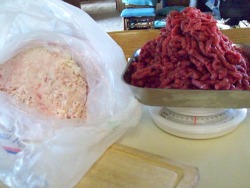 It is recommended that about 10% to 20% of fat be added by weight. Less of this saturated fat is healthier, so don't overdo it. If you have five pounds (5 X 16 = 80 ounces) of elk meat to grind, add a half to ¾ pound (8 to 12 ounces) of fat to it. It doesn't have to be exact. A $10 kitchen scale will get you close enough. You could just estimate with one small handful of fat to five handfuls of meat. You can get a more accurate stainless steel dial scale for $60-100.

The easiest way to add the fat is to grind portions of the venison first, then grind the desired amount of suet to add to it. Mix the suet into the venison by kneading it with your hands in a bowl, and then run it all quickly through the grinder together. You might want to use the coarser grind blade for both, and then run it through with the same, since it gets ground again. A finer grind is not necessary. Experience will help you decide what you prefer.

Use An Inexpensive Patty Press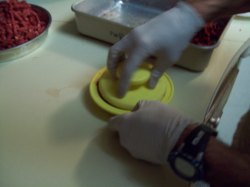 A patty press is pretty inexpensive and is a great little tool to use while grinding venison. It causes all your venison burger patties to be of uniform size and shape, about five ounces each, or thinner if you prefer. It also helps press the meat together to keep it from falling apart during cooking.
Sometimes we press all of the ground venison immediately into patties. Then we can break up some of the patties to use in casserole dishes, tacos, spaghetti sauce, etc. 
Pressing it all into patties separates the ground venison into manageable portions of about a third of a pound each; depending on how thick you make them. If a recipe calls for 1 pound of ground elk, you simply pull three patties out of the freezer. To be more accurate about the weight, use the $10 kitchen scale to weigh the first few patties you make. You will soon be able to eyeball the amount of meat fairly accurately to keep the patties uniform.
After you press each patty, wrap each one in plastic wrap separately. Then stack them all in plastic zip freezer bags. The plastic wrap will keep them from sticking together once they are frozen. When you want ground venison for a meal, you can just pull out the number of patties you need for elk burgers or for a ground venison recipe. 

You might be interested in Chef John McGannon's WildEats seasoning blends. He makes something called "Burger Dust" that turns ordinary burgers into exceptional burgers! His "Controlled Burn Chili Blend" is a blend of five different peppers and chili's that has a unique rich flavor. It can also be added to ground meat for great tacos or burrito filling or anytime you want a little touch of the old south west. Here's a link to those: WildEats Enterprises® Seasoning Blends and Dry Rubs
Grinding Meat is a Little Messy

Grinding venison yourself is a little messy, particularly until you get an efficient process down. It's really not that hard to clean up the grinder, hopper, blades, etc. Just run hot water over the pieces and the stuck fat, meat and gristle comes right off. The cutting pieces can all go in the dishwasher, along with the hopper.
Consider wearing medical gloves to keep from getting greasy hands when handling the suet. It makes cleanup quicker and easier and helps you keep grease off the faucet and freezer handles, phone, or whatever else you might want to touch during the process.
You'll Be Hooked On the Quality

Get your hands on a grinder and into the meat and suet and soon you'll easily be grinding venison for your freezer. The meat will be fresh ground and very moist. You will never want to buy ground beef again, or have your venison burger ground all at once every fall. You'll be hooked on grinding venison yourself! 

Please subscribe to or our Quick Elk Hunting Tips and Updatesnewsletter or to an RSS feed (see left column for both) to be alerted whenever new information is added to the site.
We'd appreciate it if you would "Like" us on Facebook, or share this site with others. 

See ground elk recipes or submit your own here.