Give Them a Visual with a Montana Decoy
Contributed by Barry Nofsinger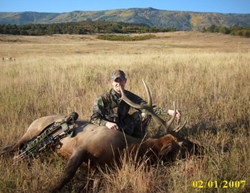 Decoying elk? You bet! Using a Montana Decoy, or other HD photography decoy, can be very exciting and rewarding. Especially for the hunters that hit the elk woods solo every year. I typically hunt by myself the early part of the season until the rut is in full tilt. But the last 3 years I haven't made it that far into the season. I have managed to harvest my last 3 elk within the first 2 weeks of the season. I know with certainty that 2 of those kills would not have happened without a decoy.
How and why it works is a simple question to answer.  It gives the bull or cow elk what they need the most in order to totally commit to coming in to a call, a visual. Once they have that visual, their alertness seems to fade and they typically will bee-line towards the decoy. 
An elk hunting gear list that big game hunters will find helpful. This is a list and brief review of practical, useful, quality hunting equipment for elk hunters.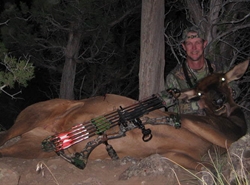 On one particular hunt I was hunting for a nice cow for the freezer.  I was set up on a well-used trail coming down the mountain.  I set up 15 yards off of the east side of the trail and set the decoy down-trail 30 yards from me about 10 feet off the west side of the trail.
I started some soft calling sequences and a group of cows, followed by a bull, started down the trail. Once the lead cow picked up the decoy her eyes didn't leave it and she started trotting towards it. I called and stopped her perfectly broadside and the rest is history.
Set Up for the Ambush

The setup is the key to being successful with a decoy. When solo hunting you do not want to put the decoy right next to you, because you don't want the elk to come right to you.  The trick, just like having a caller with you, is to pull the elk past you for a broadside shot.
It is important to study your surroundings and pick a path where you think the elk is going to approach from and set up accordingly. Of course, make sure you have the wind in your face at all times and try not to set the decoy up in the wide open. 
Find a tree or a small bush to set it partially behind. That way if the wind is blowing it will kind of hide the movement caused by the wind. I try to always have the decoy 30 yards past me. That way it gives you ample time to get a lethal shot before the elk reaches the decoy and realizes it has been fooled.
(Click on images for larger photo of set up.)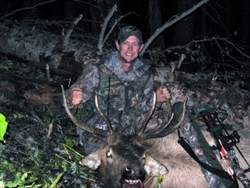 If you have your eye on the bull, he will most likely be the last one to arrive on the scene if he is with cows. The Montana Decoy may need to be even farther back from you to pull the cows past. The terrain where you are setting up the decoy might dictate where you put it. Putting the decoy partially behind a tree or bush can help.
Buddy Calling

Using a decoy with a buddy who is calling for you is just as effective.  But, if you plan on using the decoy with a caller, be sure and take some safety measures into consideration before doing so. Remember, if you are on public land, there is a chance that there may be other hunters around that are coming to your calls. 
Montana Decoys are very realistic looking! The caller should sit away from the decoy in case another hunter sees it and takes a shot at it. If you want to avoid getting your decoy shot at, consider getting some florescent orange spray paint, or tape and put an orange spot on the decoy on both sides.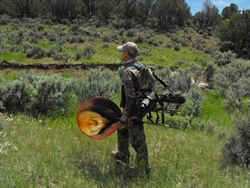 The decoy I prefer and have used for many years is the cow elk "Rump". I can "run and gun" with it deployed without any issues. But the rest of the line that Montana Decoy makes will work just as good, if not better.  
Trust the Montana Decoy and Keep Trying

(Note from Dave, ElkHuntingTips.Net: As with calling elk, what works best will depend on the many different scenarios and mood of the elk in the area, as well as how you implement the plan. Experience with the varied elk poses from Montana Decoy will eventually bring success when coupled with effective elk calling during the rut in archery season. Using a decoy during Rifle season is absolutely too dangerous!)
Just like anything "elk hunting", nothing works every time. Realistic elk hunting (as opposed to what ends up on elk hunting videos) is spent trying different things until, finally, something comes together. Sometimes the elk will come in from a different direction than you "planned", so they don't see the decoy, or they smell you and leave.
If there is a strong breeze, the decoy can get blown over, or twist a bit. The Rocky Mountains tend be "rocky", but you can usually find a couple spots to stick the stakes into. It might take a few minutes to set it up facing the direction you want it to. Once you hear some interested elk, you might not have much time to set up effectively.
If the elk you are trying to decoy and call in do something different, you are left with the decision to run back to your decoy and following them, are get it later and follow immediately, without the benefit of the decoy. "Later", when following elk, can create a fairly inconvenient return. Usually, you can "run and gun", as Barry calls it above, by simply yanking the stakes out of the ground and holding the stakes together in one hand. When sneaking, you can keep the decoy low and parallel to the ground to minimize movement perceived by the elk. 
Be willing to keep setting up the Montana Decoy, calling, moving and setting up again until it works. When you provide elk sounds and elk visuals to go with those sounds, be ready for close encounter opportunities! 
---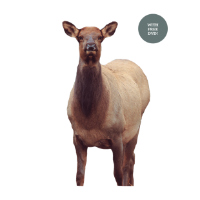 Fred Eichler's tweaks make this elk decoy even easier to use. The Eichler Elk decoy includes a string hanging system and leg poles.​
"The Montana Decoy is quick to use but you don't always have time to set up the leg poles or you're not hunting on ground that is soft enough to push them in! I've been playing around with strings attached to the decoy as a different way to set them up for years. It works great and it's fast and easy." - Fred Eichler
Eichler has put together a DVD of his best tips, tactics and hunts to help users understand better how he hunts elk and what he's learned from years of experience and this DVD is included free with each Eichler Elk.
This elk decoy is perfect for bowhunters chasing pressured bull elk in demanding terrain.
Weight: 40 oz. (including poles)
Unfolded Dimensions: 47" X 30"

Folded Dimensions: 19" X 12" X 2"
Free Fred Eichler DVD Included

Includes both strings and stakes/poles for quick deployment
$109.99 Free U.S. Shipping (7-10 days, or less. Contact Us for faster shipping costs.)

---
The RMEF Cow Elk is the newest elk decoy that improves upon the most popular selling elk decoy of all-time, "Cow Elk 1". It's the same pose, with a better quality image. 
Montana Decoy has partnered with the Rocky Mountain Elk Foundation to develop the RMEF Cow Elk. It has all the features to give you the ultimate advantage for stalking, setting up or preparing to shoot. The decoy stands tall for increased visibility in scrub brush or on the open plains. It also offers cover when there isn't any around and is a great tool for stalking.
The proceeds from each purchase of an RMEF Cow Elk decoy helps to permanently protect crucial elk winter and summer ranges, migration corridors, calving grounds and other vital areas, while focusing on securing and improving hunter access throughout elk country.

Features:

• Folds up easily and is light enough to carry on every hunt.

• Its size allows for better visibility and increased stalking advantages.
• Effective throughout all phases of the season.
• RMEF will receive a portion of proceeds from the sale of each RMEF Edition Cow Elk Decoy.
SPECS:
Weight: 42 oz. (including poles)
Folded: 17" x 15"
Unfolded: 48" x 50"
$109.99 Free U.S. Shipping (7-10 days, or less. Contact Us for faster shipping costs.)

---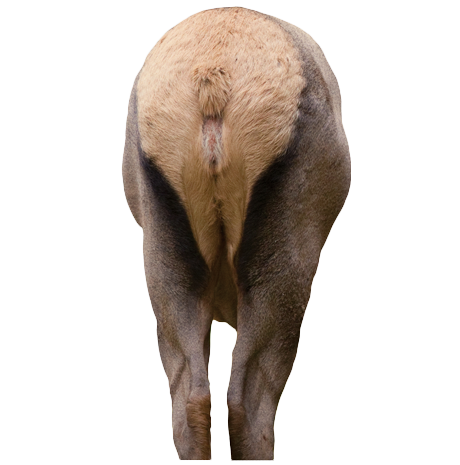 Talk softly and carry a light decoy and you will go far. Teddy Roosevelt once said something like that. We bet if he was around today, he would be packing the Elk Rump decoy on all his backcountry hunts. With a lightweight, durable and easy to set up design, the Elk Rump is what bowhunters need to call in, draw, and make a shot on a big bull in demanding terrain.
- New for Summer 2014
Hunting Decoy Features
• Folds flat to a compact 12-inch disc and pops up to full size in seconds.
• Convinces a bull the calls he hears are real. 
• Takes the focus off the shooter as the bull gets close. 
• Portable and packable to go along on every hunt.
$99.00 Free U.S. Shipping (7-10 days, or less. Contact Us for faster shipping costs.)

---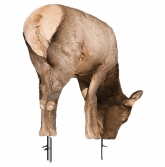 Feeding poses have been proven effective during any phase of the hunting season and the all-new Miss September elk decoy combines that potent pose with HD photography. With all of the great calls on the market these days, elk are becoming more and more call-shy; they need a visual. Miss September is just what that big boy is looking for!
Weight: 33 oz. (including poles)
Unfolded Dimensions: 60" X 47"

Folded Dimensions: 22" X 13" X 2"

$99.00 Free U.S. Shipping (7-10 days, or less. Contact Us for faster shipping costs.)
---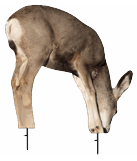 Montana Decoy has finally created a mule deer decoy designed for the avid mule deer hunter. Created out of consumer demand, their life size mule deer decoy, "Muley", is taking the mule deer hunting community by storm with its success out West.
The Muley Doe Decoy exhibits safety to wary bucks with its convincing feeding pose and, with its portable design, can be packed up and carried into any terrain. Folded Dimensions: 13" X 12" X 2"
$59.00 Free U.S. Shipping (7-10 days, or less. Contact Us for faster shipping costs.)
---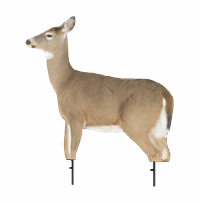 Montana Decoy's Dreamy Whitetail doe decoy is making many avid hunters believers in the use of decoying for big bucks. 
Weight: 30 oz. (including poles)
Unfolded Dimensions:37" X 40"

Folded Dimensions: 13" X 16" X 2"
$69.00 Free U.S. Shipping (7-10 days, or less. Contact Us for faster shipping costs.)
---
All products made by Montana Decoy are available from ElkHuntingTip.Net. Just let us know if there is something you want and we will get it for you quickly and at a good price!

Please subscribe to or our
Quick Elk Hunting Tips and Updates
newsletter or to an
RSS feed
(see left column for both) to be alerted whenever new information is added to the site.
We'd appreciate it if you would "Like" us on Facebook, or share this site with others.
---
Click here to go to the elk calling pages, from the Montana Decoy page.

---