Elk Sounds: Learn to Make
Realistic Sounding Elk Talk
Making elk sounds properly while hunting will increase your chances of success, especially during the rut. On this page we will get down to the nitty gritty of doing elk talk with elk hunting calls.

An elk hunting gear list that big game hunters will find helpful. This is a list and brief review of practical, useful, quality hunting equipment for elk hunters.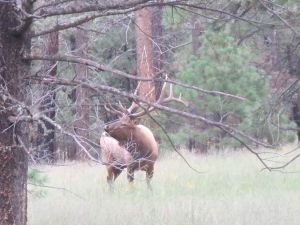 A bugling elk call is great for locating bulls early in the morning. There are lots of other bull sounds that, if done at the right time and place, can result in elk in your lap. Cow sounds can also be very effective, if done intelligently.
Many hunters think any bugling other than a locator call is a bad idea. If you know when and what call to make, bull sounds can be very effective. Any call that doesn't make sense to the elk will usually result in elk moving away from you. Elk Nut's instructional elk communication resources discuss all of the elk sounds much more thoroughly than we can do here.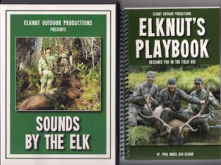 All of ElkNut's instructional elk communcation products are available here with free shipping!

Chirps and Mews

The calm elk sounds of a contented herd of cows and calves, or an estrus whine during the peak of the rut can convince a bull you are what he wants to hear. Cows and calves, and even bulls, all make "mews" and "chirping" elk sounds. A mew sounds like a drawn out chirp.
Chirps: Chirps are short noises made by all elk. It's a good assumption to assume they use this sound to stay in touch with each other. Elk herds are very sociable. They like to stay in touch (elk texting?). A chirp discussion very possibly means something like, "I'm OK over here. How about you?" Or, "This place is overgrazed. I'm heading this way." "I'm right behind you!" (OK. Let's not get carried away.)
To make a cow chirp on a call (mouth diaphragm, hand held blow call, or squeeze bulb) figure out how to make a high pitched squeal "eee" and how to make a lower tone "uhh" with first more and then less pressure. The eee and uhh are both short in duration with no pause. "ee-uh". The higher the pitch, the younger and smaller the animal (calf).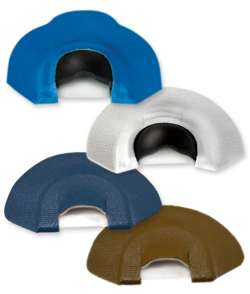 Rocky Jacobson's Elk Herd 4 Pack
Mews: Mews are a little longer elk sound than a chirp and can become quite pleading. "eeeuuuuuh", It might be reasonable to think it's like saying, "I'm over here all alone. Where are you? Let's stay close. OK?" Of course, mews can go from sounding quite relaxed, to an outright pleading attitude.
"Attitude" is a very good word to use when describing tone changes in all elk talk. An older cow will have a more commanding nasal sound at the end. Eee-uuuuh, with a sharp stop, not trailing off.
Calf mews are a very high pitched, "eeuh". They are often somewhat desperate sounding when they have been separated from their mother or the herd. (Actual lost calf audio) They will often keep it up until they get "found" again.
If you duplicate a calf mew, you might find that a cow elk comes to you. The cow will know it's not her calf, because they know their own calves' voices. But, most mothers will try to help a crying, lost "child".
If you really want to get the attention of a herd of cows (that might have a bull among them), a calf mew could be done repetitively for several minutes, while walking around rather noisily. When a calf is lost, he wanders around making desperate pleading mews.
Just in case, be ready to get into shooting position quickly. An arrow nocked anytime you're calling could prevent missing an opportunity you weren't expecting so soon. 
Here is extended audio of a lost calf, with cows and bull sounds.
The Dredded Elk Bark

An elk bark is one elk sound you don't normally want to replicate, or hear in the woods! Usually it is done in a stressful situation to indicate danger is present.
The first time I heard a bark many years ago was when a big cow snuck up on me while I as cow talking. She saw me before I saw her. She barked and it sounded much like a dog. She was staring eye to eye with me.
Perhaps the bark is kind of like a curse word, like when someone startles you. It is meant as startled a warning. The elk that makes it will soon move away, followed by those around it. 
The Nervous Grunt
There is something Paul Medel (ElkNut) calls a "nervous grunt" that many hunters confuse as the warning bark. Here's an audio of an elk doing it. When an elk makes this sound it is asking for a visual. An elk making the nervous, or "popping" grunt sound will stick around for a while looking for confirmation of an elk it thinks is nearby (you calling).
Elk Nut discusses this sound in the Playbook and on his DVDs. He discusses the meaning of the sound and how you can use it in a hunting situation. It can make an elk show itself when you make the sound.
If you make the sound with an elk very near, the shooter should get his bow drawn! You're asking for a visual. Be ready for one! Just make sure you make the popping grunt, not the nervous bark. It can also be used very effectively to stop an elk for a shot with your bow drawn, even with just your voice. 
Here is a video of how to make the nervous grunt:
Estrus Elk Sounds

The estrus whine (actual recording) is an excited vocal expression that cows make when they are ready, or close to ready to be bred. Bulls are highly motivated and aroused when they hear that "love talk", but they probably have a good idea when that sound should be heard. If you do it too soon before the peak of the rut, the bulls might get suspicious. Overusing the estrus whine can be counter-productive.
Some elk calling experts separate a "hyper hot" cow elk sound from standard "estrus" sounds and some will use the two terms interchangeably. It does seem that some cows get extra pumped up with the gyrating, wavy calls they make when they are ready to be bred. I think it's a good assumption that an elk making this sound is saying, "I am sooo ready! Get over here you big hunk!"
It sounds like wavy pleading high pitch variations, not just two tones as with the mew. There is no exact cadence because all elk are different. The biggest problem is doing it too much, or outside the rut. Sometimes it works toward the end of the rut, because some cows go into estrus late. 

It is possible that cows in estrus get desperate toward the end of their estrus cycle and start pleading their case with more "emotion". A cow's estrus cycle only lasts about 24 hours. A desperate, pleading estrus whine might be something she does in the last hours of the cycle.
Reproduction is a very high priority and the Lord created these effective communication methods, along with scents and smell receptors, and all the rutting rituals in order to sustain strong herds through competitive bulls.
If you make an estrus whine at the right time and a bull buys it, he can suddenly get stupid real fast. Use the estrus call judiciously, though. 
This might be a good time to spray some of that nasty smelling "cow elk in estrus urine" into the air, particularly if the breeze suddenly switches in the direction of the bull and you can't do anything to correct the situation. 
Here's an estrus sound that most hunters will never hear, but should try to replicate at the right time. This recording is provided by Paul Medel, AKA ElkNut on the Sounds by the Elk CD. It is discussed in ElkNut's Playbook. It is called the "estrus buzz" and sounds like this.
Bull Bugling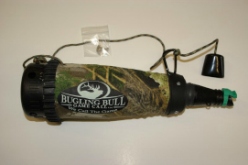 Remember that bulls mean many different things with the sounds they make. All make the different sounds with their own way of "talking", but the nuances of the language are specific and meaningful. It would serve us well to learn those nuances.
ElkNut's resources provide the opportunity to hear real elk sounds (Sounds by the Elk CD), explaining how and when to make them (DVDs and Playbook). Again, these resources cover elk communication much more thoroughly and effectively than we can here. They are full of information and no need for me to "reinvent the wheel" on this page.
Many hunters have decided that elk bugling should not be done, except for locator bugles. However, if we stop saying the wrong things at the wrong times and start making sense with the calls we make, bull sounds start to become effective.
A Locator Bugle is a relaxed bugle made when bulls want to let other elk know where they are and find out where other elk are. It's a good elk sound to make first thing in the early morning before or just after daylight to help you decide where to go in pursuit of elk. If you can scout at night with your ears, responses to a locator bugle will tell you where to go in the morning.
Locator bugles are not aggressive sounding. Sometimes they are just a single long note (actual audio). Deep growls and grunts are usually not done at the end. 

(Actual recording of live bull doing locator bugle.) 

A Display Bugle sounds a little more aggressive, but is mainly a show off bugle for the cows in the area. A little more growl is added at the beginning and end of the bugle with some grunts and chuckles.
To do the growl, simply add your growly voice while you use the call. Do some grunts and chuckles at the end by huffing in and out with gravely voice sounds. Often a bull displaying will also be raking up a smaller tree. Simulate that with a stick on a tree trunk while doing some stomping.  
A Challenge Bugle is made by a bull who wants to intimidate other bulls with an angry sounding growly, screaming bad boy bugle.
(Audio of actual challenge bugle.) 

(Actual audio of several bulls challenging each other.) 


There are times to get aggressive and do a challenge bugle with stomping and raking. It's best done when you've sneaked in very close to the bull. An aggressive challenge right among his herd could bring him stomping in around the brush you're behind.
Don't worry about scaring off the rest of the elk, if it's the big bull you want. He'll just be pissed that you are running his cows around. Be ready for a shot!
ElkNut's DVD, Bugling Bulls and Beyond discusses aggressive calling in Volume 4, as does the Playbook.
Chuckles are short in and out sounds used sometimes after, or even without, a bugle sound. Bulls make this sound when they are talking to cows around them.
Making this bull elk sound using a latex diaphragm reed call in your mouth requires a quick in and out huffing action. Cough out sharply into the grunt tube while blowing over the reed and then immediately suck air back in.
Do this repeatedly for a few seconds. Use your growly voice at the same time. Chuckles are important elk sounds to to make, again at the right time and place. Chuckling to another bull's cows might bring him your way. At least it could make him do a challenge bugle to let you know what his mood is. You can then respond to his mood appropriately, with the right sounds at the right time.  

(Actual audio of bull chuckling.) 

Sometimes elk get quiet and all you might here is a subtle grunt and chuckle sequence, particularly once the day heats up, or human presence makes the bulls a little more cautious. In the heat of the day, match the mood with some quiet grunts, squeals or chuckles, mews and chirps near a bedding area. Listen carefully for subtle elk sounds.
Glunks are weird noises made in the back of the throat by a bull. They do this when they are near cows. You can easily make this sound yourself by slapping the mouth end of your grunt tube. Add it to your arsenal of elk sounds you can use. A herd bull might want to check you out.
(Recording of glunking and mews.) 
Develop an Ear for the Music

Elk sounds are beautiful music to an elk hunter. It means you're right there among them, or they're just over the ridge. It's good to be familiar with all of the elk sounds and I have not covered them all here. You don't have to be able recognize or make them all. But, add some new skills every year through practice with all of ElkNut's instructionals. 
At a minimum, learn to make cow elk sounds with hand held reed calls, or diaphragm calls. Add locator bugles, grunts, chuckles, nervous grunts, even glunking and you'll be making elk sounds that will help you have "close encounters of the herd kind". Take some time to learn what they all mean. Practice, practice, practice!
Spend some time listening to lots of actual elk sounds by clicking over to the Elk Recordings page. Better yet, collect all of ElkNut's instructional videos, cd and the Playbook. Study them as if you are learning a new language, because you are!
Related topics available:
Learning Elk Talk
Product Review of Elk Calls
Recordings of Elk in the Wild
Calling Elk In Close
Predicting and Hunting the Elk Rut
Bow Hunting Elk

Please subscribe to or our Quick Elk Hunting Tips and Updatesnewsletter or to an RSS feed (see left column for both) to be alerted whenever new information is added to the site.
We'd appreciate it if you would "Like" us on Facebook, or share this site with others.
---
To "Calling Elk" page from "Elk Sounds" page. 

To "Elk Calls" page. 

To Recorded Elk Sounds page.