Practical, Successful, Enjoyable Elk Hunting
Elk hunting can be demanding. It can also be fun, not just hard work. The main purpose of this site is to provide you with as many practical tips and fast facts as possible to make your hunting experiences more successful, comfortable, enjoyable, positive, easier and safer.
(You can search within this site on the right side of this page.)
An elk hunting gear list that big game hunters will find helpful. This is a list and brief review of practical, useful, quality hunting equipment for elk hunters.
Elk habitat is some of God's most beautiful creation. Hunting there can be difficult, but there are things we can do to make it easier. With the right equipment and techniques, elk season can be less demanding and more successful. Learn to enjoy the majesty of elk country with realistic goals and plans.
Our goal is to provide sensible and practical recommendations learned from years of trial and error in public access hunting. Ideas from many experienced elk hunters will be shared.
Practical Information for the Average Hunter
This is not just a typical "how to kill a big bull elk" site. We are regular, successful hunters on public land, who kill some nice bulls along with cow elk for meat. We've learned some things the hard way. But you don't have to! We'll share it with you.
Elk are very social animals. As hunters, we can take advantage of that by learning elk sounds. We can learn what the various nuances of those sounds might tell us. We can learn how to call elk with appropriate elk communication that we send their way! We can also use what we hear to form on-the-spot tactical hunting approaches.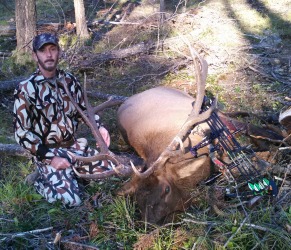 Spending the time and effort to find elk can be challenging without a realistic plan. We live in elk country. Each fall I usually commit 5 or 6 days a week for 11 weeks to hunting elk in Montana with bow and rifle.
I often only hunt half days and go to work in the afternoon. Those half day hunts have been very productive through the years. I have spent many hours thinking about how to make the process easier, faster or more comfortable and then finding the solutions. 
Make Your Elk Hunts More "Do-able"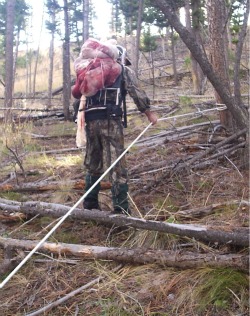 Getting a hundred or two hundred pounds of meat off the ground and into the freezer far away can be incredibly difficult. I'm a pretty small guy and I usually hunt alone when friends or sons are at work and school. I HAD to learn some practical ways of moving heavy meat by myself. You'll find lots of helpful tips under the Elk Down! tab.
Add this site to your Favorites. More information is added often. Whenever you have a few minutes, click on the tabs to the left to read about a subject that interests you. Come back for more when time allows. You're always welcome! We'll do the work to keep you informed about elk hunting topics.