Spice-Crusted Grilled Venison Roast Recipe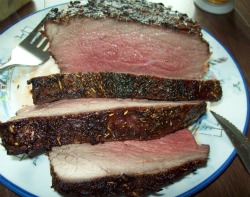 This Spice-Crusted, Grilled Venison Roast recipe belowworks great for any red meat roasts, including elk, deer or beef roast. Hopefully, you'll have plenty of elk roasts available, if you're a fan of this website!
You can use it for any of the following cuts of meat: prime rib, chuck, shoulder, sirloin, and round.(See the Hunter's Meat Map here.) 

For this grilled venison roast recipe method select a roast of uniform shape, so it will cook evenly throughout. If there are loose, odd shaped ends around the roast, you can cut them off or try to tie it into a more uniform shape with cotton string. Otherwise, the smaller pieces around the edge will over cook.
I first used this Spice-crusted Grilled Venison Roast recipe on a "prime rib" cut of elk. I cooked it until it was just barely medium rare and it turned out great. A few weeks later, my wife and I went out to a fancy restaurant and ordered their "Spice Crusted Prime Rib". I asked her if hers was good and she said, "Yeah, but I liked your crust better." I agreed. It's all about the crust, and not over-cooking the inside.
Sear it in the Rear!

It's "seared" at the end, not up front. Food science has shown that searing has advantages, but doing it up front does not seal in the juices! This Spice-crusted Grilled Venison Roast will be juicy, if you follow the instructions below.
Follow the grilled venison roast recipe carefully, then tweak the ingredients of the rub to your preferences and you'll have your own great Spice-crusted Grilled Venison Roast recipe that you will be proud to share with family and guests.
An elk hunting gear list that big game hunters will find helpful. This is a list and brief review of practical, useful, quality hunting equipment for elk hunters.
Follow the Temps Carefully

Forget about timing roasts according to how much it weighs! Go by internal temperature. You need a couple of good thermometers. Ignore the one on top of your grill. Aside from being notoriously inaccurate, they tell you how hot it is just under the top of the grill.
You need to know the temperature on the grill and at the center of the thickest part of your meat. That requires two thermometers: a good meat probe thermometer stuck in your roast and an oven/grill thermometer next to the meat.
Digital thermometers are more accurate than dial thermometers. It's best to use a probe thermometer that you can leave in the meat and monitor without opening the lid. This is done via a wired lead to the receiver next to your grill, or one with a wireless transmitter.
If you get the wireless transmitter type, you can it take it into the house while you're watching the football game, or preparing side dishes. I have been through some cheap ones and did not "save" any money, because I had to by a couple at half the price of a good one.
The cheaper ones don't last long. I finally gave in and spent the money for a Maverick ET732 wireless thermometer set. The receiver works up to "300 feet", but that's outside. Expect a shorter range through walls.
A less expensive model, the Maverick Remote Wireless Thermometer ET-73, claims 100 feet of range. Some reviews say that results in about 20 feet through walls. This model's cable is not quite as heat resistant as the ET732 mentioned above.
If you want it "just right", whatever that means to you, the internal temperature is important. I recommend that you do try at least a medium rare finish temperature. A finished internal temperature (after standing a few minutes out of the heat) of 135 degrees will produce the most tender mouth feel (135 = rare; 145 = medium rare).
Meat is chewy in its raw state, softens around 130 degrees and then begins to toughen up again at higher temps. The red juice that you see in a medium rare or rare cooked piece of meat is not blood. It is juices (mainly water) and myoglobin from inside the cells of the muscle. It's presence just proves that you didn't dry it out by over-cooking it!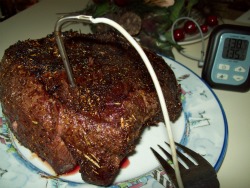 So, if you want it medium rare, take it off the grill at exactly 130 degrees. It will rise at room temperature another 5 degrees, or so, and have a bright red color. If you pull it off at 140 degrees, it will rise to 145 and be medium with a rich pink color.

Just Quitchur Peeking!

If you control your grill temperature carefully on the indirect heat side (see below) to keep it at a steady 225 degrees (F)where the meat sits, it should take a 4" thick roast about 3 to 4 hours to cook. Until you get the process of controlling that temperature to keep it steady (by not peeking all the time), you will need to start earlier than you think to be ready to serve when you planned.

Here's How to Do It

OK. Here's the grilled venison roast recipe. If you discover, or have some good advice to improve upon this Spice-Crusted Grilled Venison Roast Recipe, please share it below.


Make the Crusted Red Meat Roast Spice Rub (Click here.): or your favorite rub recipe into an oil paste an hour before putting it on your roast. Time will make the flavors leach into the oil.
Thaw and Age It: Start with a roast that has been completely thawed for a total 24-48 hours (preferably) before you want to start cooking it. (It will be aging in a thawed state for 1 or 2 days, improving the tenderness.)
As soon as it's thawed, pat your roast with paper towels, so the paste will stick better. Lightly salt all surfaces of the roast. Rub the Crusted Red Meat Roast Spice Rub paste (or your favorite rub paste) over all the surfaces of your meat.
Put it back in the refrigerator for a day or two. It will penetrate a little bit into the meat and will make a heartier crust when it's roasted. Don't use a rub with sugar in it for this Crusted Grilled Venison Roast Recipe. It will mess up the "crust", or "bark".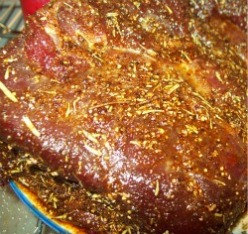 About three hours before you want to put it on the grill, take the roast out of the refrigerator and let it stand at room temperature. I guess it's debatable, because smoke sticks to cold meat better. You decide. Three hours is safe, if it has been safely stored prior to that.
At this point, you have allowed the meat for the grilled venison roast recipe to do some dry aging at refrigerator temps, then briefly at room temperature. This is one reason we don't worry about thoroughly aging our fresh elk and other venison, because it can be done in the refrigerator and at room temperature just before cooking.
Set Up Your Grill: You'll need to waste some gas, or coals fiddling with it to get the indirect (cooler) side of your grill to a steady 225 degrees. When you have it there, put the roast directly on the grill rack. Your grill thermometer should be right next to your meat. If you don't have a grill thermometer with an external receiver, just put it where you can see it by barely lifting the lid just a crack.
Place your probe thermometer in the thickest part of the middle of your roast. Now, back away from the grill and stop worrying about it, other than occasionally checking the grill temp. Once it's set, don't fret over it too much. You can easily adjust the gas slightly if needed to keep a gas grill at the right temperature.
Through your pre-grilling set up session, you should have the burners or coals heating on the other side, adjusted to hold 225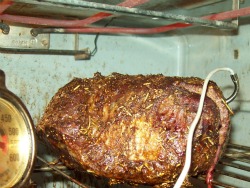 on the indirect side. (You can do this whole grilled venison roast recipe process in the oven, using the broiler for the final sear. I did that once during a blizzard that kept blowing my grill burners out.)
If you want a little smoke flavor, just use a small handful of your favorite wood chips inside some foil with holes poked in it above the flames of the grill. Don't overdo the wood smoke.
Wait for 115 degrees: After 30-60 minutes (depending on the size of the roast) check the meat probe temperature. Check the meat for browning more on one side or the other. Turn it only if necessary to keep it from overcooking on the warmest side.
When the probe says the internal temperature is exactly 115 degrees, open the hood of your grill and leave it open. Move your roast to the hot side of the grill above direct, very hot flames. Crank your gas burners up all the way.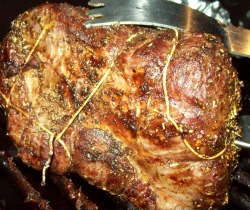 Then Sear It in the Rear!: Sear all surfaces until it develops a deep, dark brown color. It should take about 3 minutes on each side. Roll it around until all surfaces look great.
When it reaches an internal temperature of 125-130 degrees (medium rare) to 130-135 degrees (for medium) take it off the grill. It will continue to cook and will rise another 5 degrees, or so. The two photos above are of the finished roast.
If someone wants it medium and others want it rare, cut some of it off and put it in the oven until it reaches the color they want it. Or, slice it into steak portions and put them back on the grill for a few seconds. If they want it well done, tell them to ruin it themselves! Just don't let them blame this Spice-crusted Grilled Venison Roast recipe!
If you have a good au-jus recipe, please share it below. 


Please subscribe to or our Quick Elk Hunting Tips and Updatesnewsletter or to an RSS feed (see left column for both) to be alerted whenever new information is added to the site.
We'd appreciate it if you would "Like" us on Facebook, or share this site with others.
---
To Main Recipe Page, from Grilled Venison Roast Recipe 

To other Wild Game Recipes