BackCountry Bowhunting: Wake Up in Their Living Room!
Contributed by Casey Albert
You might think BackCountry bowhunting is only for the young. I'm not willing to pass along my age, but I started my elk hunting career in 1992 at the age of 36! I now do backcountry hunting for elk every year. (Don't tell my wife, but I think about elk hunting every day of my life.) My buddies and I only hunt on public land.
An elk hunting gear list that big game hunters will find helpful. This is a list and brief review of practical, useful, quality hunting equipment for elk hunters.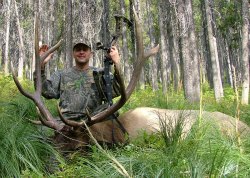 I generally discuss BackCountry hunting in relation to "BackCountry bowhunting" because that is what I primarily do. Since rifle season is later in the year, the weather is even more unpredictable. So I take additional steps to prepare for a BackCountry rifle hunt.
I am planning for a BackCountry rifle hunt this fall. I will utilize different clothing and sleeping bag for this hunt. You must know the conditions in which you are going to hunt. I am only passing along information relevant to where I have been hunting for the past 19 years.
Base Camp, Spike Camp, then
BackCountry Bowhunting
On my first elk hunt one of my best friends called in a young 5X6 elk that I shot with my old (heavy) Bear Jennings compound bow. Needless to say, I was hooked! As I write this in 2012, I am planning for my 17th archery hunt. I've regretfully missed three years during that time.
First came "sleeping on the floor," then Base Camp, then Spike Camp, then BackCountry bowhunting. After a few years of sleeping on the floor of a friend's house during those early elk hunting trips, some of us decided to camp out near the trail head. Later we chipped in for a wall tent and had a true "Base Camp."
Sometimes we would do our distance hunt in the morning and return to camp at midday. We would then do "posting" type hunts in the evening (short out and back). It was all fun, but I found myself yearning to spend more time where the elk were, rather than looking longingly up at the BackCountry from Base Camp.
I started instigating "Spike Camping" (backpacking away from Base Camp) to reduce the miles I spent traipsing from Base Camp in the morning, then hiking back to camp in the evening. The addiction to BackCountry bow hunting with "camp on my back" had begun to tighten its unrelenting grip on me.
Venturing Out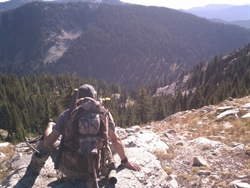 A few years ago I decided to try a new area where I knew few hunters roamed. This will be my fifth year hunting that particular area and someday I just might die there. Two years ago I thought that day had come during an extremely thunderous lightning filled sky. I debated getting out of my tent and getting soaked while being struck by lightning, but ultimately decided to die dry and stayed in my tent. Extreme weather is one of the greatest risks of BackCountry hunting.
Planning, Gearing up and Execution
Now let's get to the meat of the matter about BackCountry bowhunting. I will share details about the planning that I do to get ready to make extended forays into the wilderness on this page. I am what you might call a lifelong learner when it comes to BackCountry bowhunting. I don't claim to have all the answers.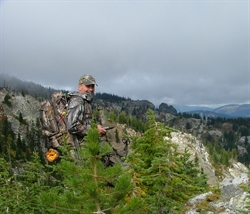 When David, of ElkHuntingTips.Net, asked me if I would be willing to write about planning, gearing up, and execution of "hunting with camp on your back", I agreed to do so out of my compassion for the adventure of BackCountry bowhunting. I usually have someone along, but I find it very rewarding doing solo BackCountry bowhunting.
I know that some of you know a lot more about extended stays in the backcountry wilderness, but if I can assist someone to begin a lifelong adventure of BackCountry bowhunting, then I will have done my small part. Please share your experience and knowledge of this topic in the comments section at the bottom of this page.
BackCountry bowhunting (or rifle hunting) is very different from hiking in and setting up a "Spike Camp". I refer to spike camping as setting up a camp, hunting from there during the day and returning there in the evening. I refer to "base camp" as where my motorized vehicle is parked, whether I have set up a shelter there or not.
BackCountry bowhunting is loading my gear into a backpack, heading off into the wilderness and sleeping wherever I end up at the end of the day. The best part is that hunting begins from where I wake up in the morning! There are no hard and fast rules for BackCountry hunting.
Advantages of BackCountry Hunting
Let's say you've spotted a bull and have decided to hunt him that evening. You set up camp a safe distance away and hunt that bull before dark. You're camp is ready for you before it gets dark.
If you don't get him that evening and you haven't been busted, there's a good chance you will be hunting that bull again the next morning. If you had to hike back to Base Camp, then back to the bull the next morning, he might just be in the next drainage. Or, maybe someone like me would kill him before you get back!
Here's a true story that will give you an idea how things might play out:
After spending many hours on Google Earth and Topo maps, my bud and I headed to our new hunting grounds. We parked our car at the trail head and geared up. We hiked in 2 miles or so on an old blow-down-strewn trail.
I didn't know if there were elk there, but I did know there were no other hunters. I decided to bugle and a bull responded instantly!
It was getting dark, so we decided to set up camp right there in a depression from an old blow down tree trunk. Morning came and as we were sipping coffee and eating oatmeal, the bull rang out from the opposite ridge. Saying we were psyched would be an understatement!
Ten minutes later on the first morning of the hunt in our new found private reserve (National Forest), we had a decent 5X5 standing 30 yards slightly uphill. I wish I had pictures of that bull, but we blew it. I did hit it, but made a bad shot.
We attempted to locate him that day and the next. I didn't think he was hurt badly. (Editor's note: If that happens, just get over it. To minimize the chances, practice often and beyond your personal limit. Then stay within your limit on live game.)

On the third morning we ultimately scored on a bull in the next drainage north of there (pictured on this page). We ended up with a bull and a bear on our first hunt in our new hunting grounds. Our "hunt of a lifetime" there will continue in its fifth year this fall.
Two weeks later we returned to the same spot, and called the same bull that I had wounded down off the same ridge. He busted me before we got set up. I wasn't planning to hunt that particular ridge this year, but I might have just changed my mind!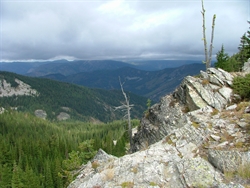 BackCountry is whatever you want it to be, as long as you are out there under the stars and having a good time. But you have to do some careful planning for it to be a good time.
Once I have made my plan on the particular area I plan to go, I decide how many days I will be in the BackCountry bowhunting, before returning to Base Camp to recharge my pack and possibly go take a shower. The area I hunt is very lightly hunted, but fairly harsh terrain (which is why it's lightly hunted).
Scale It Down
It would not be possible for me to plan to BackCountry with 60 to 80 pounds on my back. I typically plan to spend three to five nights during each outing before returning to base camp. I try to plan a route, so that I do not cover the same areas on the same trip, unless I want to for some reason.
With every ridge I cross there is a new drainage that I have not seen that year. I make mistakes all the time. Last year I tended to have destinations in mind rather than truly "just hunting". Destination hunting can work out well, but then you are working the clock just to get where you planned to be.
A much better way to BackCountry hunt is to hunt during the day and camp wherever you are when the sun goes down.
Finding Water is Paramount
Since I have been hunting this area for a few years and studying maps and Google Earth a fair amount, I know where the lakes, ponds and major streams are.
I can't emphasize enough that water is of the highest priority. Last year on my first day hunting into a drainage from a new direction, I thought I would be at my watering hole by 2:00 p.m. As I ran out of water and became thirsty, I dropped some elevation to try to find a source based on the GPS rather than heading directly to the spring I have used for the past few years.
None of the other sources panned out, so I headed in the direction of my spring. Had it been dry, I knew that I would have to drop straight down the mountain to a year round stream. My spring was running, but it was about an hour before dark. I was slightly dehydrated and quite thirsty. I quenched my thirst, watered up and set up camp nearby. I should have and could have started my day carrying more water. I will carry more water this year.
Now that you have decided to walk away from the car, base camp, cabin, etc. and not return for a few or several days… are you ready? I thought I was, and still think I am, but I keep learning something new every day in the field and every year after returning home. I started preparing for this year, while I was on my way home last year.
Keep Refining Your List
I have been making an "elk hunting list" for several years. (See mine on the link below.) Since I am a flatlander I have to ship my hunting goods to my jumping off point. So, I have refined my list further and further to reduce the volume of the goods that I ship.
Many of you will fly to get to your hunting area. Mailing or shipping your goods can save money in this age of extra baggage fees. However, you must plan, pack and ship wisely.
Plan, Then Plan Again
I started planning "Elk Hunt 2012" while I was packing up "Elk Camp 2011." As I was emptying my backpack, I was taking notes of where everything was, whether or not I needed it, or if I needed to find a better alternative.
My personal plan is to be able to do BackCountry bowhunting for three, four or five nights at a stretch. If it wasn't for the fact that I am the type that wants to see what is over the next ridge, the view from the top of the mountain, or go where I have not gone before I probably could base camp or spike camp more. However, I have too many places to see. So I need to get better at BackCountry bowhunting!
My Hunting Gear List
You will find my actual hunting gear list for both base camp and my backpack list and backpack food ideas on those links. Click here to continue on your journey into the magic of BackCountry hunting!
Please subscribe to or our
Quick Elk Hunting Tips and Updates
newsletter or to an
RSS feed
(see left column for both) to be alerted whenever new information is added to the site.
We'd appreciate it if you would "Like" us on Facebook, or share this site with others.
---
Back to Home Page, From BackCountry Bowhunting Page
---