ASAT Rain Gear
---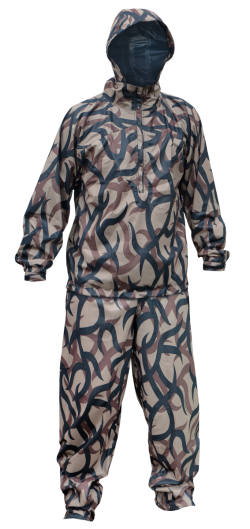 Lightweight ASAT Rain Gear
The ASAT rain suit is a two piece set of a pullover jacket and pants. It is a light weight packable set. They come in their own individual bags, for easy storage.
The jacket is a pullover style, with a quarter zip front. It is cut longer in the back to help keep you covered when sitting or bending. The cuff has Velcro for a tight closure around your wrist.
The pants are an elastic waist with zippers at the ankles.
An elk hunting gear list that big game hunters will find helpful. This is a list and brief review of practical, useful, quality hunting equipment for elk hunters.
Free 3-5 Day Shipping in the USA on orders over $50. $5 flat rate shipping for $50 and under! If you are combining ASAT orders with another product purchase and PayPal charges you for shipping, let us know and we will refund the shipping (for over $50) immediately! Email us (bottom of this page) with your address and products to be ordered for the cost of 2 day shipping option.
For shipping costs outside the US, please email us with your address and items you want to order. Or, feel free to call us at 406-431-0876.
Click here for ASAT Sizing Chart (PDF).

---
Shop for all ASAT Camo:
The 2022
ASAT Puffy Jacket is here!



ASAT Hurstwic Jacket and Pants

ASAT® Bedrock Merino Wool

ASAT® Classic Series

ASAT® Vanish Pro 3D Series

ASAT® Elite Performance Series

ASAT Rain Gear

ASAT Camo Youth Series

ASAT Gift Certificates and Camo Accessories

ASAT® Camo Packs

Back to ASAT Camo Hunting StoriesBack to Home Page
---
Please subscribe to or our "What's New" newsletter or to an RSS feed (see left column) to be alerted whenever new information is added to the site.
We'd appreciate it if you would "Like" us on Facebook, or share this site with others.
---