Wild Game Recipes:
Celebrate the Harvest!
Wild game recipes are sought after by many sportsmen families. Just because we kill or catch some of nature's healthiest meat sources doesn't mean we always know how to make it into a good meal. My family can put together some good entrees using elk or deer meat, but pheasant, duck or quail? We need some help there!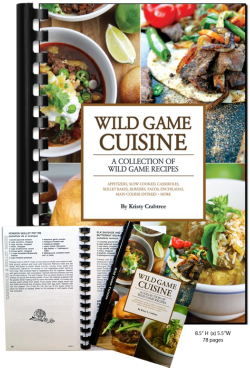 Kristy Crabtree's Wild Game Cuisine, A Collection of Wild Game Recipes is filled with simple to follow instructions. They are well tested recipes. Whenever we try one we always like the end result.
The cook book has more than one hundred recipes for wild game. The author's family is a hunting household. She carefully writes recipes that use simple steps and everyday ingredients. She is a photographer, so the pictures are excellent. You can adapt the recipes to similar wildgame meats and to your own preferences. Click here to see an index of the cook book. You can order Wildgame Cuisine below for $23.95, with no extra USPS shipping charge. 
Some of you may have some great fish recipes for those of us who catch trout in elk country, or some grouse recipes for those among us who just kill grouse with a bow and arrow while hunting big game.
Speaking of grouse, the best I have found to do with fool hens is to cut them into "popcorn" size pieces and deep-fry them with a zesty batter! You can also stew/soup them to tenderized those tough birds.
Scroll down to submit yours below, or to see other recipes for wildgame.
An elk hunting gear list that big game hunters will find helpful. This is a list and brief review of practical, useful, quality hunting equipment for elk hunters.
Wild Game Spices and Rubs

Chef John McGannon has agreed to allow us to sell his WildEats Enterprises® seasoning blends and dry rubs right here! Chef McGannon has prepared wild game for over 35 years in some of the nation's finest dining establishments. 

For $29.95 (Free Shipping!), his Wild Eats Gourmet Gift Pack includes the following: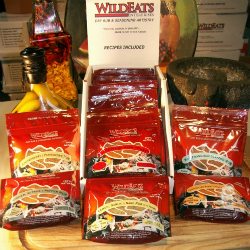 Juniper & Peppercorn Steak Rub
San Francisco Seafood Rub
Controlled Burn Chili Blend
Ginger Citrus & Pepper Rub
Lemon Garlic & Sage Rub with Fennel
WILDEATS Burger Dust 


Click photo for larger image.
Submit Your Wild Game Recipes!

Got any other ideas? Submit them all here. We'd like to make this page a one-stop shop for all kinds of wild game recipes. We'll sort them out on this end into categories, as that becomes necessary.
Of course, any recipe used for domestic meats will work for wild game. Just remember that most wild game is lean, so dry cooking methods, or high heat can result in toughness. Other than that, your favorite meat or fish recipes will work just fine for wild game.
Read more about avoiding "gamey flavors" on our Elk Recipes page, theField Dressing page and Cooling Big Game in the Field.
You might be interested in our Grinding Meat page, if you want to do it yourself, or find some Ground Wild Game Meat Recipes here.
Here is our Easy Smoked Meat page.
Please subscribe to or our Quick Elk Hunting Tips and Updatesnewsletter or to an RSS feed (see left column for both) to be alerted whenever new information is added to the site.
We'd appreciate it if you would "Like" us on Facebook, or share this site with others.
Share Your Ground Vension/Elk Recipe
Do you have a good ground venison recipe? Share it!
Share Your Favorite Wild Game Recipes
Use this form to submit any wild game recipes: big game, small game, fowl, even fish!
What Other Visitors Have Shared
Click below to see elk and big game recipe contributions from other visitors to this page...

Fish Recipes
1/2 cup salt 1 cup brown sugar 1 cup soy sauce 1/2 cup vinegar 1 tablespoon Worcestershire sauce 3 cloves minced garlic 1 tablespoon onion powder …
Elk, Deer and Bison Recipes
Venison Chili 1/4 cup vegetable oil 4 pounds venison, cubed 2 pounds pork strips, diced 12 garlic cloves, crushed 2 cups diced onion …
Wild Game Fowl Recipes
Pheasant Casserole 3 boned pheasants 1 bag plain potato chips 1 can Cream of Mushroom and Cream of Chicken soup 1 small can of mushroom pieces 1 …
---
Go to Elk Recipes page from Wild Game Recipes