Bow Hunting Elk
Make a Date with a Bull!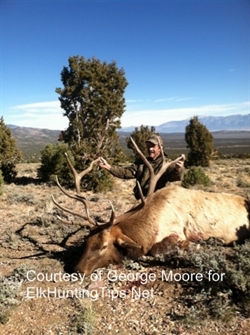 Will you be bow hunting elk or rifle elk hunting? Deciding on good places to hunt will depend on what season you choose. Elk might be in the same places during both seasons, but more often they move as food supply changes with the seasons and hunting pressure increases.
Archery season is a good time to learn the habits of elk and where they go because you usually see more of them during the early fall. The weather is much more pleasant during that time of year as well.
Bulls are Looking for a Date, and You Could be It!
An elk hunting gear list that big game hunters will find helpful. This is a list and brief review of practical, useful, quality hunting equipment for elk hunters.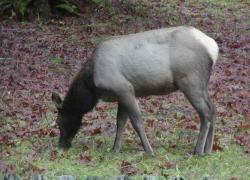 When bow hunting elk during archery season, there's a good chance of calling a bull to you. Many states allow either sex for bow hunters. If you're willing to kill a cow, your chances of success are increased.
When it comes to rifle season, bulls aren't as willing to "come-a-courting" in response to calls. All elk are more wary once rifle hunters start stomping the mountains, so even a cow becomes harder to hunt.
Archery season gets you in the game while the "game" is still calm and unaffected by the hordes and noise of rifle hunters. The weather is warmer and you tend to see more during an elk rut hunt, but you do have to get in close to kill one. Without lots of shooting practice and a well tuned bow, you'd be better off leaving your bow at home, rather than risking a poor shot.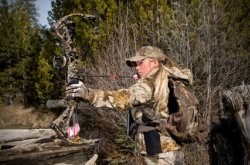 Rifle season allows longer shots. However, you will not always find elk in rifle season in the same places they were when bow hunting elk or during summer scouting trips. If you have the endurance and tenacity to get away from the crowds, you can still see plenty of animals during rifle season. Big game hunts are demanding and rewarding, regardless of which tool you use.

Hunting with a gun still requires practice in order to avoid wounding animals with poor shots. The time required to become good enough to shoot an elk in the vitals with today's high-powered rifles is less than with a bow. (See our page on sighting in a rifle and practice.)
Game Wounded by Arrows?
More big game animals are wounded with rifles than are wounded by people bow hunting elk. The perception is the opposite because no one sees an animal with a bullet sticking out, as is sometimes discovered after a poor arrow placement. Besides, odds of getting a shot are slimmer when bow hunting elk. There are fewer bow hunters than rifle hunters, and only a small percentage can get a shot at an elusive elk.
More Stealth Skills Required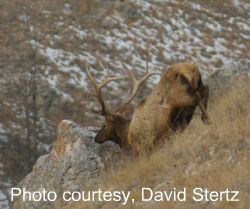 During rifle hunting season, an elk hunter is not as dependent on camouflage, scent control and stealth as someone bow hunting elk is. (See our discussion of scent control here.) So many things can go wrong while hunting with a bow. You might spend all spring and summer practicing, only to take one of the many "opportunities" to blow the chance at a shot with a bow. All it takes is one false move, even drawing your bow at the wrong time to cause an elk to turn on a dime and flee.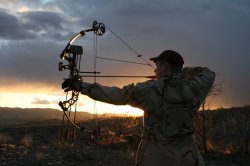 You might get your bow drawn without being seen, but the elk might not step into a shooting window. As the seconds tick by while you are at full draw, the ability to shoot straight slowly dissolves. Or, perhaps everything goes well for an hour long stalk, crawling on your hands and knees to get closer, only to find they moved away when you had your head down.
These scenarios repeat themselves each year among hunters who get close to elk. If it hasn't happened to you, you probably haven't been archery hunting for elk.
A good big game rifle allows elk hunters to effectively shoot out to about 200 yards with practice. Perhaps farther, with more practice.
Bulls are Harder to Find During Rifle Season
The larger bulls usually separate from the cows after the rut is over. If nothing but a bull will satisfy you during rifle season, just be realistic and prepared to have many "dry" seasons. If you stick with it and continue to add to your research and experience, it is possible to expend the considerable effort needed to regularly get into bulls each rifle season.
If you are willing to hunt with a bow and arrow, archery season opens up a whole new world to bull elk! If you really want to hunt bulls, seriously consider archery. During archery season, it can sometimes be much more feasible to get close to bulls than to cows.
On the other hand, if you have never hunted during archery season, take that with a big grain of salt. Elk don't follow a set of rules. I have been frustrated by many a cow while trying to get close to bulls on the other side of them. While you're focused on a screaming bull, those cows can "bust you" in a hurry! Game over. See "Elk Habits" here.
Bow Hunting Elk is Frustrating!

Related topics available:
Tuning a Bow
How to Make Elk Sounds
Learning Elk Talk
Product Review of Elk Calls
Recordings of Elk in the Wild
Calling Elk In Close
Predicting and Hunting the Elk Rut

If you want to avoid the repetitive frustration that will happen when bow hunting elk, wait for rifle season. If you enjoy mixing it up with noisy elk during the rut and are willing to put the time in to practice and endure being frustrated repeatedly by these smart animals, invest in some decent archery equipment. The archery adventure is truly a hoot!
---
Please subscribe to or our
Quick Elk Hunting Tips and Updates
newsletter or to an
RSS feed
(see left column for both) to be alerted whenever new information is added to the site.
We'd appreciate it if you would "Like" us on Facebook, or share this site with others.

Use Google Custom Search to search this site:
Custom Search
---
Go to Tuning a Bow page 

Return to Home Page from Bow Hunting Elk
Please subscribe to "Website Updates" in the form on the left of this page to receive "new page" alerts. We will let you know the topic of any new pages added. You can also subscribe to an RSS feed for this site to receive new pages automatically.