Calling Elk in for a
Responsible Bow Shot
Calling elk up close requires manipulating a bull elk with sounds and surroundings to set up a responsible shot. Frankly, the effort fails more often than it succeeds. Get used to it. When archery elk hunting we're looking for that one time that everything goes well. There are tricks that can make that happen more often, but not every time.
It should go without saying that we need to be ready to make the shot when the opportunity is standing right in front of us. Calling elk in is one thing. Shooting accurately is an entirely different thing. Yes, a broadside shot is the most responsible shot. It will take both lungs out.
However, If the arrow is placed well at a quartering-away, or even a close quartering-to elk, it can be a deadly shot as well. You have to get a lung, preferably two, and do lots of other damage that will cause internal bleeding. Sharp broadheads are a must.
The ASAT Leafy 3D (Vanish Pro 3D Series) provides the double advantage of leafy camo with the ASAT pattern, well known for its animal eye oriented pattern.
Broadside Only?
I used to think so. On September 16, 2013, I killed a 6X6 bull at five yards with a quartering-to shot. (See video below.) Before daylight I heard a bull doing locator bugles and moving slowly from my left to my right just 50-60 yards ahead and uphill. His calls indicated he was alone.
It took me several painfully slow minutes to inch in front of a fallen tree to give my ASAT camo pattern something to blend into. It would also force the bull to look around the downed tree to find the cow he would hear. The bugling bull had been moving away slowly to my right.
I directed three pleading cow calls over my left shoulder and shut up. (I turned the video camera on at this point.) He soon did a locator bugle. Getting no response he started coming and did a commanding, "come to me" bugle. (To learn to recognize what elk are saying, what to say back and what to do next get Elk Nut's Playbook and Sounds by the Elk CD.)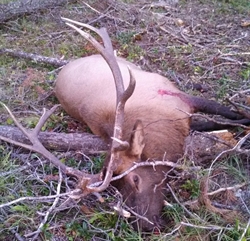 I sat silent. I waited until the last opportunity (40 yards away) and drew my bow. He continued walking diagonally from my right to left. The breeze was slight from my right to left. In retrospect, i should have been turned 90 degrees to my left, because I am a left-handed shooter. See the "Calling Elk Scenario Set Up" page.
He would eventually enter my scent stream at my left side. I would have to stop him before he reached it. His eyes caught my bow/arms slowly following him and he stopped five yards in front and to the left. He looked at me without recognizing what he was seeing.
I relaxed, acquired a spot to place an arrow above the "elbow" and slightly forward. I focused on my sight pin and released. The bull ran about a hundred yards and died.
One lung was destroyed. The arrow penetrated deeply and stopped just inside the abdominal cavity. There was no meat damage on the front shoulder and massive internal bleeding occurred. Running a hundred yards with a shaft in his lungs churned things up and helped hasten his demise. More than once, I've seen my elk with an arrow that does not pass through die right in front of me. (No blood trail needed.)
Notice how much room there is behind the shoulder bones on this drawing: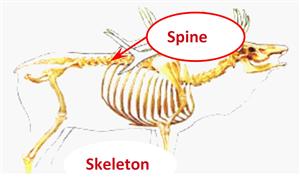 Watch Video of Above Scenario
(Screen lightens with increasing daylight.)
GoPro in one-button, silent mode. Mirror used to verify on/off.
Related topics available:
Elk Calling Set Up
How to Make Elk Sounds
Learning Elk Talk
Product Review of Elk Calls
Recordings of Elk in the Wild
Predicting and Hunting the Elk Rut

Calling elk in is one thing. Once the bull gets there, setting him up for a responsible shot and then making it, requires more skill and/or lots of luck. He might just walk right in and stop broadside in the open at 25 yards, but he might come in head first or stop a few feet from you behind a tree. Now what?
Squint your eyes and tip your head/hat brim down a little to avoid perception of your eyes. Then, with great statue form, enjoy the moment until he moves! As you will see in the video below, the awkward "moment" often lasts an agonizingly long time. I have had elk stare at me for a full three minutes or more before I could draw and shoot.
ElkNut's PlayBook and Sounds of the Elk CD are now available here with free shipping!

Set Up the Shooter Before Calling Elk

Try to set up the shooter (including yourself) beyond where the last call sound was made. Then you have a better chance of not being picked out of the surroundings, especially if the wind is right and your camouflage is working.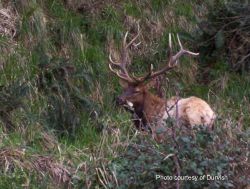 The shooter location needs to have some natural cover behind him to break up his form when calling elk. It's best to have some natural cover spread around the general area, so the shooter will not stand out so much and can find a time to draw his bow.
However, too much cover and there might be no chance for a shot, as in this photo to the right. Too little dispersed cover out front will also give the bull too much opportunity to become discouraged by not seeing the cow he heard. (See Calling Elk Set Up page for more, including more video.)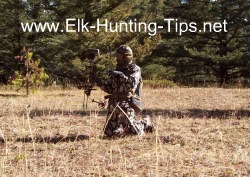 I arrowed a bull in 2009 after getting stuck out in the bright sunlight with little cover. All I had time to do was kneel. The bull stared at me for a full three minutes before offering a broadside walk that I stopped with a cow chirp.
Stop Him On a Dime
The good news is that you can stop a bull where you want him to stop pretty easily. At full draw, you can stop him with a "nervous grunt", or "popping grunt", as ElkNut calls it. There is a video of how to do that at the bottom of this section. This sound will stop any elk instantly. 
You could also just grunt, or cow chirp quietly and he will stop and look right at you. Even a soft grunt will do it. Try to stop him where there are no twigs or brush to deflect your arrow in flight. If the elk stops on his own, study the arrow flight path carefully. Remember the arc of travel.
If you stop him, you need to be already at full draw and ready to shoot within a few seconds. He will stare right at you, but you will have plenty of time if you are already drawn and holding steady.
If possible, you should be on your knees to avoid the two-legged human look. Take your time for the shot. He will be looking for the elk he just heard, not you. Use great form- acquire target, hold, focus, release, follow through- that you should have learned well with lots of shooting practice.
Another product that provides a little more time when an elk looks at you is the HECS Stealthsuit. We've seen improved results when elk catch us moving slightly and eyeballs the hunter. It removes one more indicator that they are looking at a living being, instead of an inanimate object. They will "check" you, but with a HECS suit in play, they often just go right back to grazing.
Here's how to stop an elk for a shot:
Sometimes They Do Dumb Things
I got busted by a big cow elk once looking straight at me from 35 yards away at the top of a rise. I was calling elk and wasn't "ready" to see one. I had nothing to lose. I stepped to my right to clear an arrow path, knocked an arrow, drew my bow and released the arrow. She watched all that movement without moving.
Her "death run" took her straight down the trail I was standing in. As she approached, I stepped to one side and gave her the trail. She eyeballed me as she passed by inches away. I studied my arrow embedded in her side as she flew by. She died moments later. Elk can be totally unpredictable!
Set the Table Before He "Comes a Courtin' "
The hard part starts after calling elk into yourself or the shooter. If a cow is with the bull, you are now up against four eyes.
Sometimes they come in silently, so try to always be prepared. When you are calling elk, even cold calling, use a range finder to memorize the distances of several landmarks (trees, stumps, brush, etc.) within your shooting range. Then you will know about how far away he is when he enters that zone.
You most likely will not have time or opportunity to range the standing elk, although that occasionally happens when one is standing there looking around. That's always nice, but it takes preparation to have the range finder available so you can move it quietly up and then back down without letting the motion attract eyes. (A HECS suit has helped me with that more than once.)
As the elk gets closer, try to predict where he is going to walk and pick out potential windows between brush and trees, etc. Once he gets close to one of the windows, you'll need to draw your bow when his eyes go behind a bunch of bushes or a tree trunk, quietly draw and hold until he reaches the window.
You, the caller, then chirps or grunts at just the right moment. He stops and looks toward the sound. Relax, use good form, release the arrow with good follow through. (See the Calling Elk Set Up page for more about preparing your calling scenario.)
Then try to remember as many details as you can about what happens next, because he won't drop dead right there. If you don't see where he goes down, it's time for blood trailing, but only after waiting a half hour to an hour. Take a nap (yeah, right!). Eat lunch. Just don't move in too soon! 
Video of Calling/Set Up Scenario:
This video is of a scenario set up after calling a bull down in a valley up to a ridge top. As soon as the bull was clearly coming in it was time to shut up. The caller and shooter didn't separate because of the inexperience of the young shooter.
The shooter had to hold too long after he drew. He shot over the bull because of the fatigue of holding draw for a little over a minute. It's not unusual to have to hold a draw to keep from getting busted. Shooting with a long hold should be practiced. Letting a release down is pretty noisy and causes some serious movement that gets you busted.
In that scenario, try this: Rest your lower cam on the outside of your thigh (left thigh for right handed shooters). Keeping your finger behind your release, slide your release hand around toward the back on the side of your neck. Flex your neck muscles a bit to take the strain off your release hand. Let the pressure of your lower cam rest on your thigh.
At this point, your thigh and neck are holding most of the pressure of the bow at full draw. Practice this before hand. Notice how long you can hold without affecting your ability to aim when the time is right. This takes a little bit of moment, but not near as much as releasing your draw and then redrawing your bow.
It is possible this shooter might have been able to draw while the bull was looking at the caller, if they had been separated to draw the bull's stare away from shooter. In this scenario you can see how the bull was manipulated twice to get him to stop in the window, finally putting him in a nearly broadside position. The shooter took the opportunity to draw when the bull was behind some bushes, but it stopped and turned to face the sound of the call when it stopped him. The bull knew exactly where the sounds was coming from, revealing the shooter.
The caller tried to move him with another chirp, drawing more staring. When calling elk, as soon as the animal is convinced there is no elk making the cow sound that he hears, he will move on.
This bull was intent on staring at them. Then he finally turned and stopped instantly with the next "chirp". All he got was a free haircut across his back. Fir flew everywhere. The video was taken with a small stealth cam, so the video and audio are not that crisp.
Wait for the Parade?
When you're calling elk, remember that he will often do a little parade walk after he fails to see the cow elk he came to visit. The bull will often walk one way and then the other to let the unseen elk he had heard have one last chance at his irresistible form, then he will move on. Sometimes it's best to wait for that parade walk, if he hasn't already been set up for a responsible broadside shot.
Calling elk is frustrating fun! Enjoy the magical moments and if it doesn't work, try to do it over and over again until it finally ends the way you want it to. Be persistent. Take only good shots after lots of practice in hunting clothing, and in awkward kneeling positions. (The Elk Calling Set Up page dicusses this more.)
"For close encounters of the herd kind", the more opportunities you make, the greater your chances of success. Learn what they are saying, what to say back, and how, with Elk Nut's Playbook and Sounds by the Elk CD. You'll be amazed at what you learn about elk communication and calling elk.
ElkNut's PlayBook and Sounds of the Elk CD are now available here with free shipping!

(Please share your input.)
Please subscribe to or our
Quick Elk Hunting Tips and Updates
newsletter or to an
RSS feed
(see left column for both) to be alerted whenever new information is added to the site.
We'd appreciate it if you would "Like" us on Facebook, or share this site with others.
---
Leave Calling Elk page and go to Making Elk Sounds discussion 

Practice Calling Elk wtih the Elk Talk page 

To Home Page
---
Use Google Custom Search to search this site:
Custom Search