Elk Calls Help You

Get Up Close
Elk calls are a huge part of the market targeting elk hunters, particularly bow hunters, and for good reason. Elk hunting calls, if used effectively, make it possible to get up very close to elk. Bulls often cannot resist checking out realistic sounding cow talk calls during the rut period. 
An elk hunting gear list that big game hunters will find helpful. This is a list and brief review of practical, useful, quality hunting equipment for elk hunters.
Since bow hunters have to get up close, and the season is during the rut, calls make it possible for a close shot, sometimes very close. It's a good idea to have as many types and varieties of calls with you on your elk hunts as feasible. Sometimes one will do the magic and other times another one seems to be the only one to work. Go here to learn how to use these calls and practice along with the audio.
Better yet, purchase "Elk Nut's" Playbook and Sounds by the Elk CD combo. You'll learn to recognize what elk are saying and what you should say back, when and how. You can practice calling while you're driving, or anywhere, as you listen to the elk sounds. You'll be speaking "elk language", not just making elk sounds. The Playbook explains what each elk sound means and details many different calling scenarios that you can apply to your hunts, right on the spot.
ElkNut's PlayBook and Sounds by the Elk CD are now available here with free shipping!

The Versatile, Hands-free
Diaphragm Mouth Calls
The most useful and realistic sounding elk calls are the many variations of latex "diaphragm" mouth calls (AKA mouth reeds). Using these latex calls, however, doesn't come naturally the first time you try it. Tongue control is the biggest factor, since variable vertical pressure causes the needed changes in sound with these calls.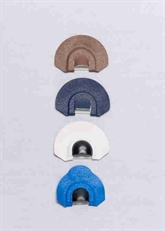 A higher pitched note is made with more tongue pressure upward. Air is forced through a smaller area, making a higher pitch. Think of a balloon without the end tied. If you open the exit hole and let the air out quickly, a lower pitch is produced. If you let out just a little at a time, the air escaping makes a squealing noise.
A lower pitch tone is made by decreasing tongue pressure on the latex. Varied tones are what make all the different elk sounds identifiable.

Rockie Jacobsen's, Bugling Bull Game Calls, makes some of the best ones. In fact, Primos purchased a license to use his patented "Palate Plate" design. Rockie's calls are available from this site with free shipping. ($5 flat rate for $50 and under).

There are many varieties of mouth reed calls. It's good to carry a variety and mix it up, but you will find one or two that you really like. You can make a lot of different types of calls with most of them. (Not just cow or bull sounds.)

ElkNut (Paul Medel) put together the video below to help you make some informed choices. It's quite informative.

Hand Held Elk Calls
Related topics available:
Learn Elk Vocalization
How to Make Elk Sounds
Learning Elk Talk
Product Review of Elk Calls
Recordings of Elk in the Wild
Predicting and Hunting the Elk Rut

There are basically three types of hand held elk calls. The squeeze bulb, open reed and "bite and blow" type calls. They are generally easier to use than diaphragm calls in the mouth. The easiest are the squeeze bulb calls. All you have to do is squeeze it to reproduce a cow elk call.

Squeeze Bulb:
Primos Calls makes one called the Hootchie Mama.Wayne Carlton developed two similar called the Squeeze Me Cow Elk Call and Estrus Squeeze Me. These are easy to operate, but errant sounds can be made with an incorrect squeeze action, or by squeezing it from side to side, rather than straight down.
The squeeze bulb elk calls are probably the most popular cow calls around because they are so easy to use. However, the concern with them is that they most always sound the same and lots of hunters use them. (The Estrus Squeeze Me design allows some variation in pitches.) Most seasoned elk hunters can recognize a Hoochie Mama immediately. So can an elk.
Are we educating elk to be wary of the repetitive sound some of these call make? Nonetheless, if you hunt an area that doesn't get much hunting pressure, a squeeze bulb cow call might be part of your elk call arsenal.
Hand Held Bite and Blow:
The bite and blow type elk calls are the easiest to use of the hand held blow calls. Pitch is determined by how hard you bite. They sound realistic, but may not be quite as versatile as the hand held open reed calls.
Primos makes the Cow Girl Elk Call.The Whos YRR Daddy below is quite effective and more versatile.
Hand Held Open Reed:
Hand held open reed elk calls are great ($10–20). They make good elk sounds with plenty of versatility. High to low pitches can be made with these by sliding the teeth or lip up and down on the open plastic reed. They are fairly versatile and are quite authentic sounding. Mistake "squeaks" and errant non-elk sounds can be made, but practice eliminates this.

Rockie Jacobsen (Bugling Bull Game Calls) makes the Who's YRR Daddy call in the picture above. This call is easy to use and has two features that allow for more variation and more realistic sound. There is a button that is pressed with the finger to improve the nasally sound that gets bulls' attention. You can also pinch the end of the call to vary the tone and volume for up-close encounters.
Rockie and his family are known as the "first family of elk calling" because of all the elk calling contests they keep winning. We use their products and sell them on this site below with free shipping. ($5 flat shipping rate for smaller orders.) This one is highly recommended for your elk call arsenal:
All of Rockie Jacobsen's Bugling Bull Game Calls are available on this site with free or low rate shipping.

Exterior Reed Bugle Calls:
For people who choose not to use a diaphragm call in their mouth, or want more variety, most of the elk call companies make "bugles" with an external reed built into a mouth piece that fits on a grunt tube. They primarily are made for bugling, but cow sounds can also be made.
Rockie Jacobsen, of Bugling Bull Game Calls makes the most versatile and innovative calls on the market. All of these can be purchased on this site with free or $5 flat rate shipping below.
Watch Rockie's videos showing how to use these calls here.
The Select-A-Bull calling System has the Conqueror mouthpiece on it that allows the use of teeth on a rubber flap, instead of your tongue or lip, to vary the pressure to make the varied notes of elk sounds. (You can also just use a mouth diaphragm call with all of their tubes.)
The Select-A-Bull also incorporates the Tone Selector to "dial" small, medium, or large bull sounds, as desired. It has a quiet, extendable inside tube to provide for compaction to make it easier to carry. Rockie's patented "Tube Tamer" (on the Select-A-Bull and Bully Bull Grunt Tube) is a rubber vibration damper that helps to eliminate unnatural resonance from the plastic grunt tube.
A smaller bugle made with the Conqueror external mouthpiece is thePack-A-Bull System. The diameter of the tube is not as big and "throaty" as the other two, nor as long, but is made for reduced bulk.



The Mac Daddy, from Hunter Specialites, makes cow elk and bull elk sounds. It has the higher pitch of a young bull, so it is not threatening. In order to get the variable pitch that is possible with a mouth call, there is a lever on the side of the call. The index finger operates it to change from low to high pitch. It is an easy call to use. They also make a Mega Mac Daddy now.
Primos Calls has a similar product for bugling with the diaphragm attached to the mouth piece of the grunt tube. The different pitches are obtained with lip pressure against a silicon reed: The "Bull horn", "Terminator" and "Pack Bugle".
E.L.K.,Inc. calls theirs the Power Bugle. They also make one called the Royal Bugle.
Grunt Tube and Mouth Diaphragm Calls:
Rockie's Bully Bull Grunt Tube is the one I have carried for years. It is made to use with a mouth diaphragm call. (It does include the Tone Selector and Tube Tamer described above.) This call does not compact, so it is a little bulkier than the Select-A-Bull. The Bully Bull is the tube used by Rockie Jacobsen's family to win five division 1st places and the Champion of Champion division at the 2013 RMEF elk calling contest.

Variety Increases Calling Success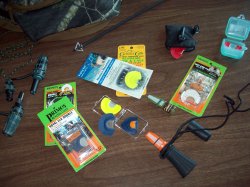 You can spend a lot of money procuring a cadre of elk calls to have with you and variety is definitely a plus. If you start with several kinds of the less expensive and more versatile diaphragm mouth calls, you will be off to a great start. The latex mouth calls do wear out. They usually need to be replaced annually. The stiff hand held open reed calls last longer than any of the thin latex reed calls, including the replaceable external diaphragm calls.

Any Bugling Bull Game Calls products (elk, deer, turkey, moose, predator calls, DVDs, etc.) can be purchased from this website with free shipping over $50 or $5 flat rate under $50 total purchase.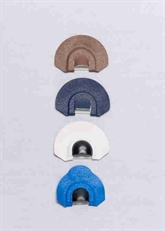 This Elk Herd 4 Pack from Rockie Jacobsen includes:
The Remedy
Raging Bull
Mini Master
Herd Master
Whos YRR Daddy Cow/Calf Cow (Dual Tone Open Reed):
Select-A-Bull Calling System

Bully Bull Grunt Tube:

Pack-A-Bull Calling System:

See all of the Bugling Bull Elk Calls here.
---
Go here to practice making the sounds with various elk calls (audio available).
---
Use Google Custom Search to search this site:
Custom Search
---
Listen to Recorded Elk Sounds here
---
Please subscribe to or our Quick Elk Hunting Tips and Updatesnewsletter or to an RSS feed (see left column for both) to be alerted whenever new information is added to the site.
We'd appreciate it if you would "Like" us on Facebook, or share this site with others.