Elk Calling Set Up Tactics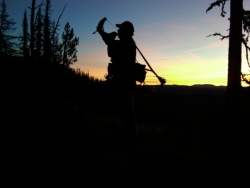 One important thing to think about in any elk calling set up is your weak side. Your weak side is the side you draw your bow with. Unless you can see them approacing from a ways off, you might not have time to shift your position. It wouldn't matter, if you could be sure you could pivot without alerting the animal to your presence. 
Related topics available:
Learn Elk Vocalization
How to Make Elk Sounds
Learning Elk Talk
Product Review of Elk Calls
Recordings of Elk in the Wild
Predicting and Hunting the Elk Rut

However, that is often not the case. No matter how your elk calling set up goes, the elk figure a way to do something different. They rarely come in where you expect them to. They will work the wind and the cover to check you out more safely. 
(See videos of three bull elk approaches below.)

Most Elk Calling Set Ups Fail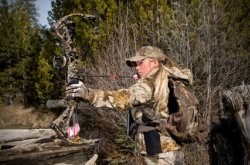 That's why it doesn't workout most of the time for us. But, the elk have to get it right everytime. We only have to get it right once a year! Most of my elk calling set ups that bring in elk fail! It's the same with everyone. You just keep trying until it happens!
When you're setting up, before you start to call, make sure your weak side is the least expected, or eliminated side for an approach. If you are a right-handed shooter, that is your right side. If you are a left-handed shooter, like me, your weak side in an elk calling set up is the left side. 
Create a Barrier Behind You, if Possible
Regardless of your weak side, it's always best to keep something "behind" you that will prevent an elk from approaching from that way. If possible, put a big deadfall, or a steep cliff behind you as you face toward the expected approach. Then, turn 90 degrees to your right (right-handed).
In case you cannot pivot your feet, or knees as a bull approaches, you will be able to shoot almost directly behind you from your strong side. If the weak side is eliminated, all you have to be able to do is shoot straight ahead and then almost all they way behind you, as you turn at the hips the other direction. (Practice shooting far too your strong side!)
Once, I set up my elk calling scenario facing straight toward a bull that I wanted to draw in. The problem was that another bull walked up behind me and along my weak side. I was on my knees and he was too close for me to shift around.
I sat there hoping he would turn in front of me. It never happened. He did a parade walk in the open 35 yards to my weak side for a couple minutes. If I had moved, he would have bolted and would've become an educated bull. 
Videos with Three Weak Side Elk Approaches
Confused? Below are some videos that discuss and show three actual elk calling set ups. The first and third resulted in dead bulls, but could have been easier, if I had planned for the weak side. The second failed, because I shifted my feet to face my weak side and he pegged my location. Also, I didn't draw soon enough.  I think they all know I'm a left-handed shooter! So, now I plan my elk calling scenarios with that in mind. 
In the hunting video below, you can see how I got caught having to hold too long and having to twist to my weak side (left). You'll barely see the elk in the trees in the upper right hand corner. If you don't have much experience calling and killing elk, this will give you an idea what it looks like for real. I'm a lone hunter most of the time. This is not some polished hunting video with callers behind me and a camera man.
In the next video, the bull I called in is only about 15-20 yards away. I was able to pivot to the left side, but that caused a little noise that caused him to peg my location. He still thought I was a cow, but as soon as he heard or saw movement when I drew my bow, it was over. So, this time I drew too late, on top of having to pivot to the left. Set up for your weak side and draw in advance, but not TOO early! This is all real stuff and how elk hunting really goes for all of us. 
In the video below I killed a bull at five yards. Even at that distance he was almost too far to my left for me to shoot him! When he got that close, I was starting to run out of twisting room on my knees. Had I been turned more to my weak side, it would have been much better.
The quartering-to angle is not a good choice, unless it is very close! I had to tuck the arrow in very close to the meat of the front shoulder. I was surprised to see that no meat was damaged. 
An elk hunting gear list that big game hunters will find helpful. This is a list and brief review of practical, useful, quality hunting equipment for elk hunters.