Bear Spray: 
An Effective Bear Deterrent?
Bear spray should be carried at a ready position on the hip or chest when hiking or hunting in bear country (which is most elk country). When in bear territory, it is important to be able to very quickly spray a powerful bear deterrent into the face of either black or grizzly bears. Bear pepper sprays can be used quickly without precise aiming to prevent or stop a bear attack, without injuring or killing the bear. (Read the Bear Safety tips page, too.)
An elk hunting gear list that big game hunters will find helpful. This is a list and brief review of practical, useful, quality hunting equipment for elk hunters.
Firearm or Spray?

There are strong opinions among hunters about whether to shoot a charging bear with a gun, or use bear pepper spray. Regardless of how macho it might feel to think you can pull a large caliber pistol and fire it rapidly and accurately, bear spray is more dependable against a bear attack, probably even more than a rifle (see research below).
The question one must honestly answer is, "Can I draw my pistol or rifle and shoot it accurately into the brain (the size of a pop can) of a very fast charging grizzly seconds before it is on me?" Could it be done if your life depended on it under that kind of pressure?
Or, would it be wiser to be prepared and practiced at simply flipping off the safety of the bear spray canister and pushing the release tab while pointing it in the general direction of the bear's face? This can be done even while the bear spray canister is still in its holster, depending on the brand/holster type.
Obviously, pulling the bear pepper spray canister from the holster and pointing it is the goal, but hunters or hikers often surprise a bear and the attack can be instant, without delay. You might have seconds to react to the attack and being able to spray from the hip might be the only option.
When a Bear Charge Occurs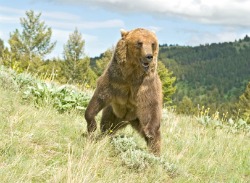 If there is some warning that a bear attack is about to occur, the bear pepper spray can be pulled, pointed and sprayed more carefully when and if the bear charges, or to prevent a charge. Ears back is a reliable warning of an imminent charge! (It's good to know that many charges are bluffs. Maintaining composure and emotions during a bear charge can be tough, but knowing that they often "bluff" can help.)
A short blast of bear pepper spray can set up a noxious fog that the bear will not succeed in moving through without locking up his lungs. Then you won't have to convince the authorities that you had to kill a bear you felt threatened by. (See true story below.)
If the bear is on his way, quickly repeated short blasts should be sent his way until he gets close. If a bear is close, simply let him have it full force without pausing and he will stop and turn. Pepper sprays have never failed when used properly and quickly enough.
(Add your comments to this page.)
Still Leaning Toward a Gun?
If you still prefer the idea of using a gun, are you sure that if you missed the brain the bullet would enter a point on the bear that would absolutely stop it from mauling you? A powerful bear deterrent spray will stop a grizzly or black bear in its tracks and turn it away, if you can get it sprayed toward its head before it is on you! Make sure you practice pulling it repeatedly to get good at it.
If you couldn't do this with a conveniently carried can of bear spray, you more than likely would not be able to do so with a quickly accessible gun either. With a can of spray, all you have to do is get the bear deterrent in the bear's face, by creating a fog before it attacks, or directly into its face as it charges. When the spray comes out it spreads out, not in a stream, making a precise hit unnecessary.
The best bear spray will forcefully blast out plenty of pepper spray to do the job. As soon as the extremely irritating (understatement) pepper spray enters the eyes and nose of the bear, his breathing will shut down temporarily and he will turn back and just try to survive the terrible discomfort and lack of incoming oxygen. After he gets done coughing, sneezing and rubbing his eyes, you can be long gone. He would want nothing more to do with you anyway!
At that point you and the bear would both still be alive. You would have a story to tell, but not one to try to convince a game warden or park ranger that you had no choice but to wound or kill a bear to save your own life (assuming you were able to stop the attack with a gun).
Gun Vs. Spray Research
There is some research about bear spray and gun use during bear attacks. The numbers for gun use for protection from bears involves a time span of about 120 years, compared to 20 years of research on bear spray use as a deterrent to bear attacks. Comparing the numbers so far seems to indicate that spray is more effective.
It takes more steps (unsling/unholster, load, safety off, cock, aim accurately and fire) to deploy a gun than bear spray (unholster, safety off, point and shoot). Some bear sprays can even be "fired" with the canister still in the holster, if necessary due to lack of time. Bear spray does not require good aiming, as does a gun, in order to stop a bear attack. Seconds count in a bear attack. Accuracy and proficiency decline under stress. (Might resemble Barney Fife, of Mayberry!)
Pepper Spray Research
Here is an abstract of research about bear spray incidents that occurred in Alaska reported in the Journal of Wildlife Management (2008, see reference data below quote):
"Of the 72 cases where persons sprayed bears to defend themselves, 50 (69%) involved brown bears, 20 (28%) black bears, and 2 (3%) polar bears. Red pepper spray stopped bears' undesirable behavior 92% of the time when used on brown bears, 90% for black bears, and 100% for polar bears. Of all persons carrying sprays, 98% were uninjured by bears in close-range encounters.
All bear inflicted injuries (3) associated with defensive spraying involved brown bears and were relatively minor (i.e., no hospitalization required). In 7% (5 of 71) of bear spray incidents, wind was reported to have interfered with spray accuracy, although it reached the bear in all cases. In 14% (10 of 71) of bear spray incidents, users reported the spray having had negative side effects upon themselves, ranging from minor irritation (11%, 8 of 71) to near incapacitation (3%, 2 of 71). (JOURNAL OF WILDLIFE MANAGEMENT 72(3):640–645; 2008)"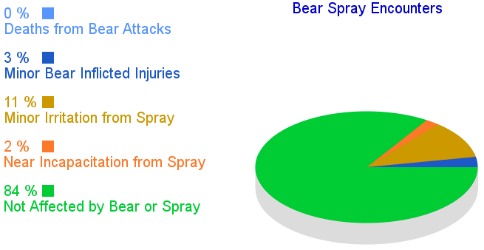 Gun Use Research
(Remember that gun use in bear attacks has been researched much longer than bear spray. Data will change with time.) A review of research data about gun use during bear attacks provides the following data:
When 478 people used guns to defend themselves from a bear attack: 17 were killed by the bear, 25 received serious injuries, 42 had moderate injuries and 29 had only slight injuries (24% injury rate). Gun users experienced 12 times the injury rate of those in the bear spray use study.
(Gore, M. L., B. A. Knuth, P. D. Curtis, and J. E. Shanahan. 2006. Education programs for reducing American black bear-human conflict: indicators of success? Ursus 17:75-80.; Herrero, S. 1985, 2002 (Revised edition). Bear attacks: their causes and avoidance. Lyons & Burford, Publishers, New York, New York, USA.)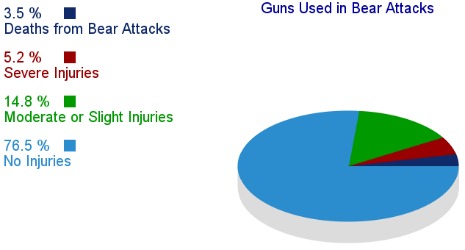 The Best Bear Spray
The two biggest bear spray producers are UDAP and Counter Assault. Both are "fire extinguisher" looking canisters. UDAP's spray contents comes out faster than Counter Assault's. The manufacturer is adamant that more deterrent coming out faster is more effective. You want to get the spray out there FAST if a bear is attacking! For that reason, UDAP is the only one we stock and sell (order below). 
The faster volume release also creates a louder sound that acts as a deterrent of itself, startling the bear. Both product contents are essentially equal in effectiveness. UDAP comes with a holster that can be used without removal of the canister from the holster, making dispensing happen faster.
Personally, I do not want to carry my pepper spray in a holster that has a safety flap on top that I have to remove before I spray it. It simply adds one more step to the process of deterring bear attacks.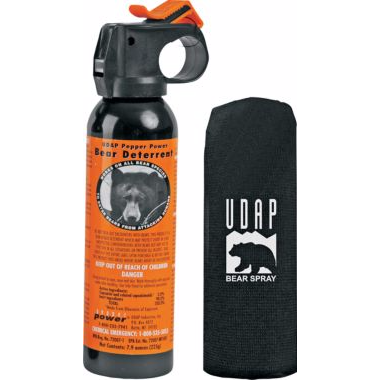 Bottom line: Bear spray is an effective bear deterrent, if it is accessible and you can deploy it quickly. A large caliber gun will also stop a bear, if you are fast enough and proficient with it under pressure of an attack. The problem is, the bear may be dead afterward. If it is, and you are still alive, you now have to deal with the authorities.
We sell the 7.9 ounce UDAP 12VHP Safety Orange Bear Spray with holster for $39.95 (free shipping). The orange version is exactly the same as the white and black label, but with less packaging. Therefore the cost is a few dollars less!

The Law is Not on Your Side
The Endangered Species Act is flawed and most often gives more weight to species protection than self-defense. In the summer of 2011 in North Idaho, "33-year-old Jeremy Hill, shot and killed a male grizzly bear at his home in May. He pleaded not guilty… to the accusation of killing the federally protected species. He claimed he was protecting his children when three bears entered his property near Porthill, Idaho." (KXLY.com Sandpoint and Bonner Counties)
Local authorities concluded that Hill was justified in shooting the grizzly. Federal officials decided he was responsible for the illegal death of the grizzly he shot. They agreed to drop the charges if he would agree that he had violated the Endangered Species Act and to pay a $1,000 fine. (Thankfully, at the local FHA auction, Hill's son's farm animal was auctioned and re-auctioned several times by his compassionate neighbors to help raise funds to pay his fine.)
Mr. Hill shot the bear three times before she died. A canister of bear deterrent spray engaged in the sow bear's direction would have sent her fleeing, cubs in tow. No questions would have been asked. The extreme discomfort would deter her return and would have avoided the troublesome court action and fine.
It Ain't Like Bug Spray!
It is important to note that spraying pepper spray on camping gear, like tents, etc. might actually attract bears. They are attracted to smells that have anything to do with food. Red pepper is food.
Some people have actually had the impression that bear spray acts like a bear repellent, like bug spray. Use it only in the threat of danger from attack directly into a bear's face!
There are products that are made by the same companies above to effectively keep bears out of your tent or food. Sleep easy with a bear fence around yourself, horses and gear. Store your food in bear safe containers. Then carry bear spray with you at all times in an easy access location on your body and be quick at using it through practice pulling it and taking off the safety.
See the Bear Safety page.

---
Please subscribe to "Website Updates" in the form on the left of this page to receive "new page" alerts. We will let you know the topic of any new pages added. You can also subscribe to an RSS feed for this site to receive new pages automatically.

Back to Home page from Bear Spray.
---