Bear Safety Rules
in Bear Habitat
Here are some bear safety tips to help you avoid a bear attack and what to do if you are attacked. Prepare ahead of time. You may have only seconds to protect yourself!
An elk hunting gear list that big game hunters will find helpful. This is a list and brief review of practical, useful, quality hunting equipment for elk hunters.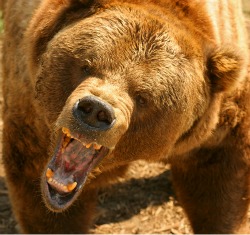 Being alert, pro-active and prepared while in bear country might just save your or someone else's life. There have been a lot of bear attacks reported this year (2011). Two deaths occurred in or around Yellowstone, but reports of bear attacks in other areas have occurred, as well.
The first bear safety rule in bear country is to carry bear spray. The next is to be be alert. Most hunters are already alert because we are looking for an elusive animal in the first place. Non-hunters may not have that advantage, or skill.
Elk Territory is Bear Territory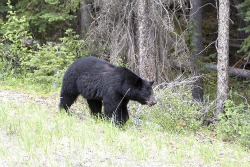 Be aware of areas where bears spend time. They often hang around streams, avalanche chutes, the edges of thick forest cover, and berry patches (late summer). Huckleberry pickers are at high risk of bear encounters and should be very careful about bear safety.
Bears travel saddles, ridge lines, game trails and near water sources. So do elk! Bears and elk like to graze on green grasses and plants that grow near springs and creeks.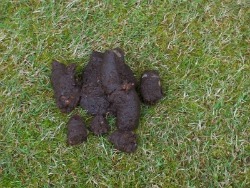 You should know what bear poop looks like. To me, it sometimes resembles human poop with grass and seeds in it. Fresh bear droppings will be moist, soft and smelly. A bear might still be close if you see fresh bear droppings. If you see dried up bear poop, it was probably left days ago. The bear could still be around, but not necessarily. They travel to eat, like most game animals.
Bear tracks will not always show claws. Grizzly bear tracks will show claws more often. Sometimes black bear claws will show up. You can barely see them in the muddy black bear footprint below.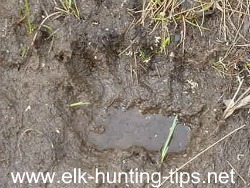 Big Game Hunters Do All the Wrong Things!
Hikers in bear country can do most of the things recommended for bear safety, but hunters do all the "wrong" things simply because we are hunting.
Bears are most active at dawn and dusk. Hikers can avoid traveling at those times for the sake of bear safety, but that is peak time for hunting elk or other big game.
Another bear safety recommendation is, "avoid hiking in bear country at night." Big game hunting starts in the dark, or ends in the dark, or both, far from roads.
To increase bear safety "walk with the wind", so that bears will smell you and avoid you. That's fine for hikers, but doing that while hunting big game will assure failure of your hunt.
Of course, a well-known bear safety recommendation is to make plenty of noise. Well, hunters can't be doing that! On the other hand, an elk hunter might be making elk noises, which sometimes attracts grizzly bears! Even a gun blast might attract a griz. It is reported that some grizzlies learn to expect to find an animal carcass near a gun shot, like a dinner bell.
Hanging Around Bear Bait
Which brings us to another wise bear safety tip: Avoid going anywhere near an animal carcass. Of course, hunters are seeking to put an animal down and then find the carcass, field dress it, even debone it right there and take it home!
I've spent many an hour up to my elbows in elk blood and guts with my butt sticking up in the air and my face and eyes focused on what I'm doing on the ground. What a set up for a bear attack!
Stop and look around often in this awkward position. Keep bear spray very close at hand. Use someone as a lookout. Hunting or hiking alone puts you at greater risk of a bear attack.
If you have to return to a carcass later to finish the job, a bear might have claimed it. Check the area of the carcass from a safe distance with binoculars before approaching it. 


If you find your game carcass covered with leaves and dirt, get out of there! You're approaching a food stash that has already been claimed by a bear. The bear will fight to keep it!
If a bear steals your carcass, you can report it and get another elk or deer tag to replace it. In grizzly infested country it's best to get your game meat out fast and don't come back. Drag the gut pile a good distance from where you're working first.
Hunters and Bear Safety
On opening day of the 2011 general elk season, two hunters near East Glacier, MT returned to an elk carcass to finish packing it out. They were charged by a female grizzly with cubs. One shot it with a rifle. The bear bit the shooter on the leg. (He had to have surgery on his leg.)
The other hunter got hold of the gun during the attack and managed to shoot the bear several times until finally hitting it in the head. Bear spray would have stopped the bear, if it had been in their hands. The rifle did not stop it.
Another pair of hunters in Plains, MT had a run-in with a black bear on opening weekend, 2011. One of the hunters saw a black bear charging them and starting shooting. He emptied his rifle, hitting the bear in the back leg with the 5th shot.
The bear was was still coming, so he shoved another cartridge in the rifle and hit him in the hip. This bear must have started running at them from a distance, given all the time this guy had to fire his gun and reload. The take-home point is that most of us are not prepared to shoot accurately under the stress of a charging bear.
Even while carrying a big game rifle, choose bear spray for bear safety and practice pulling it and taking the safety off quickly. (Read the gun vs. bear spray page here.)
Invading a Bear's Personal Space
Most bears want to avoid you. Accidentally invading a bear's personal (safety) space often is the cause of someone being attacked. When a bear feels threatened it might attack instantly, often before you even see it.
If a sow has cubs with her, she will be protective of those cubs, increasing your risk of a bear attack. I was running on a trail one spring day when I saw a sow on my left and a cub on my right, just ahead of me. I stopped and the cub ran across the trail I was on and scurried up a tree. I was glad to have that cub in a safe place near his mother as I moved slowly away.
Bears Don't Always Look Like Bears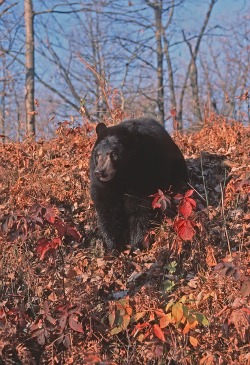 I've seen stumps in the woods when I was hunting that suddenly "became" bears. It's important to realize what a bear might look like in the woods. They might be feeding when you see them, head down, which makes recognition of what you're seeing a little harder.
Bears don't see all that well, so even if they look your way, they might not "see" you. When they put their head back down to graze, you might think they don't care about you when they just didn't see you yet. Give it space.
Once when I was elk hunting I had a black bear walk by me six feet away on a road. That bear never saw me. I was lucky the wind was in my favor, because if it had smelled me as it passed by that close, I'm not sure how it would have reacted.
I was not carrying bear spray, only a bow and arrow which would have likely been a useless defense from a bear attack. Bear hunters know that bears don't always die easily and quickly, even after being shot. A gun or bow is necessary to kill a bear, but spray is needed for bear safety, even while hunting.
Running is Useless!
Another vital bear safety rule is to never run from a bear. Forget about it. You'll die! Running stirs an instinct in bears to chase what is running.
Running might instantly turn you into a food source to be chased at full speed. Bears can run very, very quickly. You have no chance of outrunning one. It would take a bear just a couple of seconds to be on you from 40 or 50 yards away.
Black bear attacks are much rarer than grizzly bear attacks are. A black bear will more often make a "bluff" attack, even bumping the person to scare off what it perceives as a threat. A grizzly is more aggressive and often follows through with a charge and mauling. Black bears (or griz) with cubs increases the risk of following through with an attack.
Bear Body Language
It is not true that a bear standing on its hind legs in is an aggressive stance. They are just standing up to get a better look. Let them see you backing away slowly, so they don't see you as a threat.
If a bear is swinging its head from side to side it's a good sign that it wants a way out of the confrontation. Again, give it one by backing slowly away. Turning sideways from you is also a sign of just wanting to avoid conflict.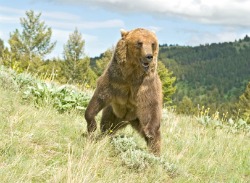 On the other hand, if a bear's ears are back, you're in potential trouble. If distance is not increased between the two of you a bear attack might occur, or at least a bluff attack. Back away with bear spray at the ready. Remember that a bear might not take the time to do any of this. It might just charge!
If you're close (20 to 30 yards), create a fog of spray between you and the bear with a short blast. Save the rest in case the bear starts coming toward you.
Other aggressive signs are clicking teeth and pawing the ground. A bear that feels threatened might also make sounds that resemble barks, or woofs. If it pops its jaws an attack is most likely to follow. Get ready!
Panic and Die
If you come face to face with a bear, calm down and don't make any quick movements. Yelling and screaming is not helpful. Avoid eye contact, as that is considered an aggressive sign by a bear.
If you are close (50 yards or less), stand your ground and prepare your bear spray for use. As stated above, you can use a short squirt of spray to create a fog. The loud hissing sound might scare it and cause the bear to retreat. Just employing your bear spray for a short burst will increase your confidence, helping you to relax and prepare.
Begin slowly backing away, ready with the bear deterrent spray. Once you are sure the bear is close enough to hit it in the face with spray, do so. It's best to wait until the bear is within 40 feet of you (about fifteen paces, or so).
Bear spray that goes in the face of a bear will make it turn and run. The bear will not continue the charge once the spray hits it in the face. It's too painful and stops breathing instantly (temporarily). A good bear spray is the mot important tool for bear safety.
Remember that spraying into the wind might incapacitate you for a while, too, but you can survive that as long as it hits the bear. Try to avoid the fog, if you can. (You will think you are going to suffocate, but aggressive coughing will eventually clear your lungs.)
Attacked Without Defense
If you are attacked and bear spray (or other weapon) is not available, your best chance is to roll into a ball to protect your neck and face. Fighting with your hands might make matters worse. Just try to protect your most vulnerable parts.
Hopefully, the bear will see that the threat has been removed. If it does not stop mauling you, then you'll have to use anything at your disposal to fight back at that point. Go for the eyes and nose with whatever you can come up with, even your fists and fingers.
Without bear spray and enough time to use it, or at least plenty of time to use a powerful gun very accurately, your chances during an attack are grave. A bow will most likely not stop the bear. Bear spray does not have to be used accurately, like a gun does. Aim the spray a little low to account for the low-held head of a charging bear.
If you can manage to climb a tree before a bear gets to you, remember that black bears and some grizzly bears can climb trees, but at least their paws are busy. They don't always climb, so it might work. So might scrambling up on top of a boulder. If you're already under attack, you won't have time to do anything.
It is rare, but some grizzlies have been known to stalk people as prey (for food). If you know that a bear has stalked you, instead of just being startled by you, rolling into a ball won't save you. Fight like hell! He is going to eat you if you don't. That's rare, but it has happened, particularly with young bears that have not learned to fear people.
Bear In Your Camp!
A bear that enters camp with all the human smells is a dangerous bear, because they are not afraid of you. Use bear spray if the bear is close. Back away if you can. Climb a tree or a boulder, if you can get up a good ways before he's on you.
Once you know a bear has been in your camp, move your camp! The bear will probably be back.
An important bear safety tip for camp is to avoid cooking in the same camp you sleep in. That is very inconvenient, so that rule is often broken.
Don't store your pots that smell like food in your sleeping camp either. Hang your food in trees at least 12 feet off the ground (or consider the bear safety products below).
Good Bear Safety Products
UDAP Industries not only makes a great bear spray, but other bear safety products, including a camp perimeter electric bear fence that you can put around your camp and horse feed. The product is called bear shock fence. It's powered by two D cell batteries and will enclose an area 27 X 27 feet. It weighs 3.7 pounds with batteries and is quite small when packed up.
A larger version of the Bear Shock fence will protect an area 45 X 45 feet in size. It weighs a little more (5.9 pounds), but still uses 2 D cell batteries. Both versions will protect your camp or gear for 3 to 5 weeks without a battery change.
UDAP also makes a dependable bear proof container to store your food in called No-Fed-Bear. It's a better option than having to hang all your food in trees away from camp. Bears have been shown to be able to smell what is inside of a tin can, picking their favorites, but these canisters prevent them from identifying that there is food inside.
The best bear safety tip to put in practice is carrying bear spray in a quick-access location. Be well practiced at getting to it and preparing to spray it. Prepare ahead of time. Practice!
There is no time to prepare when you're under attack. Pulling your bear spray must become second nature through practice when hunting, camping or hiking in bear country, particularly grizzly country.
If you are the victim of a bear attack without being prepared, the best bear safety tip left is, PRAY!
---
Please subscribe to or our
Quick Elk Hunting Tips and Updates
newsletter or to an
RSS feed
(see left column for both) to be alerted whenever new information is added to the site.
We'd appreciate it if you would "Like" us on Facebook, or share this site with others.
Bear Spray or Gun for Bear Safety?
---