Smoked Meat:
Brined, Braised or Pulled?
Smoked meat is fabulous! These four methods "stack" onto each other and can be done in stages on different days. You can do any one of these methods separately (except just brined) without all the others, and still have some great tasting elk, or other wild game or domestic meats! All of the steps are pretty easy, but you'll benefit from paying attention to temperatures.
An elk hunting gear list that big game hunters will find helpful. This is a list and brief review of practical, useful, quality hunting equipment for elk hunters.
The brining is an easy step. Huge chunks of meat really don't benefit that much from brining. The brine doesn't penetrate very far. The meat should soak in it for 24 hours, or so, at 35-40 degrees. Brining adds some good flavor, especially to smaller cuts of meats.
Once you have some smoked meat, you can eat it like that, or take the next step of braising it in a broth. The braising step adds even more flavor and helps tenderize any lean game meat. The resulting Au Jus is terrific!
I recommend brining and smoking several roasts at the same time, so you can eat some right away. Then do the other two methods now or over the next week or so, if you're out of time. Once you have some of the meat braised, if you don't eat it all right then, you can then pull some of it. Some cuts of wild game can be a bit harder to pull than pork, but it makes a great end result.
With the pulled meat, you can then add your favorite BBQ sauce and slowly reheat it covered in the oven, or on the grill. This makes great pulled smoked elk sandwiches (or other meats). This final result, of all the stacked methods is my favorite! It is full of flavor.
Here are all the "stacked" methods in order. Stop whenever you want. If you haven't eaten it all, keep going!
Brining Step:
To one gallon cold water add 1 cup apple cider vinegar and dissolve 1 cup brown sugar in the mixture. (Add 2 or three minced garlic cloves, if desired). If you need more brine for a larger amount of meat, do the math and increase it. 
Add as much meat as will still be completely covered by the mixture. Let it brine for about 24 hours. Keep this mixture cold by storing it in the refrigerator.On a cold Montana night, we once left it outside in a cooler to keep it from freezing! If you start off with slightly frozen meat, it will stay cool longer. the brine needs to be kept around 40 degrees, or less.
Add a Rub:
Remove the brined meat and let it drain for a while. If it's still wet, pat it dry with paper towel. Sprinkle evenly with course kosher salt. Make a fairly thick paste with olive oil and your favorite red meat rub; enough to cover all surfaces of the meat. We like a "sweet mesquite" type rub. Soaking in the oil for a while brings some of the flavor out of the dry rub mixture. Rub it on as thick as you like, but avoid big clumps.  Using bacon fat works well, too, and adds more flavor!
Smoke It:
Set your smoker up for 225 degrees. A thermometer that sits on the grates is needed. You can smoke it in a grill, if you can control the temperature around 225. Try to set up a cool zone at about 225, away from burners or charcoal. (The inaccurate thermometer on your smoker or grill tells how hot it is at the top of the lid- useless!)
If using smaller roasts, check the internal temperature of the middle of the meat after 30-40 minutes. (You really should get a good instant read probe thermometer.) Start out with a couple of handfuls of large chunks of your favorite smoking wood. Apple and cherry are a little milder than mesquite and hickory.
The heavier and the longer the smoke, the stronger the smoked meat flavor gets. My "carnivoress" likes it a lot smokier than I do, so she eats more of the smoked stage meat. I wait for the braised and pulled stages! That mellows the smoke flavor a bit.
If some of the smoked meat is moving on to the braised stage, remove it at an internal goal temperature of about 120 degrees. If you want some to eat right out of the smoke, leave that part until it reaches 150 degrees internal.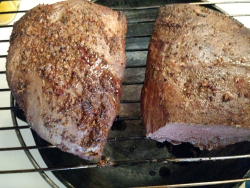 Braise Your Smoked Meat:
Remove smoked meat from the smoker at 120 degrees and put it in a pot. Or, one of those aluminum foil roasting pans works well. We use a cast iron pot. You'll need enough beef broth to come half way up the meat. We prefer making broth from beef base called, "Better Than Bullion".  
Put a lid on it and cook at 275-300 degrees in the oven or on the grill. Let it cook until it reaches 190 degrees in the middle of the thickest part of the meat. This could take awhile. Be patient. It depends on the sizes of the pieces of meat. If you have more than one, smaller pieces will be done sooner.
Slice some of that braised smoked meat and dip it in the Au Jus you just created. Awesome! You can eat it all that way, but, if you save some to "pull" (now or another day) you'll be glad you did!
Pull It:
This is worth the wait. The meat has all the rich flavors of the above steps. Now you can add even more with a sauce! Once it reaches 190 degrees in the braise liquid, let it drain and cool a bit.
Put on some foodservice gloves (I use a lot of those things!) and start pulling it apart. If it's tender enough, you can use two forks. Toss any gristle to the pooch or cat. Add your favorite BBQ sauce and mix it up.
I like to reheat the meat with the sauce on it, to glaze the sauce on the meat a bit. Do it slowly at about 250 degrees until it gets back up to about 160. I throw some sliced onion on top of this mixture before I heat it.
Man, I love this stuff! The meat has been through a lot of flavor-enriching processes to get here. The flavors blend and complement each other. It's got that good smoked flavor that is enhanced with the rub, which is enhanced by the broth, which is enhanced by the BBQ sauce!
(Some of these processes were adapted from an article on smoking quarters American Hunter magazine.)