Game Retrieval: Moving and Loading a Whole Elk, If You Must!
Most good elk hunting areas do not allow ATV use for game retrieval. Where four wheelers are allowed on elk habitat, elk hunting suffers. See our very balanced discussion about ATVs and big game hunting.)

An elk hunting gear list that big game hunters will find helpful. This is a list and brief review of practical, useful, quality hunting equipment for elk hunters.
Related topics available:
Moving a Whole Elk
Field Dressing Elk
Gutless Field Dressing
Skinning Elk
Quartering Elk in the Field
Deboning Elk in the Field
Game Meat Processing: Bill's True Story
Elk Hunting With Horses
Cooling Big Game in the Field
Getting Elk Meat Home Easier

Field dressing your elk will remove a huge amount of weight. For moving elk over short distances by dragging it, you can use several small diameter logs to roll a whole carcass on. Just keep moving the logs in front of the animal. A tarp or other plastic sheet allows easier sliding on grass, pine needles or snow covered ground, but common light weight materials wear out pretty fast. Big game retrieval that way can be very taxing if done past a few yards.
At some point the carcass will get stiff (rigormortus), making it difficult to handle. The head and legs might be sticking out stiffly in odd directions. If you don't want to cut the head off (a good solution), you can cut the back of the neck and handling of the head will be easier. Eventually, "rigor" lessens up again.
Loading it Whole

If you do manage to get a whole elk, bear or large deer to the truck, but do not have a team of hulks with you, you can use a piece of plywood to pull and "slide" the carcass up into the bed. The sheer weight may be too much if the truck bed is high without lots of help. Cut a piece of plywood that will fit between the fender wells and leave it there anytime you go hunting. It might come in handy for loading after game retrieval.
Getting an elk or other large animal into a pick-up bed, even with help, is very difficult because of the sheer, straight up lift and the limp nature of the carcass. As soon as you get one end up on the bed the other end gets stuck below the edge of the tail gate.
Use a Sled or Cart to Help Load It

A sled can be used, even in warm weather to lift the carcass up on the truck. Put the animal in the sled on the ground, even if it wasn't used for game retrieval on dry ground. Lift one end up on the tailgate and then lift the back end up. It will slide right in. This might require two people because of the weight, but the limp mass won't fight you on the way up.
Some carts can be used to help get an elk into the pickup bed. The Lo-Boy Transporter works very nicely for loading a whole elk, but they are hard to come by. Read our review of various carts by clicking here.
Find a "Ramp" of Some Kind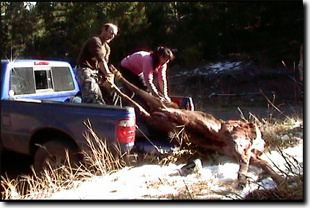 The transfer from ground to pick-up bed can also be made possible by using some kind of existing "ramp". Several times we have used banks next to the road where we could drag or sled the elk above the road. Then we backed the truck up to the bank below and pulled the animal until it slid or fell into the truck bed. It always amazes me how easy that is.
Let gravity work for you. One person can load even a very large elk, if some kind of natural or man-made ramp is available and he can drag or slide the elk.
I have sledded whole elk to my truck, and then towed it (even without a sled) behind my truck down snow packed roads until I found an appropriate bank for the loading process. Dragging an elk behind the truck also serves to entertain people when you go by. (They're probably wondering, "What's he gonna do when he gets to the interstate?")
A chain saw come-along works great for game retrieval, if you need to pull an elk carcasses up a mountain. One is called a Lewis Winch. It's noisy, since it has a chain saw motor. The motor is hooked to a tree or other anchor. The cable is attached to the elk. The motor whines and slowly pulls the elk to it. Just like a come-along, the operator then has to move the winch uphill and start again.
One draw back is the weight. It has to be hauled in to the animal and then carried back out. It will serve to get your animal up a steep hill, though. I hear of these being used more for pulling mule deer up to a road by road hunters. If you've got one when the circumstances are ideal, it will prove quite useful.
Or, Just De-bone It!

When big game retrieval is long and hard, we've long ago learned to prefer boning out elk and hauling only meat and horns. To read our page describing de-boning meat in the field, click here.
To read thorough instructions for field dressing an elk, click here. Even if you've done it many times, you might find a good idea or two that we have gleaned from several experienced hunters. 

Please subscribe to or our Quick Elk Hunting Tips and Updatesnewsletter or to an RSS feed (see left column for both) to be alerted whenever new information is added to the site.
We'd appreciate it if you would "Like" us on Facebook, or share this site with others.
---
Search this site here:
---
Return to Elk Down! page, from Game Retrieval page