My First Elk Hunt, NM
by Donald McMorris
(Tularosa, NM)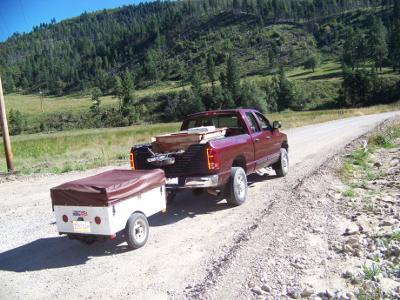 Because of a bad shoulder and breathing problems, I drew a Mobility impaired tag for a special 5 day elk hunt in the Sacramento Mountains in NM close to where we live.

I read all the "elk hunting tips" and practiced a lot. My son escorted me on the hunt with a rifle to finish off the elk if I made a bad shot. I made sure my bow was in good working condition the night before the season opened.

We went to the area we had scouted and set up camp. The special season opened for me at sunrise the next morning. There were elk bugling all around us. We set up a blind in the center of a meadow about a mile from our camp.

All night long, the bulls were moving down into the meadow. It was hard to sleep because of the noise. About 5:30 my son scratched on the side of my pop-up camper and said we need to get moving. I got dressed as fast as I could and grabbed my bow. When I got outside, we could see two sets of bulls fighting, one right across from camp and about three others a short distance away.

I pulled out a bolt but I couldn't get the bow to allow the string to load. I was some kind of upset. This special hunt allowed me to use any legal firearm so my son shoved his rife into my hand and said "let's get up near the pine tree where two bulls were fighting."

By the time we got to the pine tree, I was totally out of breath. I squatted down so I could breathe and he asked me if I could see the bull on the hillside. It was two minutes before sunrise, the official opening of the season.

I told him I could and he asked me if I could see him through the scope. I said I could. He said the bull was at 220 yards. I had never shot this gun in my life. He told me to put the cross hairs directly on the spot I wanted to hit and squeeze the trigger.

By this time the bulls were starting to move toward the trees. I squeezed off a shot and my son said "you hit him." The bull didn't go down but he didn't move with the others either. We stood there and watched as the others disappeared and our bull started to stagger toward the trees.

Because I was completely winded, my son asked if I wanted him to put him down. I told him that is why he came along. He squeezed off another shot and hit the bull in the neck and he went down.

We slowly eased up toward the bull and he got up and started to stagger up hill (which is unheard of with a kill shot) in the opposite direction of the others. My son took off and followed him to a 4 wheeler trail.

He found him down in a mud puddle on the trail. He was a young bull, 4 x 5. We field dressed him and pulled him back to camp where we hung him up in a tree in the middle of camp.

During the night the temp got down to 43 degrees but began to warm up rapidly. We decided to break camp and get him skinned and in a cooler. After completely dressed out at the locker, he weighed out at 335#.

Sure do miss the nights around the campfire talking about the days hunt. The season opened at 8 minutes to 7 and I got my elk at 5 till.

While we were at the campsite, we saw several wild hogs. We are going back in a couple weeks and I will try my bow again. My shot was a kill shot and if we had stayed in our original position he would have gone down.

I'm 73 years old and that was my first elk hunt, but hopefully not my last.