Elk Hunting Success 2017: Tell the Story!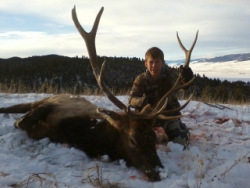 Local Montana Hunter
2017 Elk hunting success stories are needed while we're planning for the 2018 season. Please describe your experiences below. Don't forget the pictures!
Any elk kill is a success story. So are "close encounters of the herd kind". There are many areas that are encouraging the hunting of cow elk because of large numbers. Tell us about antlerless elk success, as well. 
Just Learning is Elk Hunting Success
Montana Teenager and Her First Bull
What did you do right that lead to your successful elk kill? What did you learn and what could you have done better? Hunts without kills and successful kills provide a wealth of learning experience. Please share it. Is there anything you would have done differently? What are your elk hunting plans for next year?

Cows Are Successful Elk Hunting!
---
2017 Elk Hunting Success
Well, how did your elk hunting season go for 2017? Tells us about it and show some pictures, if you have any. "Success" isn't always a kill. Elk hunting is an experience to cherish and share with others. Even if you just came close.

Do a little bragging and even some confessing. What went right? What went wrong? What did you learn? Tell the whole story or just the bottom line. Please share your experiences and don't forget to upload some pictures!
What Other Visitors Have Shared
Click below to see contributions from other hunters...
All Day Hunting - See more Elk

This year's Elk hunt for cows ended with more lessons learned and more learning confirmed from years' past. I was blessed enough to see Elk everyday and …

Freezer Full of Montana Elk Not rated yet
I killed two cow elk this year with a rifle. I prefer to kill an elk with a bow, but all I managed to do during archery season was to slap a nice bull …
---
Please subscribe to or our Quick Elk Hunting Tips and Updatesnewsletter or to an RSS feed (see left column for both) to be alerted whenever new information is added to the site.
We'd appreciate it if you would "Like" us on Facebook, or share this site with others.

Return to General Elk Forum page page from Elk Hunting Success 2011 page.