Hunting Gifts for the
Big Game Hunter:
Our Recommendations for Hunting Gear
Hunting gifts are often hard to choose for someone. This page is designed to help family members (even if they're not hunters) come up with Christmas gift ideas for the big game hunter on your list.
There are several pieces of equipment, various gadgets and doo-dads that would make good hunting gifts for most big game hunters. There are some basic things that we "need" (or at least we think we do).
Binoculars, knives (I can never have too many), range finders, camouflage clothing, scent control clothing, spotting scopes… The list goes on and on. We will list some of those that we have found very useful below and add more as we think of it.
In some cases we will link to one of our other pages where we have written reviews of the equipment.
Also, see our updated hunting gear page here.
An elk hunting gear list that big game hunters will find helpful. This is a list and brief review of practical, useful, quality hunting equipment for elk hunters.
Elk Hunting Books

We have a review page on elk hunting books. Click here to see the book review page. The off-season, especially winter time, is a great time to spend time reading books about our favorite sport. There is always more to learn about elk hunting and elk hunters find the topic very entertaining. Following is a list of some that we have read (first four) or are on our to-read list. Do a search at Buy.com for "elk hunting" and these and others will pop up.
• The Elk Hunter
• Elk Hunting Guide: Skills, Gear, and Insight - Tom Airhart
• Elk Camp: Where the Heart of the Hunt is Found
• Elk Talk: Your Guide to Finding Elk, Calling Elk, and Hunting Elk with a Rifle, Bow and Arrow, or Camera
• Elk Tactics: Advanced Strategy for Hunting and Calling Elk
• Elk Hunting Secrets, Rocky Mountain Elk Foundation
• The Complete Book of Elk Hunting: Tips and Tactics for All Weather and Habitat Conditions - Sam Curtis
• Elk Hunting - Jim Zumbo
• High Pressure Elk Hunting
• Mini Perfect Shot, North America: Whitetail, Mule Deer, Moose, Caribou, Pronghorn, and Elk - Craig Boddington
• Bowhunting Modern Elk - Meitin, Patrick
• Elk: Strategies for the Hunter - Durwood Hollis
Hunting Magazine Subscription

Give the gift that keeps on giving through the entire year, a hunting magazine subscription, like Peterson's Hunting or Peterson's Bow Hunting.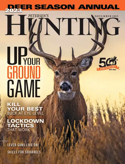 Binoculars

An absolute must for most of us. Here are some bare basics: You have two sets of two decisions to make. Forget "cheap", they're never worth buying.
#1. Moderately priced, but reasonably good quality optics. We recommend Nikon binoculars at a very reasonable price and very decent quality. Burris and Leopold are other also good choices.
#2. High priced, excellent quality. You will get very high quality lenses and construction with Zeiss and Swarovski, if you can afford them. We're not big on Bushnell brand.
The next set of two questions involves factors available for both price ranges.
#1. Compact (reduced field of vision, but lighter) Or:
#2. Full size (full field of vision, but more bulky). Many hunters prefer the compact models to save weight and bulkiness.
The next decision is power. 7, 8, or 10 power are the most useful for big game hunting. 7 power (7X) is most useful for scouring brush and trees up closer, but does OK at distances of several hundred yards. 8X is versatile and a little better for distance scanning while looking for elk or deer on a far away ridge. 10X makes "spot and stalk" hunting from one mountain side to another more feasible, but eye fatigue can result if using them at closer ranges.
I won't get into a discussion of roof versus porro prism construction here.
Laser Range Finders

These measure how far away a target is for accurate aiming. Same recommendations as above against buying "cheap". Don't bother with non-laser types. For mid-range quality we again recommend Nikon. The same makers of the highest quality binoculars also make range finders for a much higher price. Power is not as much of an issue.

Maximum distance measured is the variable. For bow hunting, a rating of 400 yards or so is plenty, since most shots are taken under fifty yards. The 400 yard maximum range is hard to actually measure without a big wall or barren hillside to bounce back the signal.
An 800 yard rated range finder will have the same problem at 800 yards. Most people can't accurately shoot out to 400 yards anyway. An 800 yard maximum will consistently get you a good reading of 400 or more yards away.
I use a "440" Nikon for rifle and archery with no problem. There are bells and whistles that you can read about at the retailer sites, but those are the basics.
Hunting Knives

There are many quality knives on the market. Again, don't buy cheap knives. Quality names include Boker, Gerber, Kershaw, Ka-bar, Buck, Al-Mar, Spyderco, Benchmade, Cold Steel, Entrek, Lone Wolf and many others.
I am actually married to my two Cutco folding hunting knives. But then, we've been going together for a long time. (I met my first one through my human wife.)
There are too many styles and brands to make specific recommendations. Unless you know the hunter wants a skinning style blade, go with a drop point or a clip point. A four inch long blade is a good length for most uses. Gut hooks are not necessary, but they do make gutting easier. They are often added to the opposite side of the knife blade, or as an extra blade. We don't like serrated edges, as they are hard to sharpen.
Anyone will like a folding type blade. Some people will tolerate the overall length of a non-folding blade and may even prefer it. Not me.
Flashlight

This is most often an early morning or camp tool, but can become a survival instrument. Quality can become vital. We will recommend one brand as meaningful hunting gifts for lack of space. "Sure-Fire"! You can't go wrong with a Sure-Fire flashlight. A "Bloodhunter" flashlight is made for tracking a wounded animal after dark.

Hunting Backpacks

There are too many options to discuss here. We've bought cheap ones. They sit in the basement. An $80 price tag is the low end of something of quality for backpacks that make good hunting gifts.
A fanny pack will lower the price, but being able to carry survival gear and all the gear needed to field dress an elk or deer, without going back to the truck, requires a back pack. Most good backpacks have hydration systems built in. If a fanny pack is used, a separate hydration pack would be a good addition and make appreciated hunting gifts!
Hydration Systems

See above comments. Camelback is a good brand. Most hunters do not appreciate how much better they would feel if they stayed hydrated.
Digital Cameras

Spend no more than $80-120 for pack cameras as hunting gifts. They are small and take great pictures. You can get one at this price that is rated at 7 – 9 megapixels. No more is needed, unless you want to blow it up real big.
Hunting can be rough on cameras. I just bought one to replace my previous one due to a busted LCD. Maybe I bumped it with my rifle. I'm glad it wasn't more expensive! With that in mind, a padded, belt-ready pouch and camera make good hunting gifts. If the hunter can't get to it easily, he may not use it.
GPS Unit

Garmin is the best choice in our opinion. You don'thave to have the expensive versions. This elk hunter uses an older, lower priced GPS and is served very well with it. A Garmin and a decent topographical mapping software make two great complementary hunting gifts.

Binocular Harness

These keep the binoculars from swinging around. That's very bothersome! These are inexpensive, but very useful hunting gifts.

Game Cart

Click here to see our complete review.

Bone Saw or Folding Saw
One folding saw for the pack and a full size one for more convenient quartering make great hunting gifts.

Gloves, Mittens and Glove liners
I don't care how much Thinsulate is in the expensive gloves. I always need hand warmers inside the gloves. I like cheap rag wool gloves and mittens (green, not white or a light color). Add a lightweight liner for more warmth. I have worn all three many times, when it was really cold. If a mitten is used, make sure it has a trigger finger built in.

ASAT or Predator Camouflage

Those are our favorite types. The designs are made more to fool animals than to impress the human eye. The ASAT pattern causes the animal to look past the hunter, rather than to think he is part of a tree or bush. With that said, I have killed many elk and deer while wearing cheap Wal-Mart camo clothing.

Silver Fiber or Other Scent Control Underwear

ASAT Camo has some good scent control clothing. 
Hunting Boots
If being bought as hunting gifts, consider the temperature they will be worn in. We prefer from 800 to 1200 grams of Thinsulate for cold weather hunting, along with Gore-Tex for waterproofness. Gore-Tex, not some other water proof barrier. The other waterproof barriers we have tried just don't last as long as Gore-Tex.
Gaiters

These keep melting snow or wet grass from soaking pant legs. They don't have to have Gore-Tex. They keep the lower pant legs dry and water from soaking down into the boots and getting socks wet.

Game Ear Type Hearing Devices

Unless there is a hearing loss, we haven't found these useful. They mainly amplify close up sounds. The hunter can hear his own clothing swish and his breathing sounds louder. That's not helpful. A distant elk bugle or turkey gobble is not amplified appreciably. These might be useful hunting gifts for tree stand hunters, as they might amplify a deer approaching the deer stand.

Compass

This tool should be in any hunters pack or pocket, even if someone carries a GPS device. If a GPS battery dies, a compass and topo mapping software (prints maps) might become lifesaving hunting gifts.

Mapping/Topographical Software

There are many good brands. We can recommend Lowrance.
Guns
If you know what type of guns are wanted as hunting gifts go toGunBroker.com for legal gun auctions, new and used. They have archery equipment as well.

Archery Equipment

Bows and arrows are very personal choices and tough hunting gifts to buy for someone, unless they tell you what they want.

Rifle Sling

There is only one rifle sling we recommend. It is the Safari Sling. I don't know why most people still sling their rifle over their shoulders where it takes so much movement to bring it up for a shot. These Safari Slings allow a hunter to carry a rifle at-the-ready very comfortably. They make great unexpected hunting gifts, but they might not be appreciated until they use them for the first time. They are the best kept secret in our opinion!
Please subscribe to or our Quick Elk Hunting Tips and Updatesnewsletter or to an RSS feed (see left column for both) to be alerted whenever new information is added to the site.
We'd appreciate it if you would "Like" us on Facebook, or share this site with others.
---
Use Google Custom Search to search this site:
Custom Search
---
Back to Home Page, from the Hunting Gifts page