Backpacking Food for Backcountry Hunting
Contributed By Casey Albert

My Backpacking food ideas are what I do and reflects some of my likes, dislikes and things that I believe about nutrition and its effects on my mind and body while BackCountry hunting. I like to get into the BackCountry and don't like spend a lot time traveling from and back to base camp every day. I have to be extremely weight conscious, as I carry all of my gear on my back during the day. That way I can camp wherever I happen to be when the sun sets. 
An elk hunting gear list that big game hunters will find helpful. This is a list and brief review of practical, useful, quality hunting equipment for elk hunters.
In the area where I have spent the several archery seasons hunting elk, there are some lakes which provide additional protein in the form of cutthroat trout. So, I add an ultra light fly or spin cast rod and gear to my list when hunting those areas.
David asked me to write an article about BackCountry Hunting a few years ago. That gave me the impetus to purchase a scale to weigh my gear. I came to realize that if I had 100 pieces of gear and could reduce each item by 1 ounce and I'd reduce my pack weight by 8 pounds 4 ounces.  While that is obviously not possible with some of the items I carry, it gave me the insight to work quite hard at reducing weight and items that I typically carried, but never actually used.
Enjoy Your Backpacking Food!
I have never really been much of a calorie counter. However, I began to look more at calories per ounce of backpacking food items. Some are much denser in calories than others. I like to enjoy my backpacking food too, so I don't eat things that I don't like just to get calories.  Over the years, I have added or subtracted items to my grocery list in an effort to gain more calories for sustainable energy while in the BackCountry. 
I don't spend a lot of money on fancy backpacking food. While on an Alaska hunt in the fall of 2014, I did enjoy some Mountain House type meals. They were both hearty and had calories, as well as helped provide some variety. I have tried many different brands and types of meals, but I still revert back to some of my tried and true. 
I like good tasting stuff, so I am willing to carry a little extra weight to make my backpacking food a more enjoyable experience. I typically don't have a cooler at base camp. The ice would be long gone before I get back to town to replenish.
Manage the Weight of Water:
Iodine or Filter?
As you know, WATER is the giver of life. Without it, life in the BackCountry can be miserable. In the past few years I have substituted iodine tablets for my water filter in another weight saving scheme. I found that on some occasions, I wasn't drinking enough water because of it. Now I take my both filter and tablets with me. With the advent of powdered drink mixes, there is no shortage of flavors one can carry to have a refreshing beverage variety.
To keep the number of utensils and clean-up to a minimum, I only use my cook pot to heat water. If I carry my filter, I will heat filtered water to reduce fuel use. If I boil unfiltered water, I will let it come to a rolling boil to kill the bad bugs. I am leaning towards using iodine tablets alone, but this is offset somewhat by adding to the amount of fuel I have to carry.
My water is used to make oatmeal, coffee or hot chocolate, soup, and occasionally to wipe off my face. Water is essential for life and there is no better way to realize this than to spend some glorious September days hunting in the BackCountry.  
When we had our base camp set up near my old honey hole, we would drive each day to a given trail head.  I would typically drink a quart of water on the way, and then carry as little water as possible since water weighs over 8 pounds per gallon. I knew where we were hunting and knew where many of the water sources were. My hunting partners could tell you how I got them to carry my water for me, as I would routinely have to ask for a sip or two before we got to a water source. 
One of my buds recently sent me a 20 pound backpack list.  His list included 16 ounces of water; 2 cups. I now prefer to carry two 24 ounce Gatorade bottles and will typically drink at least a quart of water at each watering hole besides that, if I am carrying my filter.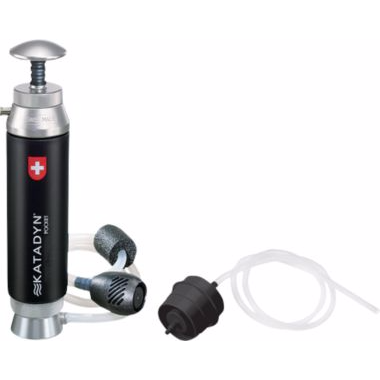 Backpack Water Filter
The Katadyn water filter that I carry pumps about an ounce of water with each stroke, so it's easy to keep track of ounces. If I carried nothing else, it would be my water filter and water container.  My water filter weighs a ton, but I will not drink straight from any water source. I did when I was a kid. After finding dead sheep or leaving an elk carcass in a stream, then dropping 100 yards downstream I would see that "pure" mountain water trickling by. I knew that what I did not know about that water could possibly have a drastic affect on my future quality of life. Better safe than sorry. 
When using iodine tablets, you have to wait about 30 minutes for the iodine to work, so drinking extra water stream-side is not always an option. Another option is to simply take a break and hang near your water source while sending out some elk talk love notes. As long as you are in the BackCountry, you're hunting and elk need water, too!
My Backpacking Food Routine
Breakfast: 
Recently I added Carnation Instant breakfast to my meal plan. (Now called Carnation Breakfast Essentials.) I add it to my oatmeal, or pour it in my coffee. One package adds 130 calories.
Throughout the year I typically try to maintain a low sugar diet. I looked at a box of low sugar oatmeal and it has about 100 calories. Add some extra "Old Fashioned Oatmeal" and you get about another 100 calories. Add in ¼ cup of dried blueberries and you get another 150 calories for a total of about 350 calories. I almost never ate oatmeal in my younger days, but I have found that it has staying power as I seldom feel hungry after my morning routine. It has become an integral sustaining source of energy in my backpacking food plan.

I'll have a cup of coffee, or hot chocolate to help get me going in the morning. Also, I carry paper bowls which can be burned or carried rather than have to clean up utensils.

The absolute best part of having breakfast when BackCountry hunting is that you are hunting as soon as you wake up! A few years ago, I woke up, leaned over, started my stove, and poured my heated water on my oatmeal and into my coffee cup. I proceeded to sip hot coffee and eat without ever having put my feet on the ground.
I was heading back to my car that day which was only about 4 miles as the crows fly, but it took about 10 hours including two bull encounters. There is no better way to enjoy a BackCountry day!

Morning Snacks:

As you see in my backpacking food list below, I carry almonds, licorice, dried cherries, dried apricots, snack bars, jerky, or whatever else I find on the shelves that I like. I strive to carry just about the exact amount of backpacking food that I will eat during my hunt, but I still find that I have a few things left over when I get back to base camp. Sometimes this is because of the weather, other times just poor planning. I keep trying to get it right. I never really know exactly when I will get back to base camp, but when the bull goes down, that extra food comes in handy.

Lunch:

For lunch the past few years I have been bringing along StarKist Tuna Creations in 4.5 oz pouches. These are flavored or plain, and provide some good protein. They provide 175 calories per pouch. I combine that with whatever snacks I feel like eating and try to be in a place where I can drink plenty of fluids.
After reading about Stinger Waffles somewhere, I tried them and really like them. They are good, lightweight (1 oz/waffle), and have 160 calories per waffle.  I carry 2 or 3 of these for every full day in the woods.

Dinner:

I typically carry two Ramen Noodle Soups repackaged into zip lock bags.  I'll usually have pita bread, maybe a cup of coffee, and drink a quart of flavored water with lunch.
My Backpacking Food Meal List
Breakfast:

1 - Carnation Instant Breakfast
2 – Oatmeal packets with ¼ cup Old Fashioned Oatmeal and dried fruit topping
1 – Hot chocolate
1 – Coffee w/creamer
Lunch:
Pepperoni Sticks/jerky
1 – Tuna in a bag
2 – Snack Bar
Snack food
Dinner:
2 - Soup
Pita Bread
Trout with butter flakes, lemon pepper, cayenne, spices
1- hot chocolate, tea or coffee
Snacks:
Drink mixes(3/day)

Dry Fruit: Mangoes, Blueberries, Cherries, Raisins, Apricots......
Almonds
Snack Bars
Licorice
Throat lozenges
Base Camp Food:

In addition to backpacking food, I will bring along things such as the following to bulk up while resupplying at base camp.
Krusteaz Blueberry Pancake mix with honey and maple syrup

Peanut Butter and preserves
Pasta with some good sauce
Salami
Plastic packaged fruits
BackCountry Hunting!
Because I am BackCountry Hunting with my camp on my back, I limit my weight more than if I was simply hiking in and setting up a spike camp.  Over the years, I have tried hiking back and forth to base camp every day, spiking in for a few days at a time, and hunting with camp on my back.

I get the most enjoyment by having my camp on my back and being able to go wherever my heart desires, 'til it's time to head back to base camp to resupply. Given that, I am usually limited to 3 to 5 nights in the BackCountry. On my Alaska hunt, my bud and I stayed 10 or 11 nights, but we weren't hunting with our camps on our backs every day. 
It is much easier to prepackage your backpacking food at home, rather than buy, repackage, and sort your food once you get to  your hunting area. I sometimes sort my backpacking food by "meal" type (breakfast/lunch/dinner/snacks) and sort it into single day pouches. I always have more than I can eat, but that allows me to vary my menu.
I hope this assists you in your BackCountry hunt preparations. By hunting with my camp on my back, I have been able to hunt places typically reserved for guys with horses!

Be sure to check out the BackCountry Hunting and the Backpack Gear List pages.