Wolf Tapeworms
and Game Animals
You may be hearing about a disease caused bywolf tapeworms that is becoming more common in "cervids", the deer family, which includes elk, deer and moose. Recently the parasite has become quite common in some areas where it wasn't previously, including areas of Montana and Idaho. It does appear that the introduction of wolves is responsible for yet another unintended consequence of introducing Canadian wolves to the States.
An elk hunting gear list that big game hunters will find helpful. This is a list and brief review of practical, useful, quality hunting equipment for elk hunters.
Wolf Tapeworms: A Repetitive Cycle
The life cycle of the wolf tapeworms needs two hosts. Mature tapeworms grow in the intestines of canines (dog type animals) that are the "definitive host" in the first stage. These tapeworms lay eggs in the canine's intestines. Wolves, coyotes, or other canines drop the tapeworm eggs in the grass with their feces.
Ungulates, animals that graze, inadvertently consume the eggs along with grasses. The eggs hatch in the intestinal tract and are carried in the blood stream to the lungs, liver and brain where cysts form containing the immature tapeworms (larvae).
Not every animal that is infected with these cysts suffers any ill effects. 
Elk Liver Tapeworm Cysts, Jay Kolbe, Montana FWP Wildlife Biologist
The cysts caused by these tapeworms can be benign, if the resulting "hydatid cysts" found in the organs are not too pronounced.  A large number of large cysts in the animals can obviously weaken and even kill them.
If an infected animal dies for any reason and the cysts are consumed by canines, the life cycle of this type of tapeworm is complete and begins all over again.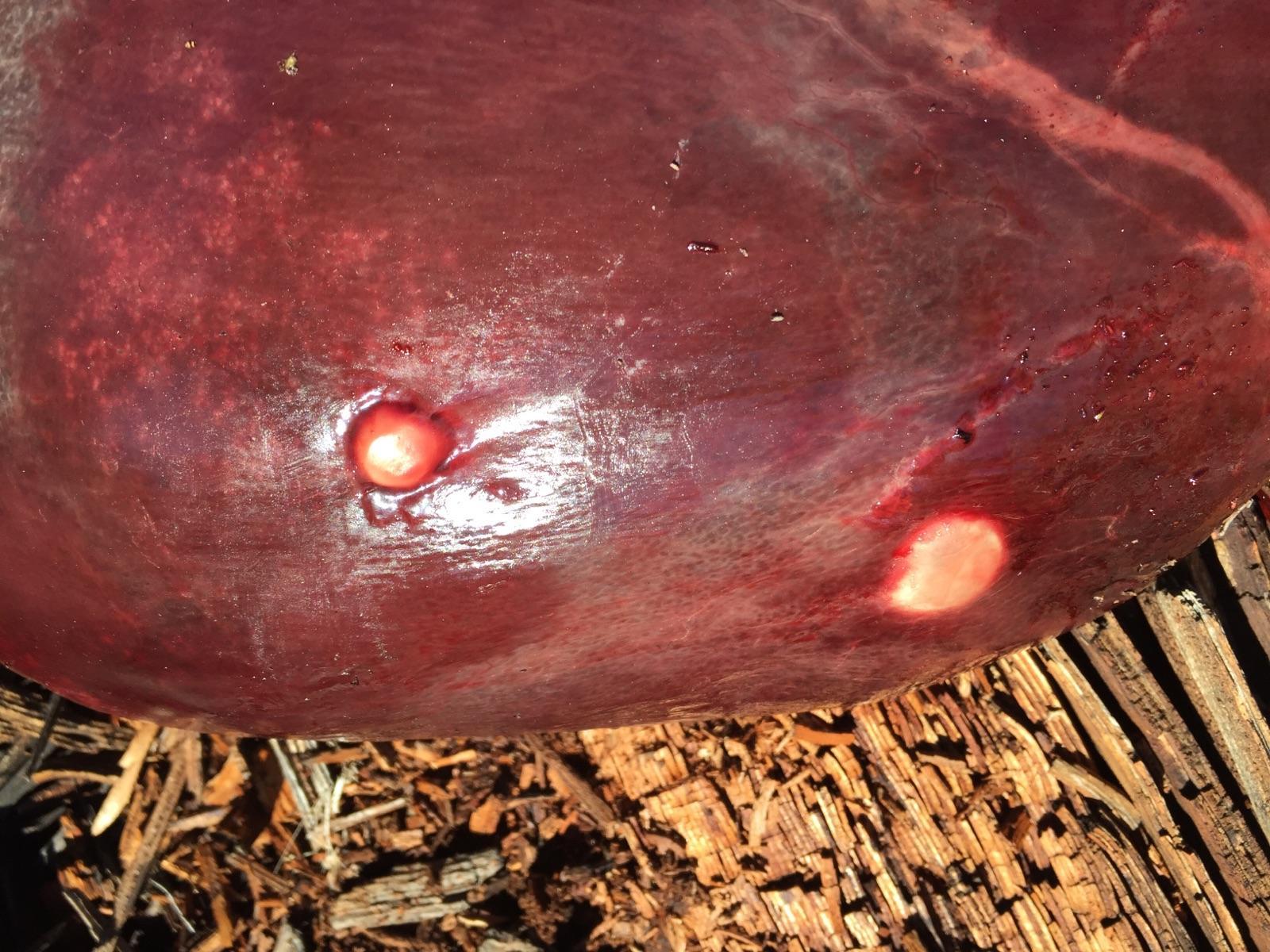 A friend in Idaho killed a moose and found tapeworm cysts.
Here is a photo is of an infected moose liver and lungs that a friend of mine killed in Idaho. Jay Kolbe, Montana wildlife biologist in region 2, provided the information for this article. He also shared a photo with me that he took in the Blackfoot area of an elk liver with hydatid cysts.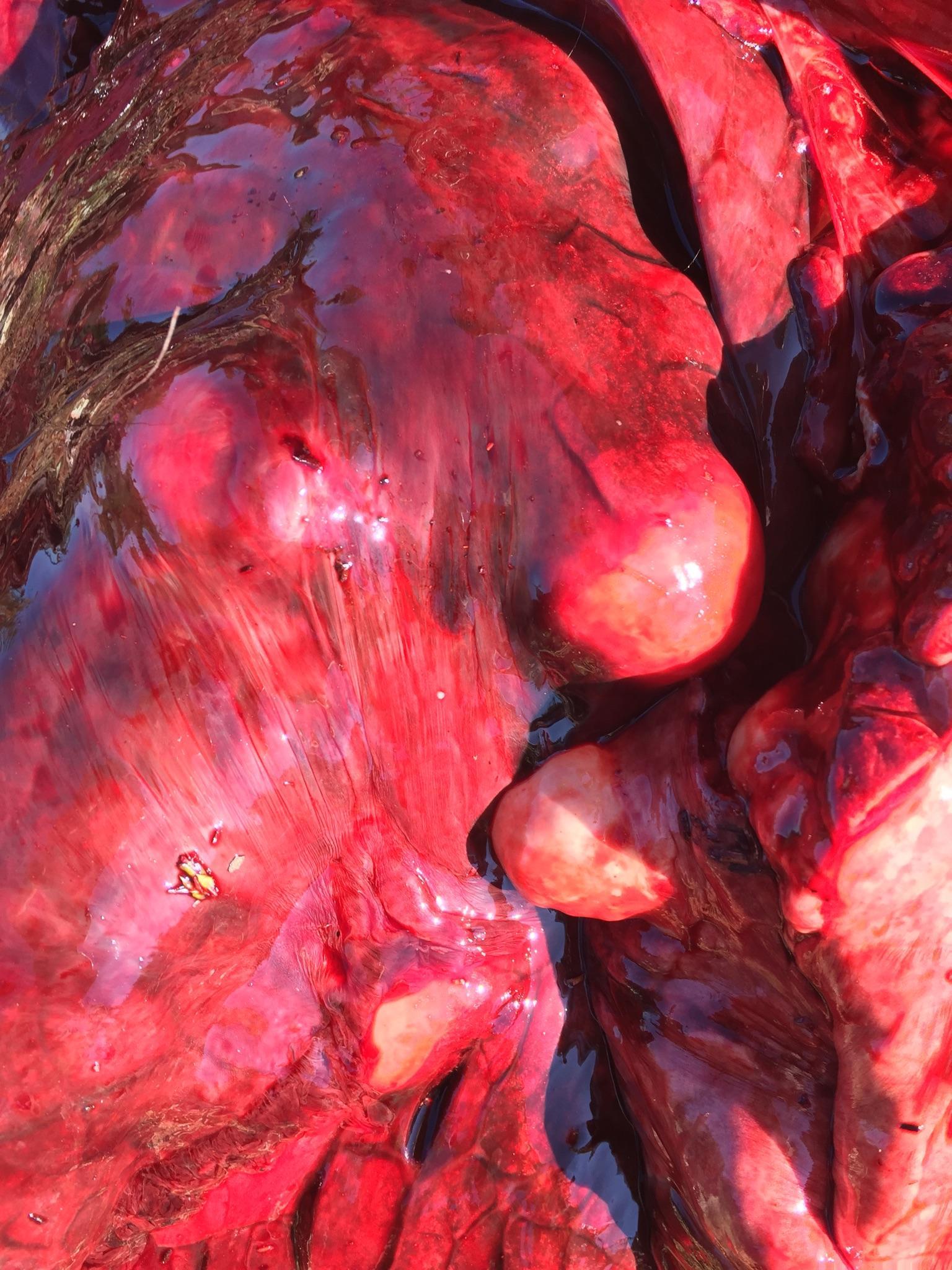 Moose Liver Tapeworm Cysts
There are two types of tapeworms (Echinococcus) that cause hydatid cystic disease. Echinococcus multilocularis normally has the second stage occurring in rodents. The other, Echinococcus granulosis (wolf tapeworms) occurs typically in ungulates (grazing animals) and sometimes humans during the second stage. To unknowingly participate in this second stage, the intermediate host has to consume the eggs dropped by the feces of the infected canine.

Can People Become Infected?
People can become infected with the "wolf tapeworms" parasite only when the Echinococcus eggs get into their digestive tract. Cysts are then formed in the lungs, liver or brain, just like in deer, elk, moose, etc. To become infected, a person has to ingest the living eggs. Symptoms from these cysts may not become apparent for many years. Surgery is sometimes required to remove the cysts, but a certain type of drug treatment can be successful.
There are some scenarios in which a human can consume these parasitic eggs. If someone eats plants or drinks water that has become contaminated with the eggs, the eggs hatch into larvae in the digestive tract and migrate to the organs, causing the hydatic cysts.
Another way to get these eggs into the human digestive tract is by handling fur (or feces) of infected animals. A dog, for instance, licks its anus and gets eggs on its tongue. Then it licks its fur. Eggs are now on the fur. When a human pets the dog, or touches the fur of a wolf, coyote, fox, etc., the eggs are now on the person's hands. Hand washing will prevent a hand to mouth transfer.
If infection occurs, the cysts that are formed in the organs often burst and the infection is resolved. Infection by these cysts is considered benign by many experts. Serious complications are rare from infection with the wolf/ungulate tapeworm cycle. (There is a second "biotype" that occurs in a domestic dog/sheep cycle in Arizona, California, New Mexico and Utah that can be more serious.)
Prevention is Easy
Prevention is fairly obvious. Don't allow domestic dogs to eat carcasses of deer, elk, moose and sheep. If this does occur, de-worming medications work to stop the cycle in your pet. Wash your hands after touching your dog, if it has had access to ungulate carcasses. When handling the fur of wolves, coyotes and foxes, use gloves and wash any part of your arms and hands that may have touched the fur. 
How about handling or eating elk, deer, or moose that has been infected with Echinococcus? Can we get the disease from that? Thankfully, no! The eggs are NOT found in venison meat. As gross as it sounds, humans cannot get the disease even by consuming the cysts found in the organs of an infected deer, elk or moose.
In order to become infected, a human must consume the eggs originating in the digestive tract of canines. The larvae found in the cysts in organs of infected deer, elk and moose are in an immature stage that cannot infect humans.
Wild Game is Safe to Eat!
Don't let the wolf tapeworms topic keep you from enjoying nutritious and delicious wild game meat. While you're at it, buy a wolf permit! As a registered dietitian and food safety expert, it just reminds me to handle wild game meat carefully. Horses and cattle can be "hosts", too. But, only a few cases have been reported in horses in the States.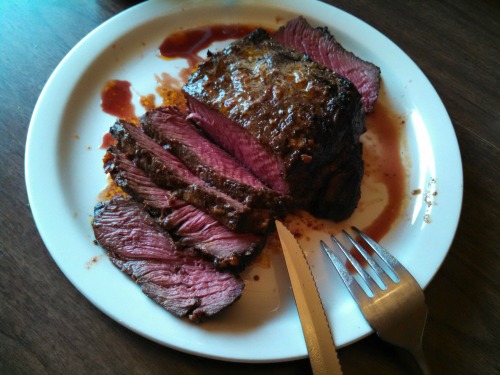 Grilled Venison Roast Recipe
Hunters are given replacement tags when they turn in game that has cysts in their organs. However, it's not necessary to waste the meat. This disgusting topic advances the idea of using the gutless method of field dressing wild game, when feasible. Then, you won't even have to know about it! See Gutless Field Dressing.