What is Oxidative Stress?
In a nutshell, oxidative stress is caused by free radicals. The cells of our body have the natural ability to send out enzymes (from the genes in the cell) that act as antioxidants to neutralize free radicals. "Quadrillions" of free radicals occur naturally inside our cells each day. That's OK, as long as the cells keep producing those natural antioxidants to clean it all up.
What is oxidative stress? It's simply cell damage caused by free radicals. Oxidative stess limits us from doing well what we want to do. Like elk hunting! The problem is that those enzymes begin to diminish about age 20.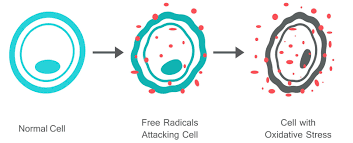 The Body Produces Antioxidants
The body of a healthy 20-year-old produces enough of these natural antioxidants to break down 1 million free radicals per second. To keep up with that pace by eating food sources of antioxidants, we would have to eat the equivalent of 99 cups of blueberries PER SECOND!
I bet you thought antioxidants only got in the body through food? Not so. But, the mechanism that generates those antioxidants in the cells, decreases and causes aging. A natural herbal combination called Protandim turns it on on full force again. We have that patented product here.
The U.S. Government's National Institutes of Health, Institute on Aging did research with Protandim and concluded, "Protandim is shown to extend life…". (That is easily verifiable here.) Here is a short YouTube clip of a 2005 ABC Primetime Investigative Report on Protandim that we now use for marketing the products. NBC and PBS did shows about it, too. 
Undesirable Aging of Cells Starts at 20!
Here's the problem. As we age, the genetic "expression" of those naturally occurring antioxidant enzymes decreases or becomes "out of tune". That's what oxidative stress is. It leads to all sorts of diseases and causes aging. Enough about the science. You just want a solution, right? Protandim!
We can slightly slow down the aging process caused by oxidative stress by good health habits, sleeping and eating well, etc. But, there is something dramatic that we can do to reduce our oxidative stress to the level of a newborn. Protandim does that! It does it through something scientists call "NRF2 activation". (I won't go there.)
Protandim has been proven to lower oxidative stress by an average of 40% in 30 days in 100% of people who take it. (As published in Free Radical Biology in Medicine, 01/15/2006.) Nothing, not even a synthetic drug, lowers oxidative stress as powerfully as Protandim does! There is a lot of peer-reviewed, independent research in the U.S. government's Pubmed.gov about Protandim. No other supplement is in Pubmed by brand name! 

We sell Protandim here, if that's all you want. Better yet, there is a great business opportunity to make money from it yourself! We are looking for partners to help us find more direct marketing distributors and it doesn't cost much to participate. The compensation plan is excellent! 
It's a product that reverses oxidative stress that few know about yet, so it's a wide-open market. No one has anything that approaches the "NRF2 activation" of Protandim and we have 11 patents. So, there will be no knock offs!
Here is a short video showing how this is done and how we get paid to do it:
Life Changing Opportunity
We are business partners in the young company called LifeVantage with this outstanding product. Since hardly anyone knows about it at this early stage of the company, we're in on the ground floor of something that is starting to grow dramatically!
We're focusing on finding business partners to help people find this opportunity and product. It's simple. Just replicate our proven process to help others with it. And, we'll never stop helping you personally to build your business! That's a promise.
It's quite feasible for people to get to 5 figure incomes or more in 2-5 years with this. It heavily rewards those just starting and those in the middle, not just the ones at the top. We know quite a few people who've built their businesses with LifeVantage to several hundred thousand dollars per year in 5 years. It doesn't take much to join us. This can be done in your spare time.
Let us know, if you have any interest in the business or the product, Protandim,  to reduce oxidative stress and we'll get you more information. At some point in the growth of the company it will become "too late". The timing is right now. You don't want to miss this! It is truly life changing (and extending)! 1-406-431-0876
An elk hunting gear list that big game hunters will find helpful. This is a list and brief review of practical, useful, quality hunting equipment for elk hunters.