Simple, Hearty Venison
Stroganoff Recipe
A venison stroganoff recipe should be flexible. This is a great start on this old time German favorite. Add your own personality according to your preferences or traditions. Then share your own version on the recipe submission form.

An elk hunting gear list that big game hunters will find helpful. This is a list and brief review of practical, useful, quality hunting equipment for elk hunters.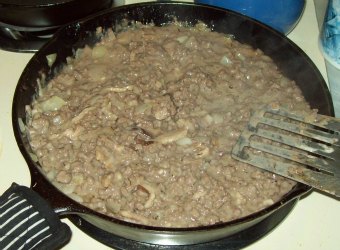 There is no "one way" to make stroganoff! We want to try yours!
The photo at right was made with ground elk and about a cup of Shitake mushrooms were added.
Ingredients:
1 lb. Elk Steak/Roast (or Venison) chopped small, or 1 lb. Ground Game Meat
4 oz Fresh Mushrooms sliced
5 Green Onions chopped small
1 10.75 oz. can Cream of Mushroom Soup
½ c. Sour Cream
1 Tbs Dry Red Wine (like Merlot)
1 tsp Fresh or Minced Garlic
1 tsp Thyme
1 tsp Beef Base or Bouillon Granules. (Add a little according to flavor being careful not to over salt.)
1 to 2 Tbsp Olive oil for sautéing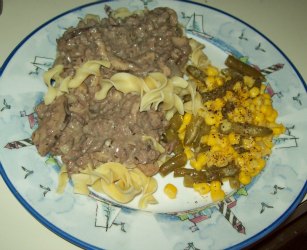 Sauté meat in skillet until browned, drain. Separately sauté onions and mushrooms, then add to meat.
Add remaining ingredients, rub thyme between fingers to release flavor. Taste and add salt and pepper, if needed. Stir, and cook on low for 15 min. Serve over noodles or rice.
*Add a little milk, or beef stock if sauce is too thick. Add more or less seasoning according to flavor preference. 



Please subscribe to or our Quick Elk Hunting Tips and Updatesnewsletter or to an RSS feed (see left column for both) to be alerted whenever new information is added to the site.
We'd appreciate it if you would "Like" us on Facebook, or share this site with others.
---
Return to Elk Recipes, from the Venison Stroganoff Recipe