Venison Jerky Recipe
Easy Oven Jerky from Elk Meat

A venison jerky recipe can be made with any meat, including elk, deer, or any wild game and beef. We have even made turkey jerky with it and found it acceptable (not my favorite though). Since it dries the meat and adds significant salt, the meat is preserved and does not easily spoil. (Jerky made with foul spoils more easily, because of the fat structure, however.)
You can use less tender cuts of meat for your venison jerky recipe since tenderness is not an issue. Jerky is supposed to be chewy. The idea is to fill it with flavor all the way through, so the flavor lasts as long as the chewing.
Once we get a couple of elk in the freezer, the deer meat we have becomes jerky material. The time of year we use this venison jerky recipe most is during the hunting season. If there is any deer or elk meat left over at that point from the previous year's hunt, it needs to be used and jerky is a great use for it. Since it's fairly easy to make, the results makes great gifts. People really appreciate a little free jerky, because commercially prepared jerky is so expensive. I have made some valuable friends at professional conferences just because I got them addicted to my wife's venison jerky recipe.
An elk hunting gear list that big game hunters will find helpful. This is a list and brief review of practical, useful, quality hunting equipment for elk hunters.
Preparing the Meat:

Cut strips of meat one to three inches wide and thin slices approximately 1/8 to 3/8 inches thick. Trim off all silver skin, fat and obvious gristle. The strips don't have to be pretty, or uniform in size. Store bought jerky is uniform because it is made by machines. Rough cut jerky has an obvious hand made appeal. Keep it simple.
You can make your own spice mix, or try these:
• Marinate the strips in teriyaki sauce, black pepper and cayenne pepper overnight before drying. The teriyaki has plenty of salt in it.
• Or, add a little Louisiana hot sauce to the teriyaki sauce. Adjust the "heat factor" to your taste.
• Some of the commercial dry mix spices are good.
Experiment With Dry Spice Blends:

A.C. Legg makes a good jerky blend. Find it at that link and enter "7777" for a 10% discount!
Sprinkle both sides of meat strips with your preferred dry jerky seasoning mix. Since it is tough to cover it evenly, put it all in a bowl after sprinkling and roll it around with your hands for a few minutes. Then let it soak up the good flavors for at least 24 hours before drying in the oven.
We like High Country and High Mountain brands of jerky mix. We add a little cayenne pepper for those who like a little fiery flavor (me). Both companies make different flavors like mesquite, hickory, teriyaki, etc. To make it easy they tell you how much seasoning powder to use per pound of sliced raw meat strips.
Experiment with spice blends for your venison jerky recipe. Start with a basic steak or roast "rub" and add some salt to it to naturally cure the meat and protect from spoilage. A small amount of sugar will also retard bacteria and give it an added flavor boost. It generally takes about 1 ½- 3 teaspoons of dry spices per pound of sliced and trimmed meat strips.
"Curing" the Meat:

The commercial mixes include a chemical "cure" to preserve the meat (sodium nitrite, salt and sugar). This allows you to end the cooking process sooner, if desired, if you prefer a moister and softer end result. If not dried thoroughly without the "cure" it has a shorter shelf life. Personally, I prefer jerky to be chewy. Also, the drier it is, the longer it stays safe in my pack. If you don't use the "cure" ingredients provided in the store bought mixes, dry it thoroughly in the oven. We usually skip the cure ingredients and add a little extra salt to avoid the nitrites.

The Drying Process: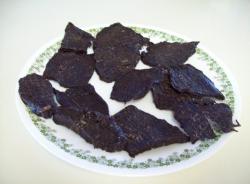 Cover the bottom of the oven with foil to make clean up easier. Lay the strips of seasoned meat in single layers on an oven rack or "jerky rack" in oven at 200 degrees. Leave the oven door cracked a bit during the drying/cooking process. You may need to use a wooden spoon or something to keep the door ajar. It will cook too fast without the door open a little.
Cook until dried to desired texture, 5-6 hours. Check often after 5 hours for preferred doneness.
There is a point when the jerky becomes too dry and it simply crumbles into dry powder. So, taste it often as you're drying it toward the end (after about 5 hours), so you will know when you have reached your desired texture. If you like it tender and moist, but don't use a cure, keep it refrigerated and eat it soon. 

Please subscribe to or our Quick Elk Hunting Tips and Updatesnewsletter or to an RSS feed (see left column for both) to be alerted whenever new information is added to the site.
We'd appreciate it if you would "Like" us on Facebook, or share this site with others.
---
Search this site here:
---
Return to Elk Recipes page, from the Venison Jerky Recipe