Choosing a Shooting Multi Tool
This page describes shooting multi tools and was contributed by Morey Baynes, of BestMultiToolkit.com. Specifics about archery and rifle multi tools are included below.
An elk hunting gear list that big game hunters will find helpful. This is a list and brief review of practical, useful, quality hunting equipment for elk hunters.
---
Shooting multi tools are starting to show up on retailer shelves because of the demand. Multi tools came a long ways from being that quirky all in one thingamabob, to well-respected instruments. They can do pretty much anything, from minor everyday tweaks to saving the day completely.

The possibilities of these little guys are truly amazing. I'm here to teach you what to look for specifically, when you head out to get one for yourself. Just make sure it has all the functions you'll ever need, and you'll get as close as possible to selecting one with everything you'll want. You'll never have it all, of course, but knowing how to pick the right shooting multi tool will get you pretty close.
A Short History Lesson About Multi Tools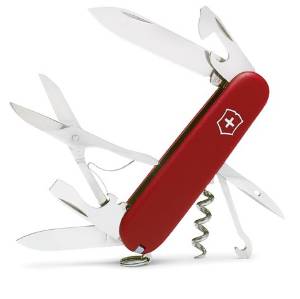 We'll put some things into perspective by showing you the development of multi tools over the years. It will also show you some of the options you can get in this modern age.

Swiss Army Knife was our hunting big daddy for quite a while. It featured a great set of tools and proved to be more than useful in countless situations. It had quite a drawback though. Its blades didn't have the option to lock in place once they were in the open position. You could skin an entire elk with these in a pinch, but more often than not it would result in at least a few cuts to your fingers.
The nest generation of multi tools had the task of fixing this issue, and it did just that. The revolutionary new multi tool called the Original Leatherman 200 hit the market, and it brought us the long coveted locking blades. Besides this innovation, this model brought a myriad of new and exciting things.
The idea of putting a pair of pliers on a multi tool finally started to live through this model. It had quite the reasoning behind it too. The designers thought that your average hunter would get more use out of pliers than the corkscrew, if you can imagine! This generation of multi tools wasn't without its own problems though. The biggest one being that the user had to tinker with the tool to get it to open, in order for any of the tools to become usable, even the most basic ones.
Big names in the industry saw this fact as a problem. Let's not mention the situations when you'd prefer the ability of one-handed tool usage. Big companies weren't just twiddling their thumbs and sleeping on the job. Soon we were offered a solution from Leatherman, Gerber and others.
Leatherman introduced a problem fix in the shape of their new revolutionary Leatherman Wave. The Wave had two blades, which the user could deploy using a single hand. So, they were still usable even if you somehow had an accident, and your other hand ended up incapacitated somehow (heaven forbid). Flick of the wrist is all that it took and you had those blades in business mode.
The purpose of the history lesson was to convey some basic principles that were developed over time and still stand today. So, don't go and buy a model that's a remnant of days long past. Opt for its superior descendant.
Specific Need for a
Shooting Multi Tool?
The most important thing when buying a multi tool is to consider your specific needs for a shooting multi tool, or more general, all purpose tool.

The first path is opting for a type of specialized shooting multi tool. These tools will have some generally useful functions, but the main accent will be put on their specialized features. For example, if you use any type of firearm for hunting, you should consider getting yourself a tool that has the function for scope adjustment. Most of them come equipped with scraper tools also, which will prove to be more than useful in removing those nasty carbon build-ups.
Shooting Multi Tools for Rifles and Shotguns:
The
Real Avid Gun Tool Plus
Is available at Cabela's at the link above, but it might be cheaper at Amazon at the link below. There are various versions of the
Real Avid Gun Tools on Amazon.com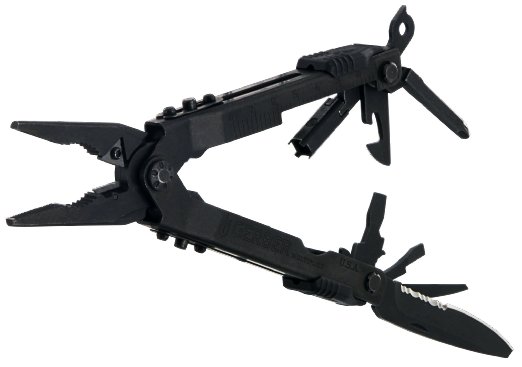 Gerber also makes a shooting multi tool called the Gerber 30-000588 MP600 ST Sight Tool. This bad boy falls under the specialized category. It features a great tool for your front sight adjustment and combines tactical look with fancy black oxide finish.
Besides the sight adjusting tool, it also has a bunch of useful tools, such as needle-nose pliers and crimper jaws, two extremely sharp blades (the regular and serrated one), and Phillips screwdriver with extended reach.
Archery Shooting Multi Tools:

If you shoot and hunt with a bow, there is a wide array of tools that are dedicated to tuning a bow. Having these beats carrying around several tuning and adjustment tools.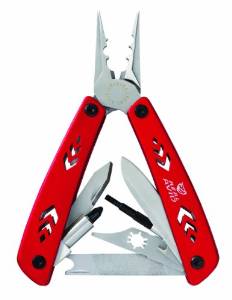 For instance, Real Avid manufactures "The Bowsmith". It has 28 tools "with one purpose: the perfect shot". An entire archery toolbox in one tough frame. It is designed to "set-up, tweak and tune bows, arrows and broadheads". It has the following tools on it
· Needle nose pliers with cutters, nock spreader, nock crimp and strip loop setter
·  Broad head sharpener, fletching stripper
·  Broad head wrench and peep sight string spreader
·  Tree step starter
·  14 hex bits and 1/4 inch hex driver
More General Multi Tools
If specialized shooting multi tool is not necessarily what you need, you can always opt for a general purpose one. These won't help you out with your hunting gear much, but they'll do their share of work none the less. Most of them have razor sharp blades that will skin an elk or deer and gut it in no time.

You can always go with both. Two different multi tools will save you tons of space and offer a huge amount of functionality in return.
Some Specifics:
I don't like talking in generalities. I'm a specific kind of guy and I personally like to be presented with some real options rather than a bunch of general tips. So, that's exactly what I'll do here before we wrap this guide up.
The Leatherman 830040 New Wave Multi Tool:
Probably the most used in the history of multi tools. It's your classic and quite revolutionary representative of the "general" category.
Locking blades, two pairs of pliers, saw, scissors, bottle/can opener are just some of the functions this marvelous piece contains. It is 100% stainless steel with no plastic additions whatsoever.
The Gerber 31-000750 Bear Grills Compact Multi Tool:

This is a cross between a hunting and a survival tool. It has ten different components, all externally accessible. It is very compact and lightweight. It comes with a survival guide from the pen of the great survivalist himself.
You're equipped with knowledge and the specific points of reference now. Hopefully this eliminates the clutter of information on the subject of shooting multi tools and general multi tools, so you can find the best multi tool for your needs. 

Once you do this, you can go on to read some specific reviews on the tool you like and decide whether it's what you are looking for. See more at http://bestmultitoolkit.com/