Elk Camp or Lodging?
Plan Your Sleeping Arrangements Carefully
If your elk hunts are conducive to sleeping in a lodging facility in a comfortable bed, it can be done. Perhaps even in your own bed, if you live in elk country like we do. I do it that way much of the time. In fact, Ican't camp near many places that I hunt, because they are on private land that is open to hunting, but closed to camping. Here's how that might look on one of those typical "bed hunt" days:

An elk hunting gear list that big game hunters will find helpful. This is a list and brief review of practical, useful, quality hunting equipment for elk hunters.
Hunting From a Bed

3:30 a.m.: Quick breakfast. One hour drive or so.
5:00 a.m.: Start long hike and/or mountain bike ride uphill from locked gate.
Daylight: Begin locator bugling (during archery), cow talk, spot and stalk.
After Daylight: Hike several miles, if necessary, until successful or discouraged for the day.
Evening: Dinner with the family and early to bed again.
It can be done. I've killed several elk that way and encountered many. Depending on where you are elk hunting, your sleeping arrangements might allow the comfort of this method.
Following that process, I've been blessed several times to be sitting in the hot tub by noon listening to geese fly over, or at least by dark with elk meat safely stored or in process. (My sweet wife takes over at home. See the information on home game processing, wrapping, etc.)
Many hunters wouldn't even consider skipping the romance of a soft glowing elk camp to cozy into after a hard day's hunt. (If you're really up to it, try a BackCountry elk hunt!) I don't blame them. But I usually hunt elk or help someone else 50 to 60 days each season. Sometimes I even follow the process above and am at work by noon. That way I can save some annual leave for later! (I have understanding bosses.)
Local Lodging

Plush hotels don't get built very close to good places to hunt. Local lodging can range from surprisingly comfortable, or worse than sleeping on the ground. If well located, demand can drive the price up during hunting season for even a low-rate motel.
If "hunting from bed" is the way you want to go, a little research online and some phone calls will avoid unacceptable lodging provisions upon arrival. The employees or owners might even give you advice on where to hunt. Some may even prepare a quick box breakfast for you to pick up on your way out.
Private Campground or Cabin
I've had friends that slept in a nice 5th wheel camper in a local rental campground near where they hunt, or some that do the same in a cabin they had built locally for that purpose. There are many privately owned cabins for rent in elk country. You can find those by searching the Internet for "lodging" in your area. These can get expensive.

Forest Service Cabins
Some USDA Forest and state forests have primitive cabins for rent in the mountains.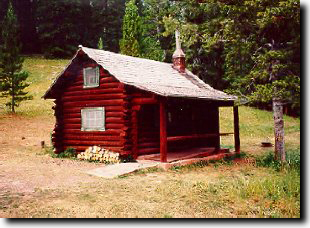 The price is usually quite affordable and often firewood is provided for the wood stove. Lighting is usually from a lantern (often provided) and bring-your-own water. An outhouse is the norm. Search on the 'net way in advance for forest cabins in your hunting area. They go quickly! Sometimes a year in advance. Click here to do a cabin search on the USDA Forest Service website. (Opens in a separate window.) Scroll down to see if your state, if listed.

A Traditional Elk Camp
A well outfitted elk camp is comfortable, cozy and a great place to share elk stories, but it requires a lot of work and expense. Often elk country requires the use of an elk camp, simply because of its remoteness. Many prefer it that way. We'll provide a complete discussion on elk camp equipment and the process soon.

Plan to Sleep Well
Getting to bed early enough and sleeping well enough to feel fresh for the pre-daylight trek is always important, even in a fully outfitted elk camp.
Sleeping arrangements are important factors to consider before determining where to hunt. Hunting while tired dulls the senses, increases injury risk, lowers success and decreases the enjoyment of your elk hunting trips. Not getting enough sleep or spending too much time getting to your hunt location from your lodging location can ruin an otherwise well-planned hunt.
Plan sleeping and lodging conditions carefully. Sometimes trying to shuttle back and forth to the comfort of a motel bed and shower can wear you out!
The best motel night I ever experienced was when I checked in with bloody arms. I cleaned up and drove back out to haul my elk meat out the next morning. The best camp night I've ever spent was after an opening day elk kill. I ate a huge dinner after packing out half my elk meat, went to bed, then woke up and fixed a huge breakfast! Then I spent several hours rested and well-nourished packing the remainder of my meat out on my back.
Please subscribe to or our Quick Elk Hunting Tips and Updatesnewsletter or to an RSS feed (see left column for both) to be alerted whenever new information is added to the site.
We'd appreciate it if you would "Like" us on Facebook, or share this site with others.
---
Search this site here:
---
See the BackCountry Hunting page when you're through with the Lodging page