Gutting an Elk in Tight Places
by Dave- ElkHuntingTips.Net
(Montana)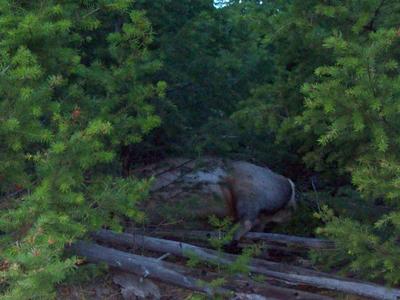 Risky Place to Field Dress an Elk
There were no "horns" in the herd I stalked on opening day of rifle season, just meat. I filled my cow elk permit at first light. It was a huge cow that has our freezer demanding that I make some sausage!

I REALLY don't like field dressing an animal in tight spots. This elk managed to wiggle into some thick jack pines before dying. (See photo.)

It's bad enough to have your butt in the air, as you bend over the strong smell of an elk's insides in bear and lion country. Add to that risk of no visibility, no partner to act as spotter and it's down right spooky! I kept walking out of the brush to look around.

Some buddies had one bull in the herd of 80 elk they set up an ambush for. That six point ended up in my truck next to my elk for the trip out. Their bull died in the wide open spaces for them.

It was a great opening day of rifle season!