Elk Meatloaf With a Bacon Wrap
Elk meatloaf! What could be a more traditional Western American meal? This recipe would be great with any ground meat. We spiced it up a bit by using half ground elk sausage and half ground elk. We also replaced the usual "ketchup" with marinara sauce, and then added sweet mesquite steak seasoning and "wrapped" it with some bacon to make it out-of-the-ordinary. Use your imagination and make it yours.
If you prefer a premixed spice blend for meatloaf, our favorite blends are made by A.C. Legg. Find these blends at www.BestSouthernSeasonings.com then put the code "7777" at checkout for a 10% discount!
If you're interested in making your own ground sausage and grinding your own game meat for elk meatloaf, etc., click on those links. The amount of steak spice in this elk meatloaf recipe could be increased, as far as I am concerned, but I like spicy foods. It has a marinara sauce in it, but you can't go wrong serving ketchup with any meat loaf.
The bacon requires a little extra timing attention so it cooks, but doesn't burn. You can leave it off the recipe, or just watch the time according to the instructions. It also has panko bread crumbs in it. You could use regular breadcrumbs, but the panko crumbs give it a good texture and flavor.
The ASAT Leafy 3D (Vanish Pro 3D Series) provides the double advantage of leafy camo with the ASAT pattern, well known for its animal eye oriented pattern.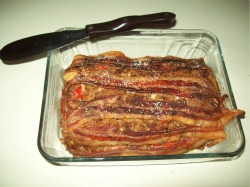 The green and red peppers give it a nice color next to those delicious looking onions hanging out of each slice. (My kids and wife hate 'em!) It could use more onions, for this onion freak, but the recipe amount is for "normal" people, I guess. We used elk breakfast sausage, but it would probably be great with a hot Italian sausage, too, or just plain ground meat.
Instructions for Elk Meat Loaf Wrapped in Bacon
Ingredients:

1 pound ground elk
1 pound elk sausage
½ cup each diced green and red peppers
½ cup diced onion
1 ½ generous cups of panko bread crumbs
1 egg
1½ teaspoons your favorite steak season spices
1½ generous cups of marinara sauce
½ to ¾ pound of bacon
Coarse ground pepper
Powdered garlic
Salt
Pre-heat oven to 350 degrees. Use a large bowl to mix ground meat with all ingredients except bacon, pepper and garlic powder. Mix the elk meatloaf mixture thoroughly with your hands for several minutes to make sure it's mixed evenly.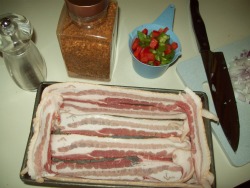 Line a 9 X 5 X3 inch loaf pan with bacon strips on all four sides and bottom of pan. Carefully spoon the elk meatloaf mixture into the pan and pack tightly. Sprinkle a little coarse ground salt (assuming your seasoning already has salt in it), pepper and the garlic powder over the top.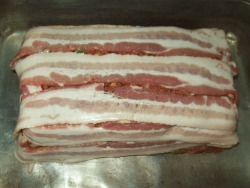 The next step is to invert the whole thing onto a larger pan, like a 9 X 13 inch baking dish. With the mixture and loaf pan upside down on the baking dish, tap it and slowly lift the loaf pan. The mixture slides out of the pan in a loaf shape with bacon covering the sides.
Put the meatloaf in the oven and bake for 1 hour (on 350). Turn the heat up at 1 hour to 400 degrees to brown the bacon for another 20 or 30 minutes. Cook until your probe thermometer reaches 165 degrees and the bacon is crispy. If the bacon crisps before you reach 165 in the center, lay some foil for the remaining cooking time.
Let stand for several minutes before serving. It's really best to transfer the elk meatloaf to a serving dish to get it out of the grease from the bacon and sausage. You can use two spatulas to make the transfer.
Yields 6 to 8 servings. 


Please subscribe to or our Quick Elk Hunting Tips and Updatesnewsletter or to an RSS feed (see left column for both) to be alerted whenever new information is added to the site.
We'd appreciate it if you would "Like" us on Facebook, or share this site with others.
---
Return to Elk Recipes page, from Elk Meatloaf 

To other Wild Game Recipes page