Elk Hunting Stories 2016
by Dave, ElkHuntingTips.Net
(Garrison, MT)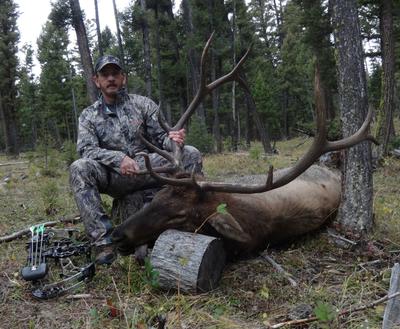 2016 Elk Success
Please share your 2016 elk hunting stories by clicking here. Provide pictures, too, if you have them. I will put a link to your elk hunting story below.

In Montana, elk hunting was going on from the middle of August until February, 15, 2017! We currently have "shoulder seasons" before and after the regular seasons to get some cow elk killed.


Here's my 2016 elk hunting story:
The archery rut season seemed a bit subdued in many parts of elk country states, according to people I heard from. Early on, even close to the peak of the rut, I was hearing subdued calling, but not finding large herds of elk. In the same areas in 2015 I was in huge, noisy herds.
I hunted alone the entire season. In early September I repeatedly called in timid bulls that would sneak in close, but would not present for a responsible shot. One morning I followed
ElkNut's
recommendation to be patient and keep calling.
One morning I was doing some nasally, pleading cow calls, along with some calm herd talk. I gave it a full 45 minutes without any audible evidence that any elk were near. But, they had to be there, given all the fresh sign I had been seeing in that area.
At that point I made a very subdued bull groan and raked lightly. That was all the timid five point needed to hear. He must have been hanging just out of sight. Immediately he came quietly in, convinced all was safe to check out the herd.
Of course, he couldn't see any elk and got nervous about that. I was purposely set up with a rather steep bank above a logging road right behind me, so he was heading that way. He assumed the elk had gone down out of sight.
Close, but No Cigar
He saw me at full draw from 15 yards away through thick brush, but he couldn't tell what I was. I had my
HECS suit on
. I eventually had to let down, since he just stood there in safety. He bolted, of course. I got that on video, but don't enjoy watching it! A similar scenario presented itself a half hour later and not far away. Got that on video, too. Who cares!
The next day I stalked up toward some young quiet 5 point bulls that I had seen through a thinly timbered area. They were lightly sparring, but just out of range. I did a cow call behind me and that got one's attention. I couldn't get him to come close enough for a responsible arrow placement. Perhaps an
elk decoy
would've helped, but I wasn't prepared with that!
I was really getting frustrated by being at full draw and not able to shoot several times. I ended up holding way too long three times on bulls and had to let down each time.
Finally, An Aggressive Bull
The morning of September 19th I was hearing a bull on the other side of a fence that I could not cross. I decided to see if I could draw him over. I made some rather aggressive, obnoxious pleading estrus sounds.
The bull responded pretty boldly for me to come to him. I turned and walked away from him while calling him to come to me, instead! I let him know I was leaving and he could join me, or not!
He made it obvious he was coming my way, commanding "me" to hold up. I turned back around and moved as quickly and quietly as possible toward him again to set up. I moved toward him as far as I dared. I wanted to get as close as possible before he could hear or see me moving.
While as I was moving, I was urgently looking for the best set up, determined not to get stuck with a drawn bow and no shot again! Any movement will catch their eye, but the HECS suit keeps them from confirming what they see. But, if there is no clear shot, more frustration!
The nice 6X6 bull came stomping in looking for the cow he heard. When he didn't see one, he turned and walked back the way he came. I did not call at all, because I didn't want my exact location to get pinpointed.
I let him walk well out of sight, then called again to him. I ran as quietly as I could toward him again. He immediately bugled and came in again. I wanted him to walk past me this time, looking for that cow. He was walking fast, so I drew early when he went behind some trees.
2016 Elk Hunt Success!
I shoot left-handed and I was getting twisted up a bit, as he approached my "9:00" on my left side. It's always a crap shoot to get on your knees to take out some of your form, or stand up, so you can turn easier.
I stopped him between a couple trees with another cow sound. He looked right at me, but his vitals were clear. It was painstaking to take the time to focus hard on a spot for a few seconds until the pin settled down.
Whack! Right behind the shoulder at 40 yards! My (now legal in MT) lighted nock seemed to sail in slow motion. I was sure he was going to see it, but he didn't move. He stumbled around in an arc and fell over about 75 yards away. And, yes, I had my Go-Pro running. But, I always manage to do something wrong at the right time! It was turned a little too far left on my shoulder.
I was done elk hunting early, so a friend let me use his tree stands to hunt deer. We killed several in an archery only area. Another friend gave me a cow elk, so the freezer is very full. We'll be cooking up some elk roasts and steaks for folks at Elk Tips Outdoor Gear in Deer Lodge, MT this year!
Submit Your Elk Hunting Story
How about your hunts?
We'd love to hear about 'em
on this site. Even if you just had close encounters. If you have short videos,
let me know
and we'll post those, too!