Montana Elk Chili
This elk chili recipe has been adjusted and improved for many years. Nothing has to be exact, though. Experiment! We often put three times as much chili powder and add some powdered chipotle to it.
If you'd prefer to buy a good premixed chili blend try Chef McGannon's WildEats Controlled Burn Chili Blend.

Ingredients for this recipe:
The ASAT Leafy 3D (Vanish Pro 3D Series) provides the double advantage of leafy camo with the ASAT pattern, well known for its animal eye oriented pattern.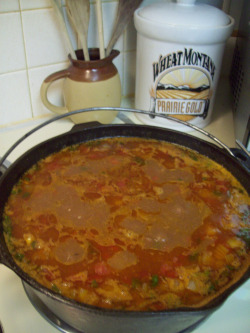 1 lb. ground elk (or chopped)
½ chopped sauteed onion
2- 16 oz. can beef broth (or 4 cups homemade venison broth)
1-15 oz. can chopped stewed tomatoes
2 –16 oz. can Pinto Beans
1 -16 oz. can Black Beans
1 Tbs. flour to thicken
½ tsp. minced garlic
1 Tb. chili powder
2 tsp. cumin
1 Tbs. chopped fresh cilantro, if desired
Salt to taste

Cook meat and onions together in pot until meat is browned. Add flour to cold broth, stir out lumps, pour into meat and onion mixture.
Add beans and tomatoes. Add all spices, more or less according to personal taste. Simmer for at least two hours.
Chili is great served over rice, or with cornbread. Pass around some grated cheddar cheese and fresh diced onion in separate bowls at the table, if desired, to top the chili with. 
---
Use Google Custom Search to search this site:
Custom Search
---
Return to Elk Recipes page, from Elk Chili page
---
Please subscribe to or our Quick Elk Hunting Tips and Updatesnewsletter or to an RSS feed (see left column for both) to be alerted whenever new information is added to the site.
We'd appreciate it if you would "Like" us on Facebook, or share this site with others.