1st Archery Bull
by Aaron Prigge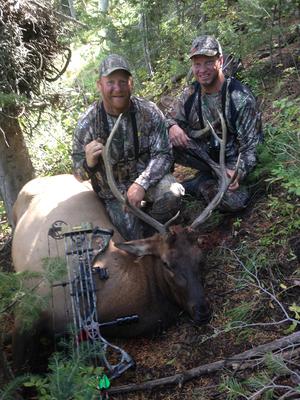 1st Archery Bull
On Sept 6th, the other 3 guys rolled into camp around 7am. Myself and 2 other guys rolled in a few days early. We helped the guys unload their gear and get their stuff put away so we could head out for the afternoon to hunt/scout.


We split the group in half and went on our way. Weather wasn't the greatest either. Windy and rainy. We decided to hike up a valley that we knew had bulls in the previous year we hunted here. Tried some cold calling (bugles) and got a few bulls going across the valley.
We decided to hunker down and take a break since the wind was not in our favor and once it started to thunder, they quit cold turkey. We hung around for a while to see if they would fire up again and they didn't. Decided to call it a day and head back to camp since they guys were tired from the all night driving. We made the decision that we would get in here by daybreak the next morning and chase these bulls.
On September 7th, I was so excited all night that I barely got any sleep so I was awake by 4 am and getting breakfast ready to go for the guys. This was going to be the day I thought. After breakfast and some coffee, we were ready to go. 3 of us, including me, headed towards valley that we were in the day before.
It's a 2 mile hike from base camp. By the time we got to the creek, we ran into some other hunters from Idaho, we introduced ourselves and shared stories about where we are from, etc...then parted ways. We told them which direction we were headed and they went the other direction.
Once we start climbing, the first bull screamed off. Then another...and another...For the first time ever, I heard a bugle without have to cup my hands over my ears and hearing aid. I bought a new $6,500 hearing aid at the beginning of this past summer.
Let me tell you, I could hear a mouse fart in the walls with the new hearing aid. It was the most amazing sound I have ever heard in my life. Once we got the position of where these bulls were sounding off, we heading their directions, constantly checking our wind direction.
The one bull, according to my friends sounded like one pissed off herd bull. That's the one we were going to go after. He had been bugling while hanging out in a saddle and we were above him. We tried to get as close as we could and set up for some calling. Still couldn't see him at this point but he sure was getting louder at the moment.
I went downhill about 30 yards from the caller and the other partner went to his right at about 30 yards. The caller sounded off some cow calls and the bull answered back immediately. This went on for a few minutes now and this herd bull was stuck in his ways and not moving in on us.
We kept trying but he just wouldn't budge. After a few more minutes, I heard a huge crashing sound behind me and saw a pair of antlers disappear over the horizon from me. It was a satellite bull that snuck in and was walking right at me according to my calling partner.
He was at full draw at 20 yards from him until he got spooked by my movement or smell. He was only about 10 yards from me when he turned and bolted. Disappointed we tried for a few more minutes to see if we could get the herd bull to commit but no luck.
We got together and decided to keep moving and get higher from him and try again. The vegetation here was so thick that you could not see more than 10-15 yards in most places. After hiking for a short while and hearing this herd bull constantly screaming his head off and listening to other bulls answering back to him, we found
a spot to set up again.
The caller spotted some horns below us he thought, so we decided to give it a go. Again I went downhill from the caller at about 30 yards and the other went to his right at about 30 yards. I was very concealed into a pine tree and aspen. It was perfect cover for me.
The calling began...after the 4th cow call, I saw antlers coming up the mountain in a hurry. Before we started I ranged a few objects so I knew ahead of time which pins to use. He first came into range at 30 yards and I came to full draw at that point. While holding at full draw, he was still heading straight for the caller. I kept holding him in my sights but too much brush prevented me from being confident enough to let the arrow fly.
I held and then I saw my opportunity. He rounded a little pine tree and started heading right towards me. Now, he's at 11 yards...I let her fly and drilled him with a frontal shot. He spun around and took off from where he came from. He stopped at about 30 yards from me and looked around.
I knew he hit because his blood was spraying everywhere. He did the tipsy walk and disappeared. I assumed he dropped right there. A Hoyt Charger with carbon express maxim 350 tipped with 100 grain Shuttle T did the job for me. We sat tight for a few minutes and gave each other a thumbs up, we got it done !! I hiked it back up to meet the caller. Our other partner told us to sit still and that he could here another one coming.
So here we sat still wondering where this bull was coming from since we couldn't here him. As I looked downhill at some brush, here's what I see...I nice 6x6 standing broadside at 50 yards below us but we couldn't get a arrow off because of all the brush in the way.
We called, raked a tree and he was not budge an inch. He calmly turns around and walks off after a few minutes of watching him. Talk about a heart-pounding experience there.
Now, as for the bull I arrowed, the last few seconds before letting the arrow fly are a blur We got together and decided to go look for my bull. We went to where I last saw him and he was not laying there. A very nice blood trail at this point and followed it for about 250-300 yards from where he was hit and found him. I was ecstatic...I was on cloud 9. I finally arrowed a bull. The first elk to taken by archery in our group.
Granted this was only our second season archery hunting for elk but I was proud of it. All that work we put into it finally paid off. Now the work really begun...quartering him out and hauling him 3 miles back to camp. It was all worth it !!
It was a few days later I received that dreaded emergency call. It wasn't a death in the family but I still needed to get home. We were suppose to stay and hunt until the 14th/15th but I had to make a decision to come home back to MN. There was only one way to do it. 2 of the guys had to come home with me because there was 6 of us and only 2 trucks. The 2 guys that were with me when I arrowed my bull volunteered to go home early with me.
That is what you call true and loyal friends. They cared more about me than some elk hunting trip. I admire those guys more than anyone will every know. We have been friends for over 40 years. I would have never arrowed this bull without the help of my friends. These are the guys I would give the shirt of my back for. These guys made one of my dreams come true....treasure your true friends. They are very hard to find these days