Game Hauler: A Complete Review of Available Designs

Using a game hauler to haul out an elk or other big game animals is not without its limitations. They have wheels that must somehow be rolled over obstacles (or not!) that elk country is loaded with. There are certainly circumstances in which a game cart works very well, however. There are also game carrier designs that work better in certain circumstances than others.
Generally, there are three versions of the big game hauler (or "cart"). The last seems to be the most versatile and functional on all terrain:
1. Side by side two wheel game cart
2. Inline two wheel carts
3. One wheel game hauler (Our favorite cart, click to see now)
ASAT camo accessories and gift certificates
Side by Side Two-Wheeled Game Hauler:
We have used our side by side, two wheeled game carrier to haul several large and smaller whole elk out successfully. The terrain varied from logging roads to sage meadows to smooth pine forest floor. We had more than one person pushing and pulling the cart with some considerable difficulty over rough spots. The side by side two wheeled cart is not good on side hills (where elk live), as the downhill wheel can easily collapse under the pressure.
This type of game hauler is not easy to use off road. It is not useful for crossing logs, rocks and creeks. It works very well for hauling an elk down a logging road or on smooth terrain. It was not all that difficult to load a medium size cow into the cart, though it did take more than one person to get it loaded.
The Trick to Loading Elk on It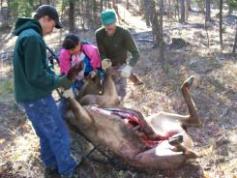 After trial and error, we determined that loading this type of game cart from the front or back was the only way to do it. If you lay the cart on its side, the wheel will easily be crushed from the weight when you stand the cart back up with a heavy load.
To load a whole elk into this type of game cart, let one end (handle) down to the ground. Have one person hold the other end of the cart, so it will not roll. Then pull, push and slide the elk up into the cart. (This takes considerable effort, but do-able with a medium or small cow.) Balance it out front to back and tie it down. It's ready to roll on ground that is not too rough.
Related topics available:
Moving a Whole Elk
Field Dressing Elk
Gutless Field Dressing
Skinning Elk
Quartering Elk in the Field
Deboning Elk in the Field
Game Meat Processing: Bill's True Story
Elk Hunting With Horses
Cooling Big Game in the Field
Getting Elk Meat Home Easier

We carted one cow elk out through sage brush with some difficulty. Then, with considerable difficulty muscled it up a slanted bank and on to a logging road (very difficult maneuver). The rest of the trip was a breeze as it was downhill to the locked gate where my rig was parked. There happened to be a bank on the side of the road, which made the load into the pick up bed very easy.
You can purchase a side by side, two wheeled game cart for $100 to $150 or more. The less expensive models claim to have a capacity of 300 pounds. The more expensive ones boast up to a 600 pound carrying capacity. At least one particular smaller game hauler (for deer) can be broken down to a backpack with padded shoulder straps for carrying it empty.
Sportsman's Guide has several side by side two-wheeled game haulers.
An "E Z Load" Version

There is one version of the two-wheeled side by side game cart that has an innovative hinge on one side of the wheel assembly, allowing the lowering of the platform to ground level for loading. The whole wheel assembly swings out of the way to the side. It appears to have a higher center of gravity and narrower wheel base compared to other game haulers of this type, making it a little more prone to balance problems. We have not tried this game cart. The cost is reasonable at about $300.

Wheel Options

Some have an option of dual wheels on both sides, in response to the fact that wheels do crumple easily. Dual tires are no guarantee that the wheels won't still crumple, however.
Most side by side two-wheeled game carts come with (non-inflate) hard rubber tires. Some come with tube tires that can be problematic in thorny areas, but smoother on rough terrain. I know guys who have beefed up this kind of cart with motorcycle or strong bicycle tires. I have heard of some using "no flat" goop inside the tubes with success against flats.
Bottom line: A side by side, two wheeled game hauler can be very useful for moving whole elk, elk quarters and deer over relatively smooth terrain and on dirt roads. With significant weight they are very difficult to use on rough or slanted terrain.
In Line Two-wheeled Game Hauler:
Two-wheeled in line carts solve the problem of collapsing wheels on side hills. I used one called the Neet Kart to haul out a deer by myself and found that it was relatively easy to handle with a light load. It is quite easy to operate with a person on each end with a light load.
Balance is not a problem with two operators. The two inline wheels make it possible to traverse over logs and rocks by lifting the front wheel, then rear wheel over the barrier. You will not be able to get a whole elk on it without at least cutting it in half or quartering it. The center of gravity is fairly high, so balance can become an issue. If you buy a second pair of handle bars ($50), it makes the task easier allowing for one person on each end.
Neet Kart: Two-wheel Inline Cart

The Neet Kart is the only one of this style that I am familiar with that is sold commercially. Since it is designed to break down into a compact shape, the handle bars separate from the cart and do not fit tightly into the frame. This creates a bit of a wobble during use. I bent one of the handlebars while hauling a doe out with it.
The last time I checked the Neet Kart was being sold for $500 with one set of handle bars. A second set of handle bars (a must for a heavy load over rough terrain) will cost you an additional fifty dollars and ratchet straps are an extra $12. Shipping was $38.
One-Wheeled Game Hauler:

This design sounds like the worst idea of all three, but I am absolutely sold on this design for rough terrain! I have friends who have made different versions of their own one-wheeled design. They tell me they use them regularly for hauling out quartered elk. In most cases the center of gravity is two high to make it useful for hauling more weight than that.
However, there is one design that uses a small, wheel barrow size wheel and is designed to keep the weight very low to the ground, making balance a breeze. It is called a Lo-Boy Transporter. I have hauled out elk whole and quartered every year since we discovered the Lo-Boy.
Aha! The Lo-Boy Transporter

Whole elk most definitely can be hauled with this game cart over rough terrain and even snow. The frame of the Lo-Boy is carefully designed to allow traversing over logs, etc. It is relatively easy to push the angled frame up onto a log, onto the wheel and down the other side, even with a whole elk on it (two people).
My son, or my wife and I have hauled at least one elk out with it annually since 2008. 
It has handles on both ends and is all one solid piece, giving it strength, but it does not take down into a smaller size. It comes with a very well designed strap system that makes balancing the load (including a whole bull elk) easy up and down, or forward and back. The video below shows two elk being hauled in the Lo-Boy.
Balance of the load and a very low center of gravity are the strong points of this excellent game cart.
The manufacturer, Jim McCauley, began designing game carts for his own use over twenty years ago. He kept improving on the design until he got it just like he wanted it. If you want to get one before he runs out for the season, 406-439-8676, or 406-225-3913,. The Lo-Boy is also available at our retail store, Elk Tips Outdoor Gear in Deer Lodge, Montana.
Easy to Handle Lo-Boy Transporter

The Lo-Boy does not easily fall over. It conveniently leans forward or back to rest on the handle bars, providing a three point stance for the cart (on a relatively flat spot).
Jim showed me how to load the cart and it was quite feasible for two people to load a large elk onto it. The elk is positioned on its belly. The cart is laid over on its side next to the elk. The elk is simply rolled over into the cart. The weight of the elk helps move the cart up toward an upright position with two people giving it a manageable lift. We loaded two whole elk rather easily when we followed his instructions. Jim is putting together a video of the cart's use with tips to make the process easier. Here is a short excerpt, loading a huge elk into the cart:
After loading an elk into the cart, as Jim showed me, the key is to take the time to balance the weight front to back, and to adjust the center of gravity to the lowest point possible. All of this is easily done with the very insightful design of the cart and straps that come with it.
It is also relatively easy for two people to load up into a pickup bed without removing the animal. The angled frame slides up into the rig with a lift from the wheel frame and someone on the back handle. Here's a short video of that process. You will notice that the bottom rib cage got stuck on the edge of the pick-up bed, causing brief difficulty.
The price of the Lo-Boy big game hauler is right at $340. It's a bargain at that price, or even more.
How to Contact Jim

The manufacturer does not have a website. He sells this game hauler out of his shop in remote Boulder, Montana (near Helena and Butte). Jim now ships the Lo-Boy. The cost of shipping adds another $100-150 because of the bulky size. Contact him for details at the numbers above. Or, if you can get to Boulder, Montana, you can pick one up and avoid the shipping cost. I only found this game hauler because I happen to drive by his shop once a week.
He also makes a great little Lo-Boy trailer for pulling behind a four wheeler. It is designed to haul and store up off the ground behind the ATV until needed. (Again, we receive no sales commissions on these carts. We just like them.)
Bottom line: Get a Lo-Boy Transporter, if you want a good game hauler for rough terrain. They are the best design we've seen available commercially.
In Conclusion

In general, a game hauler is great, if you have one person helping and want to save your back. Choose carefully, as most are not easy to push and pull over rough elk terrain. They all work great for traversing logging roads or smooth ground. 

Please subscribe to or our Quick Elk Hunting Tips and Updatesnewsletter or to an RSS feed (see left column for both) to be alerted whenever new information is added to the site.
We'd appreciate it if you would "Like" us on Facebook, or share this site with others.
---
Search this site here:
---
To Elk Down! page, from Game Hauler page.

---