Hunting Gear & Reviews
We ship hunting gear directly from our store, Elk Tips Outdoor Gear in Deer Lodge, Montana. We also have a virtual warehouse of guns, ammo and accessories that you can order from Elk Tips Outdoor Gear. Over 70,000 items available at competitive pricing.  
We will be adding inventory regularly. Feel free to call 406-431-0876, if you don't find what you are looking for. Or, you can contact us here. 
ASAT camo accessories and gift certificates
---
---
Featured Products:

ElkNut's Calling Elk Products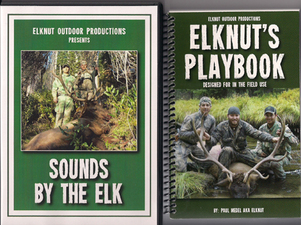 "Elk Nut", Paul Medel, is THE elk communication expert. Paul has spent over 30 years doing in-the-field research about what elk are saying when they communicate. He has put together some very effective and easy-to-use learning tools (CDs, PlayBook, DVDs, etc.) in order to share with other public land hunters his wealth of knowledge about elk talk and how to call elk.
These Elk Nut products and Bugling Bull Game Calls are vital elk hunting gear for any elk hunter. I keep the Play Book in the cargo pocket of my hunting pants. Read more about ElkNut products here. Free shipping, when you purchase on this site.
Ready-Carry Rifle Sling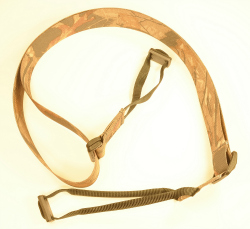 There is one rifle sling that we recommend. It is the Safari Sling! I don't know why most people still sling their rifle over their shoulders where it takes so much movement to bring it up for a shot.
These Safari Slings allow a hunter to carry a rifle at-the-ready very comfortably. They make great additions to your elk hunting gear list. You may not appreciate these until you use them for the first time. They are the best kept secretin our opinion and an integral part of our elk hunting gear! I also use it to carry my rifle on my back while riding a mountain bike.
Here's a true story from a hunter that decided to make a Safari Sling part of his hunting gear: "We were hiking back to his truck for lunch... We saw a big bull with a huge rack coming out of the woods. Guess where our rifles were? On our shoulders. By the time we got our rifles off our shoulders that bull was back in the woods, lickety split. What a missed opportunity, just because we didn't have our rifles in a ready position. Another hunter we talked to that morning had a big bull come by near him. But guess what? He had put his rifle down on the ground so he could take a p---!"
We carry these in RealTree camo only (no black):
Manufacturer's Description:

Safari Sling keeps your rifle secure on your shoulder. But, it automatically drops away as you raise to shoot...without unslinging....making you faster.
Equally important, this patented design lets you carry your rifle hand-free in three different positions:
• Out in front of your body, in the right-side-up position.
• Over your shoulder, in the traditional hiking position.
• Across your back, and out of your way.

The 2" wide webbing is soft and comfortable, yet remarkably rugged. And, it does a superior job of spreading weight evenly which lessens strain and fatigue. (The sling itself only weighs four ounces.) 

Safari Sling installs easily on most rifles and shotguns. And, the patented heavy nylon loops fit 1" and 1-1/4" standard swivels.
If you're inclined to cover a lot of ground while hunting, remember that the Safari Sling works great with backpacks.
(There is a forum discussion about the Safari Rifle Sling by "dangerous game" hunters on this page at africahunting.com.)
Ready-To-Shoot Bow Sling

I use a StringSling® for my bow to allow for instant access to shooting positions without arm fatigue.
The over-the-shoulder StringSling® hangs your bow at your side, with the grip level with your bow hand. With a slight wrist movement the bow is ready for action. No need to make all the problematic movements at each end of the bow to remove ordinary bow slings.
The StringSling® also quickly transforms from holding your bow at arm's length, to a very secure back sling that will keep your bow out of the way when you're not hunting. I ride a mountain bike in and out and use a StringSling® in the secured function while I'm peddling.
The bow balances over my backpack secured by the StringSling®. When I reach my hunting area it just takes a few seconds to reconnect the sling ends to the string hook for ready-position carry. I consider it an absolutely essential part of my bow hunting gear.
The StringSling® maker has agreed to make it available to ElkHuntingTips.Net visitors at a reduced price below the video. Watch the video to see how the StringSling® works.
You can add a StringSling® to your hunting gear at a reduced price here, with free shipping. Lifetime Guarantee! Made in USA. ($4 extra to Canada, $9 extra to Australia. Contact Us below for prices to other areas.) Select the discount buttons for more than one StringSling®.

ASAT Camouflage

ASAT (All Season All Terrain) is one of our favorite camo patterns. The designs are made more to fool animals than to impress the human eye. The light background of the ASAT pattern causes the animal to look past the hunter, rather than to think he is part of a tree or bush. With that said, I have killed many elk and deer while wearing cotton big box store camo clothing.
Most ASAT camo products can be purchased for 15% off, plus free shipping here.
Read our thorough review of camouflage patterns. 

Elk and Other Big Game Decoys


Big game decoys do work. During the rut, elk and deer will be attracted to HD photo based life size decoys. The clear leader in the field of decoys is Montana Decoy, Inc. They are lightweight, but well-constructed and look very realistic. The original HD photography used to make them is of actual animals. I always have a Montana Decoy on the back of my backpack with the rest of my hunting gear. Read about how to use elk decoys here.

Inexpensive Water Bottle Filter


I finally found an inexpensive, lightweight water bottle filter that allows me to drink directly out of any lake, pond, stream or cattle trough. I carry it empty in my backpack as a regular part of my hunting gear.
Now I can carry a minimal amount of fluid in my Camelback reservoir to make it as long as I need to. I got tired of carrying the weight of extra water. If I need more, I take my Clear Creek Bottle Filter out and fill it from creeks, streams, etc.
It effectively reduces more than 99.99% of bacteria and contaminants such as Giardia, E-Coli, Cryptosporidium, lead, heavy metals, chlorine, VOCs, bad taste and odors. It is a rugged, 24 ounce bottle with an impact resistant cover. The easily replaceable filter does up to 160 refills per filter.
This inexpensive water bottle filter is not designed to refill other containers. Buy an expensive pump filter for that. But, if you want a way to take a quick drink from contaminated ground water this works great! You can order them right here:
Clip-Shot Camera and
Smart Phone Mount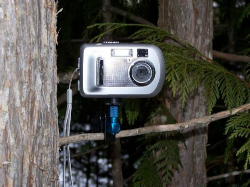 I can't tell you how many times I have stacked rocks, or pieces of wood and balanced my camera on them with little shims to level it, only to have it fall over! It's even harder with a smart phone. I have tied my camera to trees and branches with flagging tape. It's very difficult to get it level and pointed in the right direction. This little camera mount solves that problem. With the included Smart Shot, you can mount your smart phone or camera in minutes to a tree, stick, arrow, or whatever and get in the picture using your camera timer!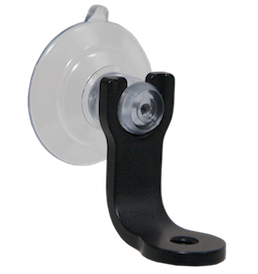 Smart Shot Adapter for smart phones
Video Camera in Your Hunting Gear?

A GoPro video camera  is so high quality and so easy to use, it now makes it possible to easily record HD videos of our own hunts, even solo. I taped my five yard elk kill in 2013 with the small camera on my GoPro head strap. You can see the video on this page. I had it set on a lower quality, so it is grainy in the early morning light. Set it to "30fps and 1080" for better results, according to my son, who is a media arts professional.
It still takes some thought to get the camera turned on at the right time, so as not to miss an unexpected scenario. I turn all my beeps and blinking indicators off on my GoPro while hunting. I turned on the "One Button" (on/off) option.
I use a mirror often to make sure it is actually on or off when I expect it to be. It also pays to have two or three extra charged batteries in your pocket and a very high capacity SD card in the camera. I use a 32gb card.
The built in mic is pretty sensitive. In the video above you can hear the foot steps of the incoming bull, and my excited heavy breathing after the shot. I consider the GoPro an integral part of my hunting gear now. Just be aware that GoPro doesn't do well at long distances. Close up videos are fine. The other caveat is that it is easy to screw things up when filimng your own hunts! I usually do.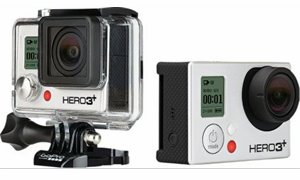 Binoculars, Scopes- Optics

Good optics  are an absolute must for most of us. Here are some bare basics: You have two sets of two decisions to make. Forget "cheap", they're never worth buying.
#1. Moderately priced, but reasonably good quality optics. We recommend Nikon binoculars at a very reasonable price and very decent quality. Burris and Leupold are other also good choices. RedHead is a popular brand, as well. Bushnell has some good optics, if you avoid the low end.
#2. High priced, excellent quality. You will get very high quality lenses and construction with Carl Zeiss and Swarovski , if you can afford them.
The next set of two questions involves factors available for both price ranges.
#1. Compact (reduced field of vision, but lighter) Or:
#2. Full size (full field of vision, but more bulky). Many hunters prefer the compact models to save weight and bulkiness.
The next decision is power. 7, 8, or 10 power are the most useful for big game hunting. 7 power (7X) is most useful for scouring brush and trees up closer, but does OK at distances of several hundred yards. 8X is versatile and a little better for distance scanning while looking for elk or deer on a far away ridge. 10X makes "spot and stalk" hunting from one mountain side to another more feasible, but eye fatigue can result if using them at closer ranges. There are zoom binoculars that are reasonably priced.
I won't get into a discussion of roof versus porro prism construction here.
Laser Range Finders

Laser rangefinders measure how far away a target is for accurate aiming. Same recommendations as above against buying "cheap". Don't bother with non-laser types. For mid-range quality we again recommend Nikon rangefinders. The same makers of the highest quality binoculars alsomake range finders for a much higher price . Power is not as much of an issue.
Maximum distance measured is the variable. For bow hunting, a rating of 400 yards or so is plenty, since most shots are taken under fifty yards. The 400 yard maximum range is hard to actually measure without a big wall or barren hillside to bounce back the signal.
An 800 yard rated range finder will have the same problem at 800 yards. Most people can't accurately shoot out to 400 yards anyway. An 800 yard maximum will consistently get you a good reading of 400 or more yards away.
I use a "440" Nikon for rifle and archery with no problem. There are bells and whistles that you can read about at the retailer sites, but those are the basics.
Hunting Knives

There are many quality knives  on the market. Again, don't buy cheap knives. Quality names include Boker, Gerber, Kershaw, KA-BAR Hunter Knives, Buck, Al Mar, Spyderco, Benchmade, Cold Steel, Entrek, Lone Wolf and many others.
There are too many styles and brands to make specific recommendations. Unless you know you want a skinning/gutting knife, a drop point or a clip point. A four inch long blade is a good length for most uses. Gut hooksare not absolutely necessary, but they do make gutting easier (see the gutting page here). They are often added to the opposite side of the knife blade, or as an extra blade. Here's one that I would like to add to my selection (I need another knife like I need a hole in the head):
You can't have too many knives, in my opinion. Serrated edges need to be sent in for sharpening, but these edges work great on partially frozen meat and we like to grind meat in a near frozen state.
Anyone will like a folding type blade. Some people will tolerate the overall length of a non-folding blade and may even prefer it. Not I, however.
Flashlights
SureFire makes a great headlamp. This is most often an early morning or camp tool, but can become a survival instrument. Quality can become vital. You can't go wrong with a Sure-Fire flashlight for general purposes.
For tracking a wounded animal after dark the Primos Bloodhunter Blood Trailing Flashlight serves a completely different need and might be very useful some night after a late afternoon kill.
Hunting Backpacks

At least a day pack is a vital piece of survival and functional hunting gear. The Badlands Superday Pack  is a very popular pack among hunters. We've bought a few cheap packs. They sit in the basement. An $80-100 price tag is the low end of something of quality for backpacks that make good additions to the elk hunting gear list. Badlands packs are more expensive, but worth it.
Update: If you have a small waist like me (30"), Badlands has redesigned them to fit smaller waists, even our favorite Badlands Superday Pack.

A fanny pack will lower the price, but being able to carry survival gear and all the gear needed to field dress an elk or deer, without going back to the truck, requires a back pack. Most good backpacks have hydration systems built in. If a fanny pack is used, a separate hydration pack would be a good addition.
Camping Hammocks

If you will be backpack hunting, consider switching to a camping hammock with an under quilt. They are lightweight and verycomfortable. (You can read about hammock and backpack camping here.)

Hydration Systems

CamelBak is the most popular brand. Most hunters do not fully appreciate how much better they would feel if they stayed hydrated. 

To see some CamelBack hydration hunting packs at Cabelas, click here. 

GPS Unit

Garmin handheld GPS units are the best choice in many people's opinions, including ours. You don't have to have the expensive versions. I use an older, lower priced GPS and I'm very well served by it. A Garmin and decent topographical maps make two great complementary pieces of hunting gear.
(Print free hunting maps here.)
Binocular Harness

A binocular harness keeps the binoculars from swinging around. That's very bothersome! These are inexpensive, but a very useful piece of hunting gear.
Game Cart

Click here to see our complete review.

Bone Saw or Folding Saw
One folding saw for the field dressing job in your pack and a full size bone saw for more convenient quartering make practical additions to your hunting gear when you are successful.

Gloves, Mittens and Glove liners
I don't care how much Thinsulate is in the expensive gloves. I always need hand warmers inside the gloves. I like cheap rag wool gloves and mittens (green, not white or a light color). Add a lightweight liner for more warmth. I have worn all three many times when it was really cold. If a mitten is used, make sure it has a trigger finger built in.

Scent Control Clothing
See complete discussion of scent control clothing here.

Leg Gaiters
Gaiters keep the lower part of your pant legs from getting wet when walking in snow or soaked grass. Once you get your pants wet below the knees, the moisture sneaks into your waterproof boots by wicking right down into your socks. You can buy Gore Tex gaiters, but even the less expensive, water-resistant brands do a pretty good job of repelling moisture, even with a soft quiet texture that slips through brush quietly.

Hunting Boots
Consider the temperature boots will be worn in. We prefer from 800 to 1200 grams of Thinsulate for cold weather hunting, along with Gore-Tex, or other similar waterproof technology.
Snow "packs" can certainly be warmer and dryer, but not as supportive. A good leather boot provides more support, but lower quality leather boots will sacrifice a warmth and comfort.
A high quality leather boot is an important piece of hunting gear. The best boots for mountain hiking and hunting are made in Bozeman, Montana at either Kenetrek Boots, or Schnee's. Their quality hunting boots will cost you $200 to $400, but they are the best. Then again, they will last and keep your feet safe and comfortable. Good boots will be your best friend in elk country.
Game Ear Type Hearing Devices

Unless there is a hearing loss, we haven't found these useful. They mainly amplify close up sounds. The hunter can hear his own clothing swish and his breathing sounds louder. That's not helpful. A distant elk bugle or turkey gobble is not amplified appreciably. These might be useful hunting gear for tree stand hunters, as they might amplify a deer approaching the deer stand.

Compass

This tool should be part of any hunting gear in the hunters pack or pocket, even if someone carries a GPS device. If a GPS battery dies, a compass and topo map(print free maps here) might become a lifesaving piece of hunting gear.

Mapping/Topographical Software

There are many good brands. Lowrance is popular. However, you can print free maps at MyTopo.com.

Rifles

Obviously, a vital part of your hunting gear is a rifle. 30.06 is the most versatile of calibers and plenty powerful enough for elk. 300Win-Mag, 338 and 308 are also often mentioned for elk hunting. Regardless, your gun will perform most effectively against elk if you buy premium, and the more expensive, ammo. Don't cut costs on ammo.
If you know what type of gun you want go to GunBroker.com for legal gun auctions, new and used. They have archery equipment as well.
Please subscribe to or our Quick Elk Hunting Tips and Updatesnewsletter or to an RSS feed (see left column for both) to be alerted whenever new information is added to the site.

We'd appreciate it if you would "Like" us on Facebook, or share this site with others.
---
Search this site here: