Elk Down! Now What?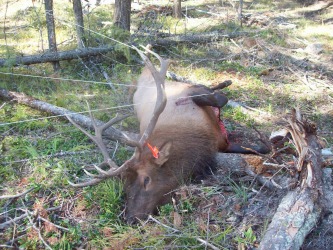 In case you didn't see these on our Facebook page, below are some pages on our site that have some great short videos on quartering and gutless field dressing, how to pack quarters on a horse and caping a trophy in the field for a shoulder mount. The videos were shared with us by Wagonhound Outfitters in Wyoming:
Packing Elk Quarters on a Horse
We hope you need this information this fall!
---
Products Available at Low Pricing and Free Shipping
Your support of ElkHuntingTips.Net through purchases of products from the site, or by visiting our advertisers is appreciated. Keep us in mind when you're doing your Christmas shopping!

ASAT Camouflage

HECS Stealthsuit

Montana Decoys

Bugling Bull Game Calls

ElkNut's Calling Productions

String Sling Bow Sling

Safari Rifle Sling

Skull Hooker Mounting Bracket

Clip-Shot Camera Mount

Free Customized Hunting Maps
---
As always, we appreciate your support of ElkHuntingTips.Net when you visit the site and our sponsers, or purchase products that we sell direct to you.

Feel free to contact us. We enjoy hearing from you and personally answer every message.

My favorite elk hunting area. Somewhere near Garrison, MT

---