This is the time of year when I am just coming off my spring marathon recovery period. I came out fairly unscathed from my Memorial Day weekend marathon. Stream fishing has been a blast and my new PSE Bow Madness is starting to feel like "my bow".
The hard part for many people is adding training for the upcoming elk hunting season. Elk hunting is physically demanding and requires some aggressive strength and endurance development in order to really enjoy the environment elk live in.
I continue to train for shorter running races by running distance and speed workouts, but at this time I add some hill drills to my training that will help when I'm hunting. Do these on a hill:
Skip uphill for speed for 30 seconds, then transition to skipping for height for another 30.

After this session, do some walking (hopefully on hilly terrain), building up to carrying your pack and firearm or bow total weight during the walk (not during the drills).

Be sure to start slowly and build up over time to avoid injury. The idea is to have "experienced" the same kind of stress on your body as the hunt, in advance, strengthening to be able to handle it without pain and injury.

See the

Hunting Fitness page for some more ideas for fitness preparations for hunting season.
New Page About Deaf Hunters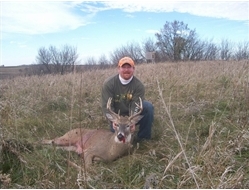 A deaf hunter, Aaron Prigge, has contributed a new page about what it is like to hunt when deaf or hard of hearing. His hunting buddies let him know when they hear something and much of the time, he lets THEM know when he sees something.

People with deafness, especially hunters, learn to compensate for lack of hearing with much improved, acute visual perception. Aaron's hunting friends are happy to have him along, since he often sees game that they have not picked up on. Read his stories on the new page.

If there are deaf, or hard of hearing hunters who would like to share some input, please leave comments at the bottom of the Deaf Hunting page, or send us an email here.
New Info Always Being Added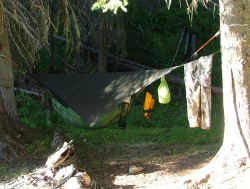 We always have more informational pages to add to the site. So much about elk hunting and so little time! Casey Albert, who contributed the BackCountry hunting section, is working on a write up about hammock camping. (Actually, he's probably more waiting on me to build and upload it.)

Sleeping on the ground? Try a hammock made for camping. No frames, just trees, an underquilt (very important), sleeping bag and a light tarp over the hammock. Look for that page to come soon.

If you have ideas for content needed, let us know. If you have some experience on an elk hunting topic that you'd like to share, we'd be pleased to work with you to develop the topic.

ElkHuntingTips.Net is written for average hunters, by public land hunters, not just hunters who have access to private land hunts with tons of game, as you see in most slick videos!
Products We Sell Directly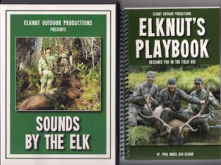 Please allow me to remind you of some products that we use and sell on the Elk Hunting Tips site. All with free shipping:

ElkNut's Sounds by the Elk and Playbook

WildEats Spices and Rub Blends

Again, thanks for supporting ElkHuntingTips.Net by visiting our sponsors, or purchasing products that we keep as low-priced as possible. We believe in volume sales, not gouging prices.
---
As always, feel free to Contact Us Directly. We enjoy hearing from you and personally answer every message.
---