Black Friday Elk Hunting Products Package Deals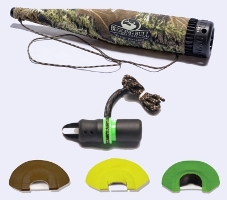 Happy Thanksgiving! We are thankful to live in America!
Here's a Black Friday through Monday elk hunting gear special for you:
Purchase a Pack-A-Bull or Bully Boy Grunt Tube and add as many elk calls as you like for a full 20% refund off the total, through Monday, December 1st! Add any additional calls on the Bugligng Bull Game Calls page. (Go there by clicking on the picture.) Add any products that you want from the entire site and get free U.S. shipping on it all! (20% refund from calls total only.) The PayPal total will not show the discount, but the refund will be sent via PayPal shortly afterward.
This is a good opportunity to purchase a Christmas hunting package for hunters in your family. You will find another great package deal for ElkNut's elk calling products and Bugling Bull Game Calls on this page.
---
Products Available at Low Pricing and Free Shipping
Your support of ElkHuntingTips.Net through purchases of products from the site, or by visiting our advertisers is appreciated. Keep us in mind when you're doing your Christmas shopping!

ASAT Camouflage

HECS Stealthsuit

Montana Decoys

Bugling Bull Game Calls

ElkNut's Calling Productions

String Sling Bow Sling

Safari Rifle Sling

Skull Hooker Mounting Bracket

Clip-Shot Camera Mount

Free Customized Hunting Maps
---
As always, we appreciate your support of ElkHuntingTips.Net when you visit the site and our sponsers, or purchase products that we sell direct to you.

Feel free to contact us. We enjoy hearing from you and personally answer every message.

My favorite elk hunting area. Somewhere near Garrison, MT

---