Using Elk Decoys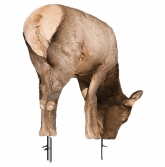 Using an HD photography elk decoy can be very exciting and rewarding. Especially for the hunters that hit the elk woods solo every year. There is a new page about this topic at ElkHuntingTips.Net. Click here to see the page.

Barry Nofsinger shares some elk decoy success stories and describes scenario set ups on the new page.
All Montana Decoy products are now available from us with free shipping. The Elk Montana Elk Decoys are $99. We'll have PayPal set up soon with these products. If you want to order any of their products now, send us your email address and order by clicking here and we will send you a PayPal invoice to get your order processed.

If you have experience with elk decoys, we would all appreciate your comments and stories about it. You can post them at the bottom of that page, or send them directly to us.
Deaf Hunting?
A deaf elk hunter, Aaron Prigge, is working with us to develop a page on hunting big game and deafness. As you can imagine, this can be a challenging endeavor, especially during the elk rut! However, visual perception skills of a deaf or hard of hearing hunter can exceed those of us who depend on hearing while hunting.

Deaf and hard of hearing hunters who have been deaf most or all of their lives develop a keen sense of visual perception. It might be a good idea to find a deaf hunter to hunt with! You will soon be able to read the stories that Aaron tells on the new page.

We're pleased to be able to get some experienced insight on this topic on the Elk Hunting Tips website. The page will be announced soon. If you are a deaf hunter, we'd like to make contact with you. We would especially appreciate some deaf elk hunting stories and some tips for those who have that "privilege", as Aaron describes it. Please contact us, or pass this on to someone you know who is a deaf or hard of hearing elk hunter.
Rockie Jacobson's Bugling Bull Game Calls
Another new addition to the products available from Elk Hunting Tips is all of Rockie Jacobson's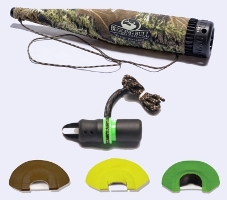 Bugling Bull Game Calls. These have become our favorite calls, so we arranged to sell them on the site.

We pack and ship these products ourselves directly to you. As with all products we stock here in Montana, our overhead costs are low, so we charge very little or nothing for shipping. If your order amounts to over $50 for Rockie's game calls, shipping is free; $50 and under is a flat rate of $5.

The most popular elk calls are in stock now, but any Bugling Bull Game Call products can be ordered directly from us on this page, or just let us know and we'll invoice you through PayPal. Bugling Bull Game Calls make a huge variety of what we are convinced are the best calls available.

Elk Calls:

Select "A" Bull Calling System $54.95
Pack "A" Bull Calling System 28.95
Replacement Reeds 5.95
Bully Bull Grunt Tube 32.95
Elk Herd 4 Pack 19.95
The Remedy 6.95
Raging Bull 6.95
Mini Master 5.95
Herd Master 7.95
Full Rut 7.95
The Challenge 6.95
The Closer 6.95
Who's YRR Daddy 17.95
Estrus Excited 6.95
Mellow Momma 6.95
The Temptress 16.95
Matriarch Cow/Calf Call 24.95
All-Star 7.95


Elk Videos and Audio:

Full of Bull III, IV, & V DVDs; Full of Bull Instructional CD; Full of Tricks Instructional CD; Full of Adventure I Hunting Adventure are all $9.95 each.

The full line of all calls are available from Bugling Bull Game Calls: Turkey, Predator (including superior wolf calls), Deer and Moose calls. If you don't see it on our website, let us know and we will get it for you ASAP.
Other Products We Sell Directly
There are some products that we use and feel strongly about. Several of those we have arranged to sell on the Elk Hunting Tips site. All with free shipping. (No minimum purchase for these to get free shipping.)

ElkNut's Sounds by the Elk and Playbook

WildEats Spices and Rub Blends

Again, thanks for supporting ElkHuntingTips.Net!
---
As always, feel free to Contact Us Directly. We enjoy hearing from you and personally answer every message.
---