Clip-Shot Camera Mount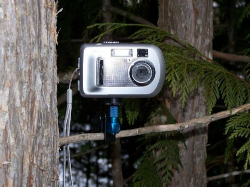 Here are some short, Quick Tips:
If you hang around ElkHuntingTips.Net , you know I'm all about finding practical ways to make "Close encounters of the herd kind" easier. I'm always on the search for tools and equipment that are innovative and "outside the box" to make a demanding sport more practical.
Here's a new product that I recently came across and would like to recommend to you: The Clip-Shot mini camera holder, a great tripod alternative.
You can put this little, sturdy camera holder in your pocket. It weighs one ounce and holds up to 20 ounces, including spotting scopes. Apart from being small, the Clip-Shot can be securely clamped to a tree limb as high as you can reach. It attaches to an ATV mirror, an arrow stuck in the ground, a ski pole, or a metal fence post, etc.
The Clip-Shot was developed by a machinist in little Noxon, MT. Lyn assembles them in his home there in Noxon.
I've purchased some of these, so I can make them available from the website, with free shipping (U.S.A. Contact us for discounted shipping cost outside the U.S.). Anything we stock, we pack and ship the same or next business day.
Elk Country Chronicles: "Antlers"
There is a new Elk Country Chronicles at the bottom of the home page. This one is about elk "Antlers". You'll appreciate the educational information provided in the video, as well as the footage in elk country!
America Outdoor Adventure TV
I also wanted to recommend The America Outdoor Adventure TV series. Here is the link to their website: www.aoahunting.com and a description of what the weekly TV series is all about: "The American Outdoor Adventure TV series is all things to the do-it-yourself outdoors men and women. It's all about the hunting enthusiast who loads up the truck and heads out for the weekend to hunt as hard as they can before it's time go home and back to work on Monday.

These hunters will probably never hire a guide or hunt from a catered lodge; they value the right tool for the job and appreciate the sharing of knowledge amongst brethren hunters. We promise the viewer will learn something useful about the pursuit of outdoor adventure every week."
Upload Your Own Videos! Or, Just Watch Some
Please share your experiences during elk hunting season, including pictures on this page. If you have videos you can now easily upload them to this page! *Upload Your Elk Hunt Videos*

I hope you all had a great Resurrection Sunday! We did. A moose showed up outside our bedroom window at daybreak!

Told you this would be a short one...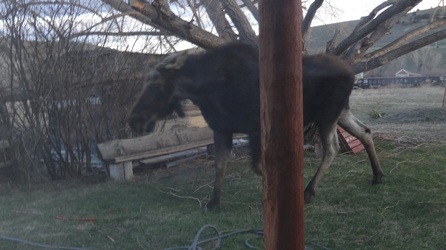 ---
Products Available at Low Pricing and Free Shipping
Your support of ElkHuntingTips.Net through purchases of products from the site, or by visiting our advertisers is appreciated. Keep us in mind when you're doing your Christmas shopping!

Montana Decoys

Bugling Bull Game Calls

ElkNut's Calling Productions

String Sling Bow Sling

Safari Rifle Sling

Skull Hooker Mounting Bracket

Free Customized Hunting Maps
---
As always, we appreciate your support of ElkHuntingTips.Net when you visit the site and our sponsers, or purchase products that we sell direct to you.

Feel free to contact us. We enjoy hearing from you and personally answer every message.

Happy spring from Garrison, MT!

---