Clearance Priced Hunting Bows
At Elk Tips Outdoor Gear (the brick and mortar presence of ElkHuntingTips.Net) we have drastically reduced the price of some high end compound hunting bows. Free shipping. All are right handed. The bows are new and have never left our archery proshop since they were received from the manufacturers. Click on this link: Discounted Hunting Bows for more information, pictures and ordering page.
If you have questions, call or text Dave at 1-406-431-0876.
Obsession Def-Con M7Z 70#, 27.5" $799.95
Obsession Def-Con M7 65#, 29" $699.95
Obsession Hemorrhage 70#, 29" $699.95
Bear BR33 55-70#, 27-32" $619.95
Bear Escape 55-70#, 25.5-30" $619.95
Bear Moment 55-70#, 25-30" $619.95
Diamond Carbon Cure 70#, 27-30.5" $464.95
Diamond Carbon Cure 60#, 27-30.5" $464.95
Elk and Wild Game Recipes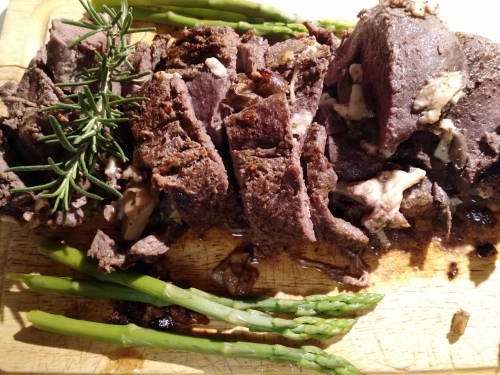 We adapted this Stuffed Elk Tenderloin from recipes by Krysti Crabtree, author of Nevada Foodies and Wild Game Cuisine, A Collection of Wild Game Recipes. It turned out excellent, as all of her recipes do. If you thought wild game can't be as good as beef, or other commercial meats, check out Our Elk Recipes and Wild Game Recipes pages. Take care of it properly in the field and during processing, then cook it low and slow to keep it tender and juicy. There are plenty of ground wild meat recipes in the cookbook and pages above, too.
---
Camo HECS Sizes Still Available
We have four XL sizes in camo HECS suits and several large suits still available. When those are gone, you won't be able to find them at dealers anymore.

The HECS Base Layers will continue to be available.
---
As always, feel free to Contact Us here. Or, call or text 1-406-431-0876. We'd love to talk to you.

Facebook page ElkHuntingTips.Net

Facebook page Elk Tips Outdoor Gear, LLC
---
The springtime view of the mountains near our home in Garrison, MT

---