Tell Us About Your 2017 Elk Hunts
Now that we are past or nearing the end of most elk hunting seasons, please share your experiences. Here in Montana we still have some cow elk hunts going on and some states are still hunting bull elk.
Share it all on the Elk Hunting Success page. And, remember, elk hunting success doesn't always involve an elk harvest. Be sure and share what you experienced and what you learned, regardless. Include cow hunts. I'm always glad to have a nice clean cow elk to process.
You'll be able to share pictures on that page, as well.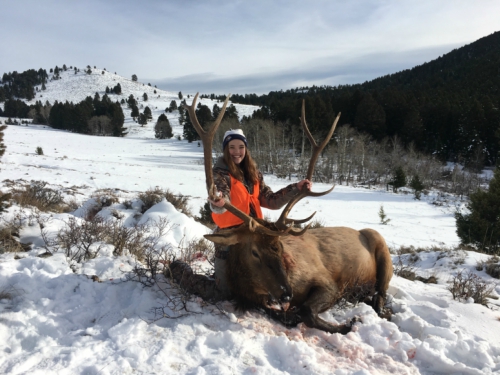 ---
Camo HECS Suits Going Away
I still have several of the camo HECS Stealthscreens available. They will soon not be available through dealers anymore. I bought all I could find when I heard about that. We will always have plenty of base layer HECS suits, though.

People have been hunting for centuries without this added advantage. However, it does indeed eliminate one way an elk, deer, waterfowl, turkey or other animal confirms that they are seeing a living being. I have found that elk will "check" my movement and often just look away without reacting.

HECS suits make a good Christmas gift, because it's not a necessity. It's just something extra and nice to have! I won't hunt without mine. You can read more about it on the HECS Stealthscreen page. Feel free to call or text my cell number for more information: 1-406-431-0876.

Merry Christmas!
---
As always, feel free to Contact Us here. Or call, 406-431-0876. We'd love to talk to you.

Facebook page ElkHuntingTips.Net

Facebook page Elk Tips Outdoor Gear, LLC
---
The springtime view of the mountains near our home in Garrison, MT

---